Heads up! We're working hard to be accurate – but these are unusual times, so please always check before heading out.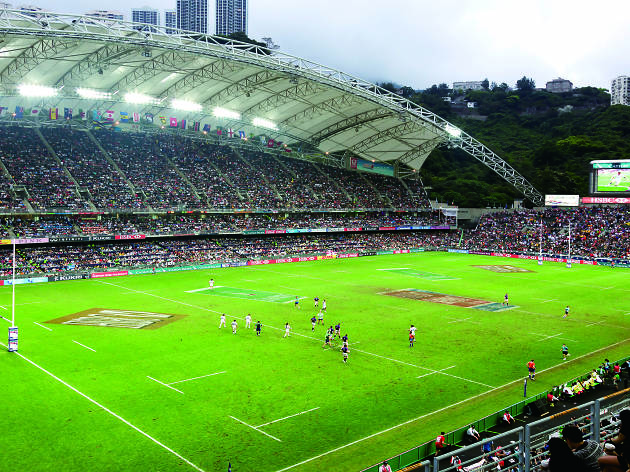 Burning Issue: Hong Kong Stadium's Turf Wars
Hong Kong Stadium has a new $100 million pitch. But there's already doubt over whether the grass is good enough. Time Out finds out why some people think turf won't work
The year 2013 was a bad one for the city's largest and most iconic outdoor sports venue, Hong Kong Stadium. Images of Premier League footballers skidding around its waterlogged pitch during the Barclays Asia Trophy in July that year were broadcast across the world. Manchester United refused to attend a training session at the stadium over safety concerns and the manager of Tottenham Hotspur claimed that if he'd had a choice, he wouldn't have let his team set foot on the sodden pitch. It was an embarrassment for the Leisure and Cultural Services Department (LCSD), which took the rap for growing the original problem into a global fiasco after its consultant instructed workers to dump 30 tonnes of sand on the pitch in an attempt to reduce excess groundwater.

Seeking to avoid a repeat, the stadium was closed on March 31 this year for six months, in order for a $100 million overhaul of the pitch to be carried out. Funds and project management came from the Jockey Club's Charities Trust. The entire turf and underlying soil has been removed, the underground irrigation and drainage systems replaced, and a new grass pitch reinforced with sand has been laid. "Everything is making good progress," says an LCSD spokesperson in late September. "With better growth of the turf surface and stronger root development in the coming weeks, we are con dent that the turf should be ready for the Olympic rugby sevens qualifier tournament [the 2015 ARFU Men's Sevens Championships] scheduled for November 7 and 8."

However, there's already a problem. The football World Cup qualifying match between Hong Kong and China is scheduled to be played at the stadium on November 17, just nine days after the sevens tournament. Despite the $100 million overhaul and the LCSD's assertion that the reconstruction has been 'very successful', there is a new problem. "Due to the anticipated damage to the new turf after around 50 vigorous rugby matches, the Expert Group has advised that it would be difficult for the playing surface to be restored to world- class standard within a few days," explains the LCSD spokesperson.

"Those 50 rugby matches are actually short, seven-a-side games held over two days, rather than 15-a-side," protests James Middleton, Hong Kong distributor for an artificial grass pitch solution called FieldTurf and chairman of voluntary organisation Clear The Air.

Middleton is outspoken on his thoughts about the decision to relay the pitch with real turf instead of a hardwearing synthetic option, similar to that used in many large US stadia. "[LCSD] had from March until now to reconstruct [the pitch]," he says, "and they are already saying they cannot handle two days of rugby and, nine days later, a FIFA football match? The problem is that they did not perform a microclimate study," asserts Middleton. "The conditions inside the stadium are different to outside. Grass needs sunlight for photosynthesis, wind ow for transpiration, nutrients, deep rooting rhizomes so it can regenerate after wear... The design of the stadium hinders wind ow! The stands cast shade on to the pitch, plus the air in Causeway Bay is dirty, leading to acid rain. Sand based systems [like the one in Hong Kong Stadium] are infamous for their lack of stability when the players cut and move. Natural turf systems overseas can withstand cover for a couple of days for concerts or other uses, but the turf in Hong Kong Stadium cannot." Time Out gets in touch with Cameron Hodgkins, Head of the Sports Turf Management Section of LCSD, to find out more about the new pitch. However, he turns down our request for an interview.

At the time of writing, the HK Football Association is still 'liaising' with LCSD over whether the match can happen as planned, or if it will be moved to either the 6,700-seat Mong Kok Stadium or the 12,000-seat Siu Sai Wan Sports Ground. Hong Kong Stadium has 40,000 seats. There's no firm evidence that the potential downsizing is linked to the 'scandal' involving Hong Kong fans booing the Chinese national anthem at recent World Cup qualifying matches – an act now controversially being investigated by FIFA. However, it's clearly a sensitive topic for all the stakeholders. We speak to one Hong Kong football fan, who asks not to be named, who attended the Hong Kong vs China match in Shenzhen on September 3. "It seems like there is some kowtowing to political pressure to make the event as low key as possible," he informs us. "That is to the detriment of fans' enjoyment."
"The idea that a sold out Hong Kong Stadium could lead to [another] embarrassing moment such as booing the national anthem is quite unreasonable, as a bigger and diverse crowd would in fact dilute these reactions," reasons Tobias Zuser, founder and editor-in-chief of Hong Kong's first English-language football website, Offside.hk. "The Hong Kong fans behaved perfectly well when visiting Shenzhen and they should be rewarded with trust for this."

Zuser continues, "[If they moved the match] it would be a complete disaster. This game is a once-in- a-decade opportunity to promote local football. According to a survey by the Census and Statistics Department, more than one million people in Hong Kong rate football as their preferred sport. Arguably, football is the 'people's game' in Hong Kong, with a rich historical legacy and the objective of all parties involved should be to give as many people as possible the opportunity to be part of such a historic event."

The chairman of Hong Kong Football Association, Brian Leung Hung-tak, told the SCMP last month that it 'would be very disappointing' if the match was not held at Hong Kong Stadium, pointing out the FA could lose up to $3 million in ticket sales, as well as a loss of supporters.

"Singapore has world class venues for events," states Martin Haigh, CEO of ticketing platform Ticketflap, which is selling tickets to the Asia sevens qualifier. "But can Hong Kong compete? It's looking as though we can't even host a football match in the most obvious place. The stadium is marvellous and moving it demotes the event somewhat. It's disappointing for the teams and the fans."

Not everyone disagrees with the decision to lay real turf, however. "We know the Jockey Club have done a first class job on the pitch reconstruction," says Robbie McRobbie, general manager for Operations at the Hong Kong Rugby Union. "We remain confident that the LCSD staff will have the turf in good condition and ready for the historic Asia rugby sevens Olympic qualifier, when we hope to see Hong Kong secure its first appearance in an Olympic team event since 1964!"

"The objective [of the stadium] should be to have the best available infrastructure, and that is certainly natural turf," Zuser tells us. "But the difficult climate seems to be an awkward excuse. If Shenzhen can manage to have first class pitch conditions, why isn't it possible in Hong Kong?"
Feeling active?
Journey to these green spaces for a breath of fresh air
Enjoy the nature and take it easy