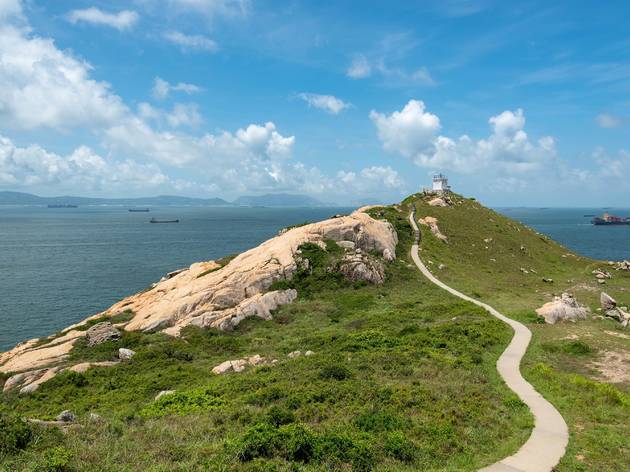 11 best places to visit for fresh air in Hong Kong
Escape the urban jungle and breathe it all in
As much as we love being in the city, let's face it, the air quality here is not the best. Luckily, there are still plenty of places in Hong Kong where you can catch a breath of fresh air and find peace of mind. Here are some of our favourites places to visit. By Time Out Hong Kong and Olivia Maitre

RECOMMENDED: Too far of a journey? Head to these hidden gardens and green spaces instead, or venture out for an accessible city hike on Hong Kong Island or in Kowloon.


Best places in Hong Kong for fresh air
A popular destination for nature lovers, Po Toi is a serene and scenic island inhabited by people who don't have a running water supply and no official electricity – which means fresh air is guaranteed. Walk along the Po Toi Country Trail, which loops over the south of the island in a figure-of-eight, and take in Po Toi's photogenic lighthouse as well as some dramatic and unusual rock formations. If you have time to spare, pay a visit to the small village down in Tai Wan and wander up to the Tin Hau temple that's scenically perched on a rock to the far left of the village. It'll give you fantastic views over the island and the surrounding ocean.
How to get there: A public ferry runs from Stanley and Aberdeen piers on weekends, and from Aberdeen on Tuesdays and Thursdays. The ferry from Stanley takes 30 minutes, and around an hour from Aberdeen.
Photograph: Courtesy CC/Flickr/doctorho
Down at the southern tip of Shek O you can find Hong Kong's oldest lighthouse, the Hok Tsui Beacon, a monument dating back to 1875. Cape D'Aguilar is also notable for being the only marine reserve in Hong Kong. Here, you can enjoy the wind off the South China Sea, breath-taking views, and some spectacular caves.
How to get there: Take the MTR to Shau Kei Wan. Take Exit A1 or A3 for the Shau Kei Wan Bus Terminus. From there, take bus 9 heading towards Shek O. Alight at the bus station near Cape D'Aguilar Road.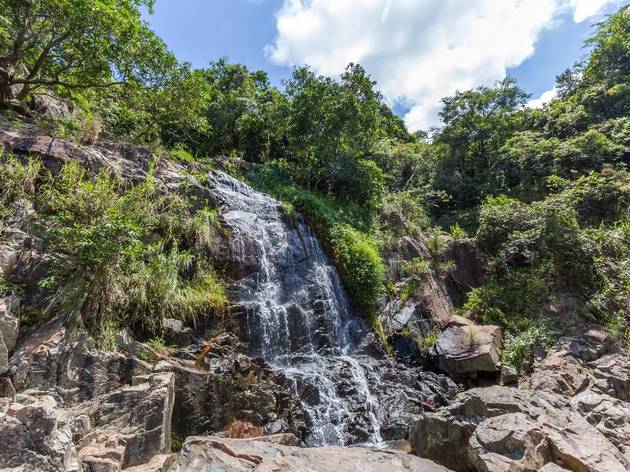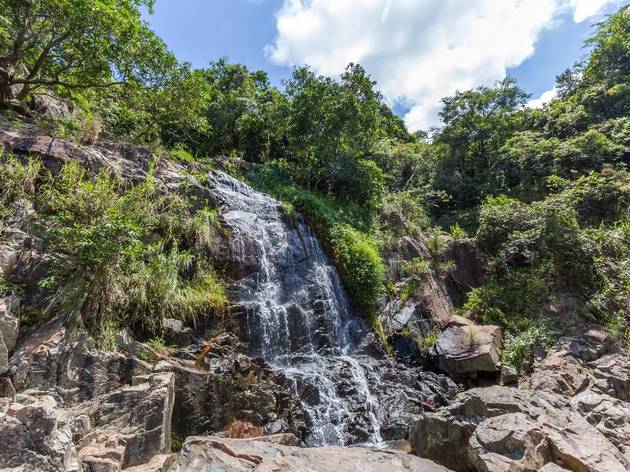 Photograph: Shutterstock
Although hardly a hidden gem or any sort of best-kept-secret, the Silvermine Waterfalls never seem to be particularly packed, even at the weekends. The spot is easily one of Hong Kong's most easily accessible waterfalls, unlike certain other scenic spots in town. There's even a lovely little seating area replete with tables and chairs (they've thought of everything) which makes for an ideal picnic spot.
How to get there:
Take the Mui Wo Ferry from the Central Pier. From the Mui Wo ferry terminal, walk through the village and meandering trails for about 30 minutes before reaching this natural beauty.
Also known as Grass Island, Tap Mun sits in the sea off Sai Kung Country Park and is best known for its beautiful, rolling hills complete with wandering cows. Though there's no official campsite, campers can pitch a tent at the grassy areas atop the southern headland of Tap Mun, which provide breathtaking panoramic views of the island. Visit Tap Mun's famous trio of temples and fuel up at the fisherman village's main restaurants, Sun Hon Kee.

How to get there: Get on the 94 or 96R (weekends only) bus to Wong Shek Pier. The ferry runs every one or two hours throughout the week, but be sure to check when the last ferry for the day leaves! Ferries also run, less regularly, from Ma Liu Shui near University MTR station.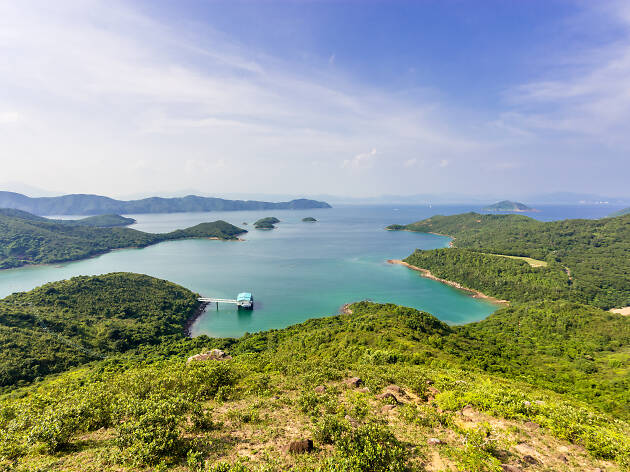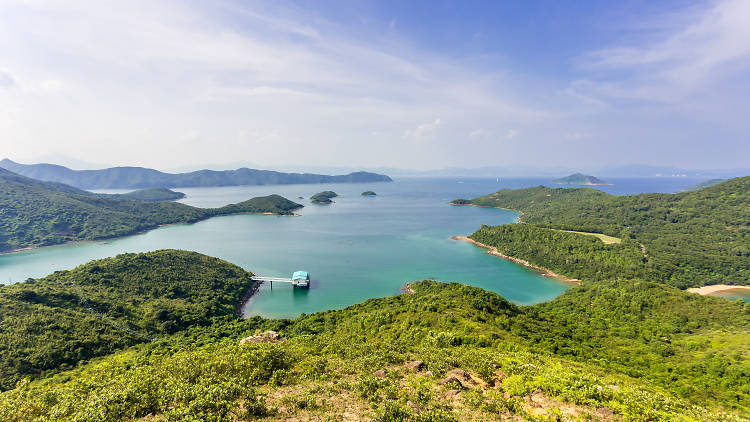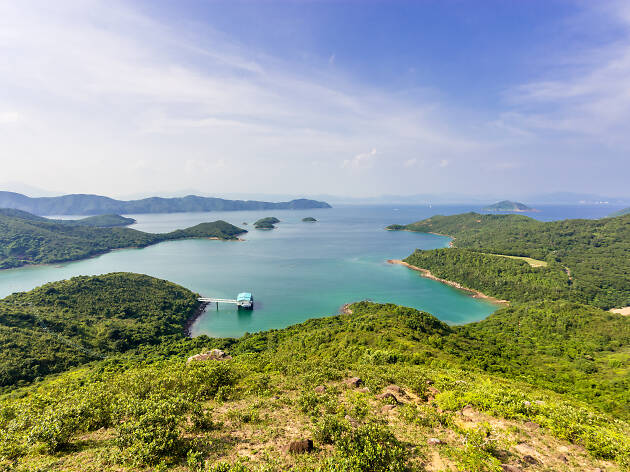 Photograph: Shutterstock
Hoi Ha Wan is an area well known for its rich marine biodiversity. The area hosts a significant 60 different types of coral and 120 species of coral fish. The crystal-clear water is wondrous. If you're keen to be active, you can either paddle your way through the bay on a kayak or go below with a snorkel and a mask.
How to get there: Take the MTR to Diamond Hill, Exit C2. Then get on bus 92 or 96R to Sai Kung Town. Once there, change to green minibus 7 to Hoi Ha Tsuen. Walk from there to the Marine Park.
View this post on Instagram
Nestled on the coast of Sam A Tsuen in northeast New Territories, Ngau Shi Wu directly translates to 'cow turd lake'. But thankfully, the name of this place is the only thing that's unpleasant. On your way to the lake, there's also an abandoned village of the same name to explore. Rumour has it though, that the village is haunted, that's why its people abandoned it. Whether that's true or not, we can't confirm, but it is definitely a fascinating area to explore.
How to get there: Take the 20R minibus from Tai Po Market Station and get off at the terminal Wu Kau Tang. From there, you can choose a number of paths to hike to Ngau Shi Wu, so be sure to do your research and choose a trail that best suits your abilities.
View this post on Instagram
Our city's answer to Kyoto's Bamboo Forest. Immerse yourself in a detoxifying bamboo tunnel while visiting Yin Ngam, a pleasant little village outside Tai Po. The most spectacular aspect of this hidden area lies in the cool fresh air generated by the bamboo's slightly bent tips. Even better, just 20 minutes hike away is Hong Kong's highest waterfall – the perfect place to clear your mind.
How to get there: Take the MTR to Tai Po Market Station. Then take minibus 64K to Yuen Tun Ha Village. Start your hike from there.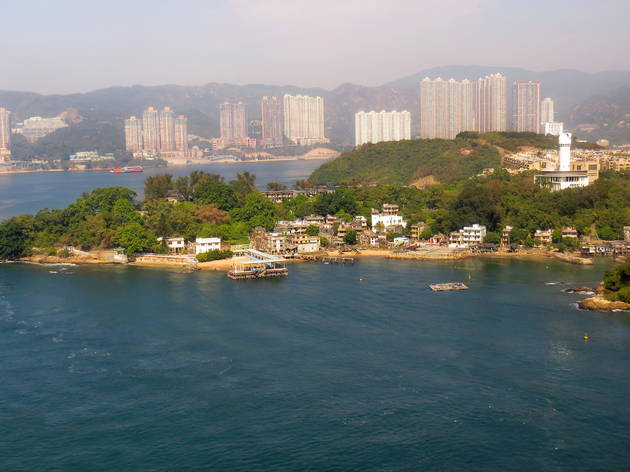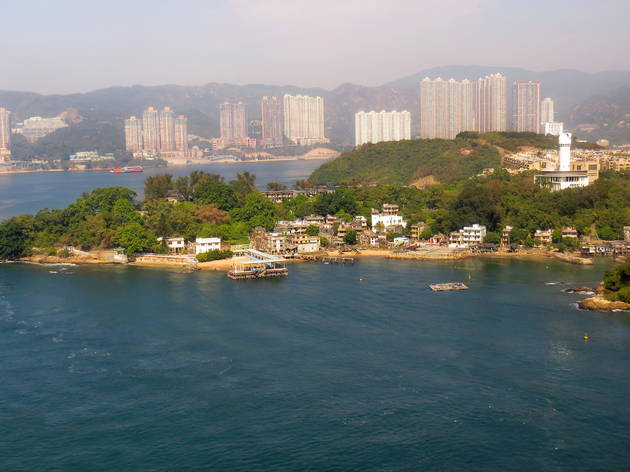 Photograph: Courtesy CC/Wikicommons/Mk2010
Less than a kilometre wide, Ma Wan is home to a beautiful beach, a historic fishing village and the infamous Noah's Ark amusement park. Few vehicles are allowed on Ma Wan, which means you can enjoy significantly lower carbon emissions than in many parts of the city. At night, with its view of the colourful Tsing Ma Bridge, it's a splendid place to disconnect from the hustle and bustle of the city.
How to get there: Take the MTR to Tsing Yi Station. From there, take the NR330 bus towards Park Island. Stop at Kei Wai Primary School and walk for a minute.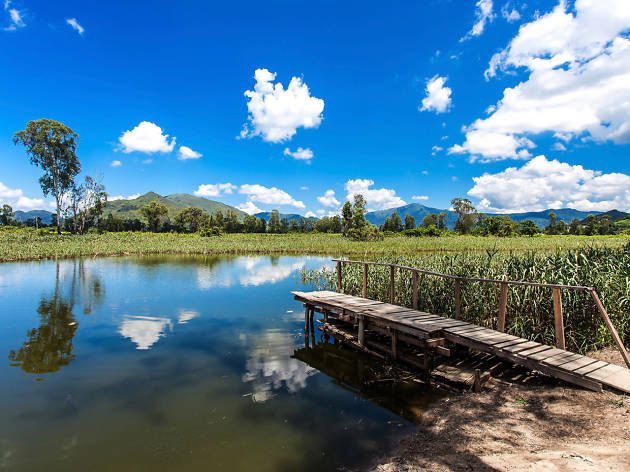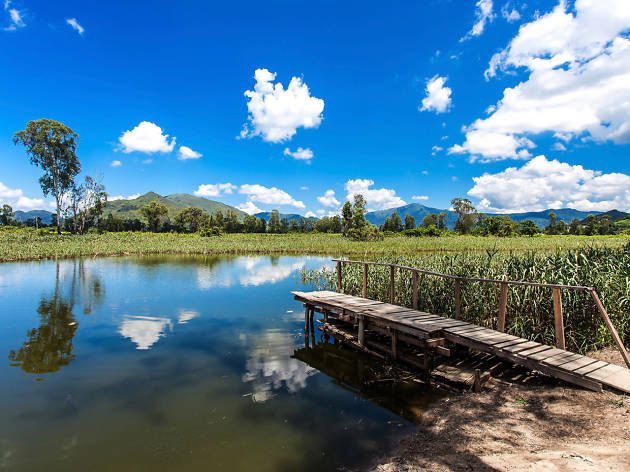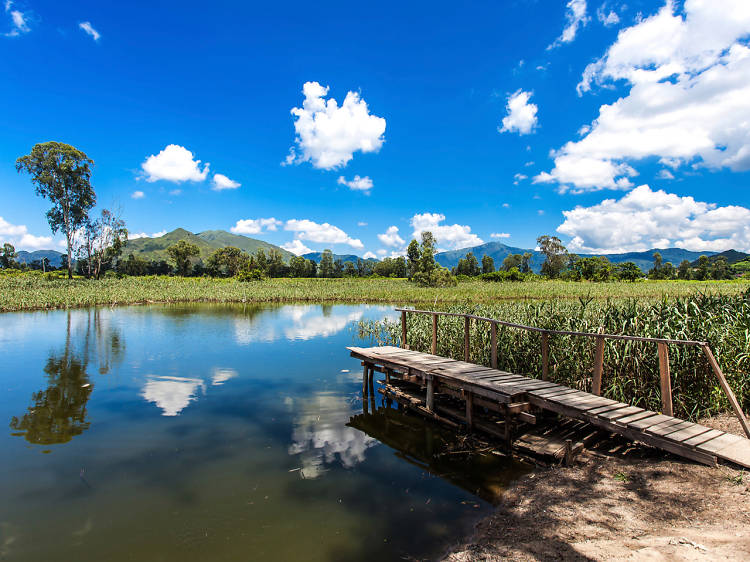 Photograph: Shutterstock
Nam Sang Wai isn't the easiest place to get to, but it's definitely worth the trip. Situated north of Yuen Long, the area is a scenic, romantic wetland area home to mangroves and many migratory birds. Wander tranquilly beneath the eucalyptus trees before stopping for a spot of birdwatching.
How to get there: Take the MTR to Yuen Long. Take Exit G2 and at Sun Yuen Long Centre Bus Stop, hop on bus 76K heading towards Hung Mo Kiu. Walk along Nam Sang Wai Road to reach the starting point.
View this post on Instagram
A preserved war relic definitely worth visiting. Built in 1930, the dome-shaped fort sits snuggly within Chung Hom Kok Park's dense vegetation. High above the sea, the former military outpost has breath-taking views of the Southside – a perfect quiet spot among Hong Kong's flora and fauna, with plenty of sea breeze to help you feel refreshed.
How to get there: From Chung Hom Kok Road, walk 15 minutes from the roundabout. The exact address is 128 Chung Hom Kok Road, next to Cheshire Home.
View this post on Instagram
Located at Lantau's western end, Fan Lau is only accessible by boat or on foot. The area encompasses an almost forgotten village that's home to only a handful of inhabitants. On this tiny peninsula hides a stone circle and a fort – a Declared Monument – originally built in 1729 to protect the channel from pirates. A time tunnel in Lantau, this is a refreshing spot, with significantly lower humidity than the city, for all daring explorers out there.
How to get there: From Tung Chung, hop on bus 11 or 23 and get off at Shek Pik. Walk along Kau Ling Chung Catchwater for an hour to reach the Fan Lau Tung Wan trail entrance.
Looking for more city escapes?
Think you know everything there is to do in Hong Kong? We urge you to think again.
For those who would love nothing more than to enjoy a peaceful trek in nature, without drowning in their own sweat.
Best selling Time Out Offers