Hong Kong's best artisanal markets
From herbs to honey to hot-dogs - here's our round up of the freshest and hippest markets you need to visit around HK
Fresh, hip and creative, gourmet markets are on the rise in Hong Kong. Laurel Chor rounds up the coolest artisanal havens popping up across our city.
If Hong Kong had a national sport, it would probably be shopping (Olympics 2016, anyone?). Yet most of our trade is still catered to vast malls and sprawling centres. A few years ago, small communities started returning to the streets to form humble markets for folk who enjoy a bite of gourmet brie with their ethically sourced coffee. Since then, markets – night and day – have sprung up all over the city, featuring handmade goods, hearty, fresh fare and the casual buzz of conversation, as well as giving much deserved love to our local independent companies. Follow our guide to the best markets around the island, and see what makes them unique.
PMQ Night Market
Bazaar meets music festival under the stars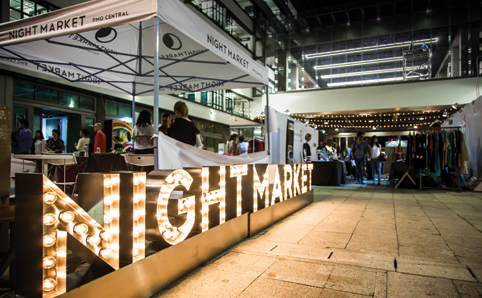 Where: PMQ, Aberdeen Courtyard & Marketplace, 35 Aberdeen St, Central
When: Jul 25-27, Fri 6pm-11pm, Sat 5pm-11pm,
Entrance: Free
Pickup: German sausages from Flying Brats, vegan goodies from Grassroots Pantry, or a charm bracelet from Boho Betty.
If you're looking for the sights and sounds of a Moroccan bazaar without the long flight, PMQ's open-air night market isn't a bad compromise. PMQ has vowed to bring innovative design to Hong Kong, while showcasing the work of the best creative brains and brands. This market, with a decidedly hip vibe, is one of their first initiatives. "We wanted to draw the fashion-conscious, foodies and musos all to the same place and to inspire people creatively," says Vincent Poon, founder of the Hong Kong Markets Organisation, which also puts on the Island East Sunday Market. The night market tantalises all of the senses, whether you're chilling to the sounds of live music wafting through the stalls, eyeing the cool street art installations, or simply embracing being in such an expansive, open air space smack in the middle of Central. Another PMQ market, Design Market, launches in August and offers a specified interest in local designers' goods (Aug 17 & 24, 11am-8pm). pmqnightmarkets.org.
Harbour Artisanal
Eat gourmet food, support small businesses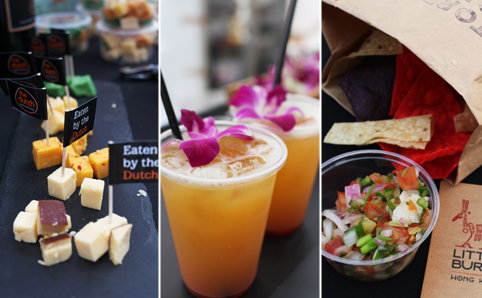 Image: Sybil Kot
Where: Fire Dragon Path, Tai Hang
When: Next date TBA
Entrance: Free
Pick up: Pesto cheese from The Dutch, organic locally made honey from Bee's Nest or a lemongrass, ginger and iced tea flavoured ice pop from Lola's.
For real foodies, this is the market to attend. Founders Joseph Chaney and Timothy Bush built this market from the ground up with their own time and money, making it one of the few independent food markets in Hong Kong. Every vendor is hand selected by the duo, ensuring that the offerings focus solely on excellent, handcrafted food – from micro-brewed, hoppy beer to authentic, spicy burritos – sold by companies that are still under the radar. "Our hope is Harbour Artisanal will help spread the word about small businesses so Hongkongers remember to support them in order to protect and promote business diversity in this great city," says Chaney. There's no awkward standing at this market, as seating and tables are provided, allowing you to wine and dine in comfort, all while helping to prevent a conglomerate-dominated food industry in Hong Kong. harbourartisanal.com.
Sai Kung Sunday Market
Eco-friendly pop-up hub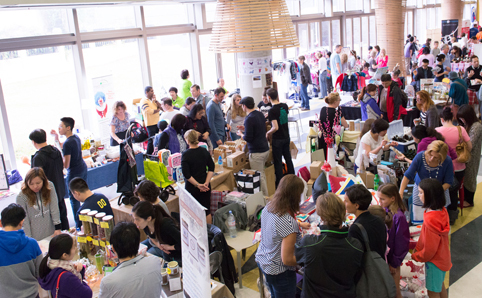 Where: Hong Kong Academy, Wai Man Rd, Sai Kung
When: Sep 7, Oct 5, Nov 2, Dec 7, 11am-5pm
Entrance: Free
Pick up: Fair trade turmeric tea from Fair & Healthy, toilet training aids for the stubborn little one in your life from Run'Em Ragged, or Argentinian wine from El Oso.
We all know the Hong Kong climate is temperamental, so weatherproof venues are always appreciated. After searching high and low for a place to sell his own gourmet foods, Greg Hunt, founder of the Sai Kung Sunday Market, channelled his frustration into creating a brand new market for Sai Kung, an area with a growing expat community and a correspondingly increasing demand for such events. "I want the market to be locally driven with a community spirit. I wantit to be eco-friendly and I want it to be fun," says Hunt. A wide variety of natural and organic food, drink and goods are on sale here, largely from independent storeowners. You can even adopt an adorable homeless pooch into your loving family! The nascent market has already seen an almost insatiable demand, encouraging Hunt to organise events through the rest of the year. saikungmarkets.com.
Handmade Hong Kong
Handcrafted and homemade with love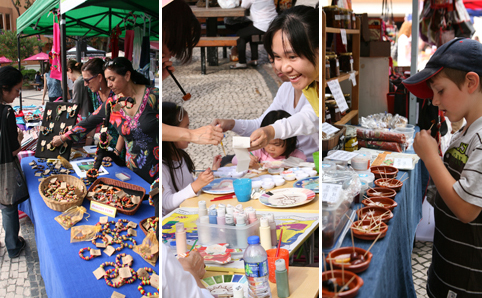 Where: Discovery Bay Main Plaza, Discovery Bay, Lantau Island; The Vine Centre, 29 Burrows St, Wan Chai
When: Discovery Bay: Sep 14, Oct 12, Nov 9, Dec 14; 11am-6pm. / Wan Chai: Dec 6, 11am-6pm
Entrance: Free
Pick up: Chinese medicine-inspired cosmetic products from Coconut Herb, edamame hummus from Crave, or sea-polished glass refurbished into necklaces by seaglassjewelry852.
In a time when virtually everything we own is mass produced, it's nice to know that we can still buy handcrafted items – locally made, to boot. Handmade Hong Kong was founded in 2009 by craft lovers, with its flagship event being the regular Discovery Bay Sunday Market. "We fill a niche for shoppers who value one-of-a-kind items that they can purchase directly from the maker, and for local craftspeople to showcase their amazing work," says Meg Sweeting, co-founder of the fair and amateur crafter. Whether it's unique jewellery pieces, bespoke crochet dolls, or hand-sewn children's clothing, this market has it all, giving you a more intimate alternative to Hong Kong's countless shopping malls. If getting to Lantau seems like a little bit too arduous of a trek, perhaps the offer of a complimentary ride back to Central with any meal eaten at one of D'Deck's multiple alfresco restaurants is incentive enough. handmadehongkong.com.

Central Farmers Market
Environment, health and conscience-friendly produce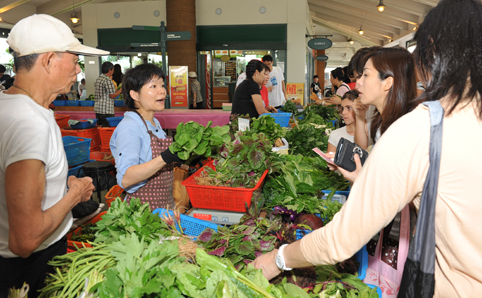 Where: Star Ferry Pier, No 7, Central
When: Every Wednesday 12pm-6pm and every Sunday 11am-5pm
Entrance: Free
Pick up: Okra from Brother So, sweet potato leaves from Ah Hong's farm or Ceylon spinach from Sister Kau.
Your fruits and veggies don't have to be flown in daily from Spain to be good for your body and friendly to your taste buds. Get your greens from local organic farmers – yes, they exist – at this market, established in 2007. Not only is their produce excellent, but have a much lower CO2 price tag for Mother Nature as well. Here, you get the chance to hand your cash over to the very same hands that picked the vegetables you're purchasing. "[Visitors] can ask farmers how the veggies are grown, what is in season or even seek cooking tips," says a representative from the Kadoorie Farm and Botanic Garden, which organises the Sunday market. Besides stocking up on ingredients, you can also buy earth-friendly products and crafts directly from various local artisans. A tip: the Sunday market tends to be larger than the Wednesday one, which is hosted by local organisation SEED. Don't forget to bring those reusable carrier bags! seed.org.hk.
Island East Sunday Market
Kid-friendly organic foodie haven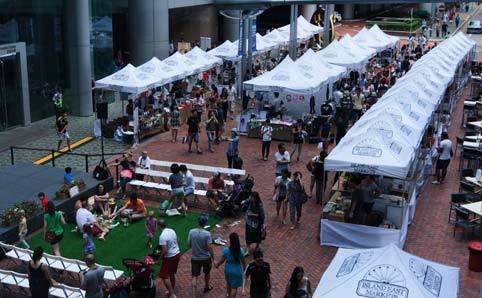 Where: Tong Chong St, Tai Koo Place, Island East
When: Every Sunday until Dec 28, 11am-5.30pm
Entrance: Free
Pick up: Raw Peruvian chocolate from Anything But Salads, organic juices from The Grover or a cool popsicle from Nice Pops.
Not content with just featuring freshly picked organic produce, Island East Market also offers hybrid nibbles and heartier options such as mini pies, fudge brownies and brothy laksa, all catered by local food vendors who've set up stall in the open air venue. Music performances and a kid-friendly terrace area complete the understated and underrated vibe, where you can also snap up local artists' works and craft products. Founder and veteran foodie writer Janice Leung started the market in the autumn of 2012, after noticing a deficit in regular markets that favoured local, independent proprietors.
" We see people aching for places to find high quality produce – we want to provide a platform for both the grower and the buyer," says co-founder Vincent Poon. islandeastmarkets.org.
Hong Kong's best artisanal markets
The LCSD organises Arts Fun Fairs every Sunday and public holiday (Loggia, Kowloon Park, Tsim Sha Tsui, 1pm-7pm). After you fill your shopping bags with art and handicrafts, you can get your worst features accentuated by a caricature artist (yay!) or have a Chinese saying drawn by a master calligrapher.
There are traditional farmers' markets in Tuen Mun on Saturdays (Crossroads, 2 Castle Peak Rd, 10am-4pm) and Tai Po on Sundays (Fire Station, Tai Wo Rd, 9am-5pm). The AFCD is stepping up to the plate as well by promoting local, accredited farms through a kid-friendly Sunday market in Lam Tei (Lam Tei Vegetable Depot, Castle Peak Rd, Tuen Mun, 9am-3pm).
Also on Sunday, there's the large YMCA-run Mei Foo Farm Fest that takes place in an unusual venue – under a flyover (Kwai Chung Rd, Mei Foo, 11am-5pm).
Mapopo Community Farm holds a twice-weekly market (Ma Shi Po Village, Fanling, Wed 2pm-6pm, Sun 11am-6pm), alongside their regular workshops and tours.
Po Leung Kuk, a social NGO, holds a flea market to nurture local the local arts and handicraft scene and with subsidised tables available for eligible vendors, people from all walks of life are encouraged to show off their work. (For future dates checkpoleungkok.org.hk).