Contest: Win tickets to East Imperial Gin Jubilee 2017 masterclass and gin ramble
Stand a chance to win these exclusive tickets to this year's Gin Jubilee x Time Out KL Masterclass and Gin Jubilee x Time Out KL Gin Ramble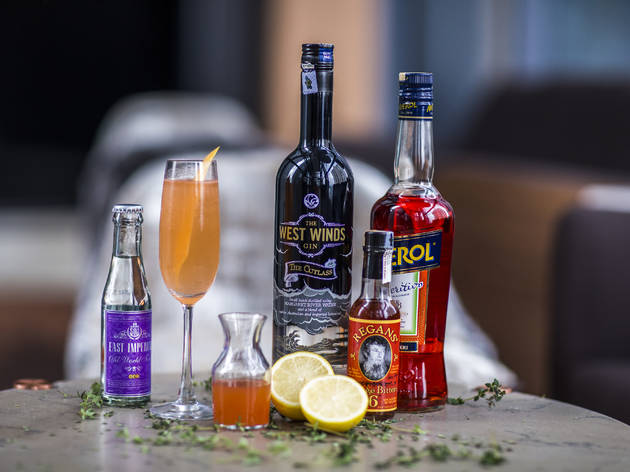 Prize 1: One pair of tickets to the Gin Jubilee x Time Out KL Gin Ramble on Sep 15, 7pm-10pm
Prize 2: One pair of tickets to the Gin Jubilee x Time Out KL Masterclass on Sep 16, 4pm-6pm
Gin lovers rejoice, as Asia's premier gin festival returns to our shores. KL will be kicking off the gin celebrations this year for the East Imperial Gin Jubilee (Sep 13-16), before it moves on to other cities across Asia like Bangkok, Phnom Penh, Hong Kong, Singapore and Shanghai.
The gin scene in KL has flourished over the past year as the city has seen a number of gin specialist bars (namely Pahit, MAZE, Mercat and more) opening up – so it's no wonder the Gin Jubilee is back bigger and better than the last. This year's edition will see more events, more master classes, more participating bars and bartenders, and a longer celebration as well! Fans will appreciate the fact that this year's four-day jubilee will be one day longer than last year's.
Sam Egerton – from popular Sydney speakeasy Charlie Parker's – will kick start the festival on September 13 with a master class at Birch, followed by a guest shift there later in the night.
The jubilee takes it up a notch the next day with an extensive list of master classes and guest shifts lined up. The activities for the day will start with a Citadelle Gin Masterclass featuring Maison Ferrand's Asia Pacific Brand Ambassador Micaela Piccolo at IKKI Lounge (the same master class will also be held on September 16 at Wholly Spirits exclusively for Time Out KL readers only). There will also be a gin blending workshop at Wholly Spirits by Napue Gin Ambassador Mauricio Allende, and a master class on The West Winds gin, syrups and cordials by Callan Green at Shelley Yu's. Later that night, Mauricio will be taking over the bar at Pahit, while Nath Arj-Han from Peek-a-Boo Bangkok will be mixing drinks at Jack Rose. Meanwhile, over at Locker & Loft, you can try their special G&Ts made in collaboration with The West Winds Sabre and East Imperial tonic, and Hendrick's Regional Brand Ambassador Tasha Lu's fun masterclass ends with dancing, music and a bar takeover at Ril's Bangsar.
If you want a unique bar hopping experience, go for the 'St George Switch' event happening at Birch and Jack Rose on September 15. The bars have collaborated with Grab and Uber to allow you to go back and forth between them for free as long as you have bought the jubilee edition G&Ts at both bars. Also happening that night are guest shifts by Napue's Mauricio Allende at Skullduggery and Micaela Piccolo at HYDE at 53M.
Making sure things end with a bang, the East Imperial Gin Jubilee's grand finale, the Gin Lane Street Party will be filled with food, music and even more gin. Participating bars and bartenders at the party are also taking part in a city-wide Best Gin & Tonic competition – you know they'll be bringing their A game, so don't miss out on trying any of the G&Ts served that night. The winning bar and bartender will then compete for the ultimate crown for Asia's Best Gin & Tonic at the jubilee's grand finale in Singapore from November 27 to December 3.
1. This contest is organised by Time Out Kuala Lumpur (hereinafter referred to as the 'Organiser').
2. The prizes for this contest are neither exchangeable for cash nor transferable.
3. All persons ('Contestants') taking part in this contest agree that these rules shall be binding on them, and that the entries in this contest, including their name and likeness, may be used without restriction in any future publicity material by the Organiser.
4. The Organiser reserves the right to amend these rules or terminate the contest at any time at its sole and absolute discretion. All decisions made by the Organiser under these rules shall be final and no discussion or correspondence will be entertained. The Organiser may, but is not required to, justify any decisions relating to this contest.
5. The Contestant acknowledges that the interest and good reputation of the Organiser is of paramount importance. The Organiser reserves the right to disqualify a Contestant from the contest, or to withdraw the prize if it believes the Contestant is in breach of its obligations under the rules. The Contestant shall not by act or omission, directly or indirectly bring the Organiser into disrepute.

6. All entries are sent at the risk of the Contestant and in the event that there are technical difficulties experienced arising out of the internet or from any associated equipment or internet security is compromised, the Organiser may at its sole and absolute discretion disqualify the entire entry and shall not accept any liability doing so.
7. Contest entries may only be submitted via the stated medium of communication.

8. This contest is open to anyone above 18 years old and contestants under 18 years old are prohibited from entering this contest.

9. Each entry must be completed in full. The Organiser reserves the right to disqualify any incomplete entries in its sole and absolute discretion.

10. Contestants shall only submit one entry and multiple entries of the same shall be treated as 'spam' and shall be ignored.

11. Incomplete entries will be deemed void.

12. Entries will be judged by Time Out Kuala Lumpur solely on the correctness of the answer(s) furnished and accuracy of personal details furnished with the judges' decision as final.
13. Winners will be informed by email.

14. Uses of 'aliases' shall be considered a form of deception and is prohibited.

15. The winner must produce their original IC / passport with legible IC / passport number in order to claim the prize. The winner may also be required to produce additional original proof of identity at the discretion of the Organiser.

16. All Prizes are accepted entirely at the risk of the winner, and the Organiser excludes all warranties in connection with the prize to the extent permitted by law.
17. All Contestants release from, and indemnify the Organiser, its agencies, sponsors and representatives against, all liability, cost, loss or expense arising out of acceptance of any prize or participation in the contest including (but not limited to) personal injury and damage to property and whether direct or consequential, foreseeable, due to some negligent act or omission or otherwise.
18. All personal particulars furnished are meant for identification purposes and will not be sold or given to any third parties.
19. Prizes will be forfeited if not collected within the time frame stated after the announcement of winners.