Best bars in London – Hotel bars
Time Out recommends the best hotel bars in the capital, where the drinks and service are so good, you'll want to stay the night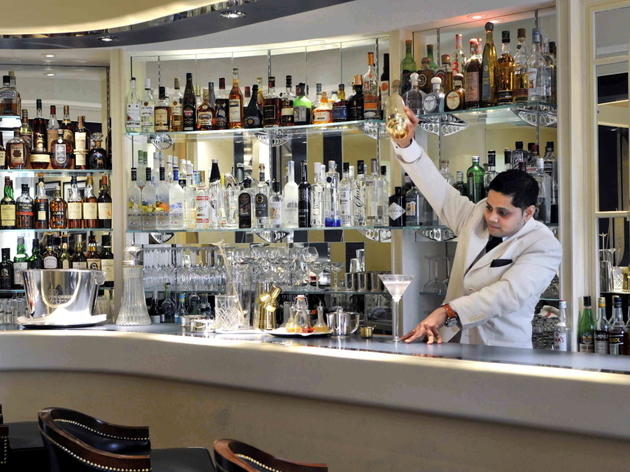 Not only are London's top hotels fantastic to stay in, but many of them are also fantastic to drink in. From classic cocktails to stunning surroundings, the capital is home to many great hotel bars including Mandarin Bar at the Mandarin Oriental and Artesian at the Langham Hotel.
Think we've missed a great hotel bar in London?Let us know in the comment box below.
Sponsored listing
Dirty Harry's
This 'Coyote Ugly'- inspired bar is bringing back counter-top dancing, big time. It's on the site of Peter Stringfellow's old club in Soho. Go figure. Dirty Harry's is decked out like an American saloon bar. On the Friday night I went, it was rammed and rowdy with a live band blasting classic rock. I'd pre-booked a table 'close to "Harry's Honeys"' (their term, not mine – and yup, requesting that on the phone was excruciating), but the girls don't start dancing till 9pm, which meant I could concentrate on the excellent cocktails, as well as the menu of juicy burgers and loaded fries. The vibe was a bit weird, with the 350-capacity space so big it seemed to lack atmosphere. But when the girls got up on the bar everything started making sense. They're brilliant dancers, and the whole thing felt sexy without being exploitative; about five minutes in, I realised I was actually whooping. On the way out, though, I noticed a big table of Hard Rock Café-style Dirty Harry's merch for sale. Counter-top dancing, it seems, can be an art form. But merch? Now that's just tacky.
Venue says: "'Dirty brunch', starts this Saturday and Sunday, fantastic offer from noon until 3.30pm. Bottomless prosecco and dirty marys at £20pp."