Overcome the back-to-work blues by peppering your week with the fun below. Over the next four days you can discover handmade Indian textiles at the V&A, feast on fonduta at Peckham's Forza Win, or catch four days of top music thanks to Fortuna Pop's Winter Sprinter.
Things to do
Terrarium Tuesdays, Grace and Thorn Flowers, Tue, £60. Hackney florist Grace and Thorn runs monthly workshops in which you'll learn all you need to know about designing a tiny landscaped garden, leaving with your very own creation at the end of the night.
Farewell to Christmas, Geffrye Museum, Wed, free. Wave goodbye to Christmas at this traditional celebration on Twelfth Night which takes place in the Geffrye Museum's pretty gardens. There'll be carol singing, mulled wine, stories about Epiphany and Twelfth Night cake as well as the ritualistic burning of the holly and the ivy.
UK Premiere Screening: At Home in the World and Q&A, Frontline Club, Thu £10, £8 concs. This documentary explores a Danish Red Cross school for refugees, where classroom are packed with children from more that 12 different countries. As well as learning Danish, the children must adjust to their new environment and deal with the trauma of conflict.
The Fabric of India, V&A, all week, £14, free for V&A members. The Fabric of India' brings together 200 handmade textiles that reflect the country's cultural heritage. Highlights include an eighteenth-century sultan's tent, sumptuous historic costumes, and contemporary fashion by Manish Arora.
Prototypes and Experiments, Aram, all week, free. Explore the processes, refinement methods and tricky decisions made by designers during their journeys from initial ideas through to finish products at this exhibition.
…or check out more events happening in London this week.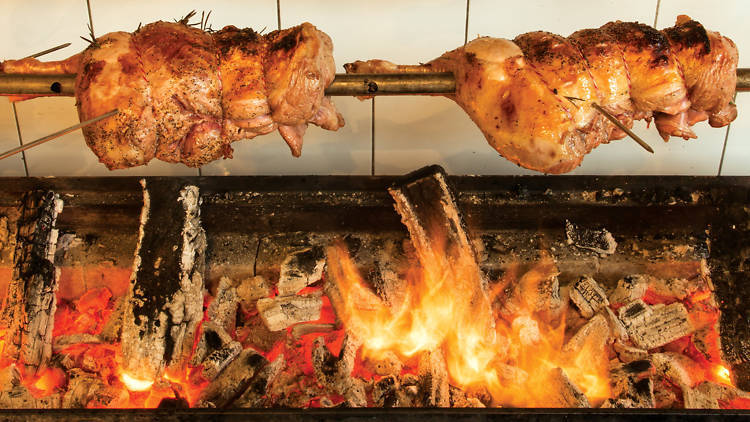 © Scott Chasserot
Eating and drinking
Forza Winter, Forza Win Peckham, Thu, £35. Forza Winter is back, and it is still very, very cheesy. Their delicious fonduta (Italianised fondue, just in case you're not fully versed in melted cheese meals) is the centrepiece of the wintry feast – the gorgeously gooey cheese comes with roasted vegetables to dip into it – and is served alongside huge chunks of woodfired porchetta.
Wünderlust, Big Red, Thu. Street food stars Fleisch Mob have taken over Deptford's Big Red for the next few months, and will be serving a seasonal menu, local beers, natural wines and artisan cocktails in and around the double decker.
Forest Restaurant and Cabin Bar, Selfridges, all week. Just because you're wearing tights under jeans doesn't mean you can't drink on a rooftop. Des McDonald (of Q Grill, Vintage Salt and Holborn Dining Room fame) has transforming the roof of Selfridges into an autumnal woodland for this wintry pop-up.
…or check out the latest restaurant reviews.
Comedy
Seymour Mace: Niche as Fuck!, Soho Theatre, Tue-Thu, £10-£15. Mad-ass stand-up Seymour Mace bagged a Foster's Edinburgh Comedy Award nom at last year's Edinburgh Fringe for his anarchic, very silly show, 'Niche as Fuck!' It's a seemingly random hodge-podge of ideas: bizarre faux-gameshows, lip-syncing puppets and catchy jingles (you won't forget 'Is your name Gary?' in a hurry.)
Billy Connolly: High Horse Tour, Eventim Apollo Hammersmith, Thu, £33.75-£50.25. The legend returns! The Big Yin himself, Billy Connolly, hits town with his 'High Horse Tour', playing the Hammersmith Apollo for an extended run.
Anne Edmonds: You Know What I'm Like, Soho Theatre, all week, £10-£15. Aussie comic Anne Edmonds – who mixes stand-up, character comedy and a touch of banjo playing – received the Comics' Choice Award at last year's Melbourne Comedy Festival. This is her first trip to London.
Sam Simmons – Spaghetti for Breakfast, Soho Theatre, all week, £15-£20. 2015's triumphant Foster's Edinburgh Comedy Award-winner Sam Simmons is back in London for another victory lap. This Aussie absurdist is erratic, loud and relentlessly silly, and 'Spaghetti for Breakfast' is his best show yet.
Comedy Virgins Max Turner Prize 2016, The Cavendish Arms, all week, free. This annual new act competition from the Comedy Virgins gang takes place all week, with heats from Sunday to Friday, and the best acts going through to Saturday's grand final.
…or check out all the critics' choice comedy shows.
Withered Hand
Live music and nightlife
Fortuna Pop's Winter Sprinter, The Lexington, Tue-Thu, £9.50, £30 four days. Long-running London indie label Fortuna Pop presents four days of indie fun, with a slight leaning towards spiky twee but a fine range of artists involved. Headliners include Steven James Adams (Tue), Tigercats (Wed), Withered Hand (Thu) and Martha (Fri). There's a full support bill each night, and DJs spinning indie favourites afterwards.
Enzo Zirilli's Zirobop, Hideaway, Thu, £10. Italian drummer Enzo Zirilli launches his latest album, Zirobop. He's a formidable musician who has worked with the likes of Gloria Gaynor, Omar, Stan Sulzmann and Liane Carroll.
Skate at Somerset House: Club Nights, Somerset House, Thu, £17. Top DJs spin tunes while you ice skate at Somerset House's annual winter series.
…or take a look at all the live music events in London this week.
Film
Joy ★★★★☆ Jennifer Lawrence and Bradley Cooper reunite with 'American Hustle' writer-director David O Russell for this sharp, enjoyable real-life melodrama.
The Danish Girl ★★☆☆☆ Eddie Redmayne is striking, but this is a disappointingly conservative biopic of the pioneering transgender artist Lili Elbe.
…or see all of the latest releases.
© Marc Brenner
Theatre
The Dazzle, FOUND111, all week, £10-£35. Andrew Scott dazzles in this slightly hokey play about two eccentric brothers.
Bull, Young Vic, all week, £10-£25. Mike Bartlett's dark comedy about warring work colleagues returns to the Young Vic.
The Wasp, Trafalgar Studio 2, all week, £15-£30. A sharply observed thriller held together by two fierce performances – but the sting in this tale isn't as sharp as it might be.
Forget Me Not, Bush Theatre, all week, £20, £12.50 concs. Moving but imperfectly executed drama about the forced deportation of British children to Australia.
Charming Dick, Royal Vauxhall Tavern, Wed-Thu, £12-£15. Historic LGBT venue the Royal Vauxhall Tavern presents a bawdy take on the tale of Dick Whittington, featuring a faded Dame Twankey, a Eurovision wannabe, a charming prince, and of course little Dick himself.
…or see our theatre critics' choices.
Art exhibitions to catch before they close
Goya: Portraits, National Gallery, all week, £18, concs available. Don't miss the first ever show to focus on the portraits by the Spanish painting don, Francisco de Goya.
Soaring Flight: Peter Lanyon's Gliding Paintings, Courtauld Gallery, all week, £8.50, £4-£7.50 concs including £1 donation. There's nothing more exciting for a certain type of artist than the prospect of viewing something completely new – some fresh, previously unconceived of perspective, a novel visual experience. Certainly, that seems to have been what drew Peter Lanyon to take up gliding in 1959.
Giacometti: Pure Presence, National Portrait Gallery, all week, £15, £13.50 concs. The first ever show to focus on a less well-known aspect of the modernist sculptor's career.
Brigitte Lacombe: Complicities, Phillips, all week, free. In these photographs, Leonardo DiCaprio, Meryl Streep, Dustin Hoffman, Kirsten Dunst, John Malkovich and Michelle Williams are among those caught just before action is called or cut.
…or see all London art reviews.
And finally
Win... a six-month Zones 1-2 Oyster travelcard or tickets to Grey Gardens, a weekend at The Cavendish London and dinner at The Breakfast Club
Grab... tickets to Time Out's After-school Club for Grown-ups at the Natural History Museum on February 12
Book… these gigs while you still can
Best of the blog
62 divine things to do in London this January
TfL fare increases: everything you need to know about the new prices for 2016
Why you must walk down Berwick Street