Kick-start your weekend with a vintage swing ball, take it back to the '90s with classic hip hop and R&B tunes on the Supa Dupa Fly dance floor, or marvel all the beautiful light installations illuminating our city all weekend thanks to Lumiere Festival. Enjoy!
Things to do
Swing Patrol's Winter Ball, 229, TONIGHT, £20, £14 adv. Polish your dancing shoes for this energetic evening of social swing dancing which kicks off with a beginners' taster class so that even those with no experience can take to the floor.
Vertical: Le Patin Libre, Somerset House, Fri-Sat, £15, £12.50 concs. Skate at Somerset House wraps up with a sensational display of dancing on ice thanks to Canadian quintet Le Patin Libre and their award-winning double bill 'Vertical'.
Festival of the Mind, JW3, Sun, £25, individual tickets available. Psychology and the mind are unpicked in a playful way during this one-day festival at JW3. Event highlights include a guided walk through Hampstead exploring the lives of the Freud family (10.45am) and a panel discussion with singer Ana Silvera, writer Nathan Filer and artist Ian Williams talking about using mental health issues within their work (4.30pm).
Sunday Shake Off Blues Brunch, Haunt, Sun, £5, £3 concs. Shake up your Sunday with a blues dance class taught by a different dancer each month. A changing group of DJ and live acts will provide the musical accompaniment and all ages and abilities are encouraged to give the sessions a go.
Lumiere London, various, all weekend, free. This city-wide collection of magical installations will be brightening our streets (and, in turn, our January) for four days and there are spectacular things in store.
…or check out more events happening in London this weekend.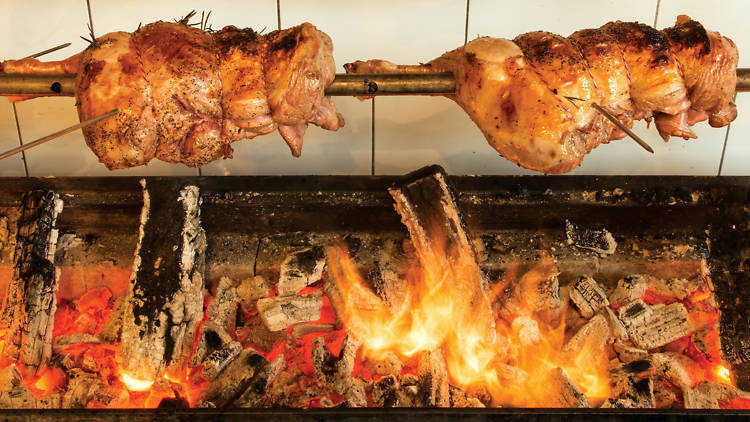 © Scott Chasserot
Eating and drinking
Forza Winter, Forza Win Peckham, Fri-Sat, £35. Delicious fonduta (Italianised fondue, just in case you're not fully versed in melted cheese meals) is the centrepiece of the wintry feast – the gorgeously gooey cheese comes with roasted vegetables to dip into it – and is served alongside huge chunks of woodfired porchetta.
Ceilidh Club Burns Night, Hammersmith Town Hall, Sat, £34.65, £22 concs. London's biggest Burns Night event, with three hours of energetic ceilidh dancing and a buffet dinner of haggis, neeps and tatties, plus all the appropriate extras such as piping in and addressing the haggis.
…or check out the latest restaurant reviews.
© Viara Kitanova
Comedy
Robert Newman: The Brain Show, Soho Theatre, Fri-Sat, £20, £17.50 concs. 'The Brain Show', exploring whether some grand claims made by neuroscience are true via proper scientific facts and whimsical comedy. You'll laugh and learn at a Rob Newman show.
Nish Kumar: Long Word… Long Word… Blah Blah Blah… I'm So Clever, Soho Theatre, Fri-Sat, £15, £12.50 concs. After being dubbed a 'left-wing comedian' by his own mother, Kumar examines why stand-up is generally a lefty art form via playful routines on Monopoly and James Bond and intelligent thoughts on race and gender. It's Kumar's best show yet: passionate, urgent and full of big laughs.
Tiernan Douieb: The World's Full of Idiots, Let's Live in Space, The Phoenix, Sun, free. Despite being a Tory-bashing shouty grump, Tiernan Douieb somehow manages to remain one of the more friendly (and upbeat) comics on the circuit. In recent years, he's really found his voice as a passionate political comic with an increasing intolerance for rude, ignorant people.
Kevin Hart: What Now?, The O2, Sun, £39.50-£130. He might be small in stature but this fast-talking US comic is fast becoming a comedy giant, chalking up box-office hits ('Get Hard', 'Ride Along') alongside his globe-straddling stand-up success.
…or check out all the critics' choice comedy shows.
Live music and nightlife
Supa Dupa Fly, Ace Hotel London Shoreditch, TONIGHT. A popular, fun club night soundtracked by classic hip hop and R&B jams from the '90s and early 2000s.
Gilles Peterson's Worldwide Awards, Koko, Sat, £35 adv. The annual Worldwide Awards, organised by superb selector Gilles Peterson, act as a showcase for some of the very freshest talents from the worlds of funk, hip hop, jazz, dub, house, electronica and more.
Skinny Girl Diet, DIY Space for London, Sat, £6, £5 adv (plus £2 DIY Space membership). Raucuous, outspoken and very cool feminist punks Skinny Girl Diet play a headline show.
The South London Soul Train, Bussey Building/The CLF Art Cafe, Sat, £5-£12. This monthly Peckham party promises 'no bass wobbles, only love, funk and soul'. Amen to that, we say. Expect everything from Motown anthems to slinky jazz-funk killers, hosted by Jazzheadchronic with special guests.
Fluffer Pit Parties, Secret London location, Sat, £10. In a praiseworthy attempt to put some of the underground thrill back into London's rock 'n' roll scene, east London indie label Fluffer Records are putting on a series of shows in a secret warehouse venue.
…or see all the parties planned this weekend.
The Revenant
Film
Mean Streets, Rio, Sat, £8.50. The definitive New York movie, and a perfect example of successfully integrating rock music into the structure of film: watch Harvey Keitel waking to the sound of the Ronettes, or De Niro dancing solo in the street to 'Mickey's Monkey'.
The White Ribbon, Close-Up Film Centre, Sat, £10. Cheer yourself up this January with Close-Up's season of films by European cinema's toughest, most uncompromising genius, Michael Haneke.
The Circus, Barbican Centre, Sun, £9.50, £8.50 concs. Circus-themed movies have a bad reputation ('Freaks' notwithstanding), but Chaplin managed to work a miracle, exploiting the various circus activities to richly comic effect.
Or at the cinema...
The Revenant ★★★★☆ Leonardo DiCaprio battles the elements – and a ferocious bear – in this fierce, elemental western from 'Birdman' director Alejandro González Iñárritu.
Room ★★★★☆ Brie Larson is harrowing as a young mother abducted and trapped in a shed for years.
Creed ★★★★☆ In this low-key boxing drama, Sylvester Stallone is on impressive form as the ageing Rocky - now playing mentor to a new generation of fighters.
…or see all of the latest releases.
Jean-Louis Fernandez
Theatre
Akram Khan: Until the Lions, Roundhouse, Fri-Sat, £10-£39. One of Britain's most acclaimed choreographers, Akram Khan may have the Olympics opening ceremony on his CV, but latest work 'Until the Lions' – although only an hour long and using just three dancers – feels truly epic.
Nine Lives, Arcola Theatre, Fri-Sat, £14-£17, £13-£15 concs. Ishmael is one of the people who make up those immigrant 'swarms' we've been hearing so much about. He's also the narrator of Zodwa Nyoni's monologue, which comes to the Arcola after a nationwide tour. It's a stark, sparse piece that urges, above all, kindness.
Fear and Misery of the Third Reich, Union Theatre, all weekend, £20, £17 concs. A powerful and topical revival of Brecht's daring assessment of Hitler's Germany.
…or see our theatre critics' choices.
This week's best new art
Julia Wachtel, Vilma Gold, Fri-Sat, free. Julia Wachtel's appropriates the visual language of mass culture in her vibrant and vivacious paintings. Kitschy cartoon characters from the 1970s are juxtaposed with imagery of celebrities and cult icons taken from the internet to explore the vernacular of contemporary culture.
Condo, various London venues, Sat, free. Head to a gallery this weekend and you could be repaid with two, three – or more – shows in one. For four weeks, eight of the capital's hippest spaces, ranging from Southard Reid in Soho to The Sunday Painter in Peckham, are opening their doors to like-minded galleries from as far afield as Shanghai and São Paulo.
Annie Leibovitz: Women, Wapping Hydraulic Power Station, Sat-Sun, free. There's Adele at the piano, eyes closed, deep in thought. And Caitlyn Jenner off the telly, in an outtake from her Vanity Fair shoot. And Taylor Swift, in black, by a bush. And businesswoman Wendy Deng taking a (probably rare) moment off. And Aung San Suu Kyi, beautifully dignified as ever. And ballet dancer Misty Copeland en point. And… Has anyone ever turned Annie Leibovitz down?
…or see all London art reviews.
And finally
Win... a pair of return tickets to Paris with Eurostar or an A-list experience at The Athenaeum Hotel & Apartments
Grab... to 58% off tickets to Frederick Ashton's 'Rhapsody'/'The Two Pigeons' at the Royal Opera House - from £30
Book… these gigs while you still can
Best of the blog
Here's how you can rent out a room in a £3million home for £1 a month
David Bowie's London: 13 places connected to the star's life and career
In pictures: the No Trousers Tube Ride 2016