Try out an impressive range of craft beers at a festival celebrating suds in Clapham, pick up sweet-smelling flowers at the RHS Early Spring Fair, or get yourself to Tate Modern's latest exhibition exploring photography's role in capturing ephemeral performance art. Win the week with all the cultural craziness below!
Things to do
Drawn at the Tower, Tower of London , TONIGHT, £24, £20 concs. Spend a sketchy evening flexing your artistic skills as you creep around the Tower of London after hours. All drawing materials are included in the ticket price and each event takes on a new theme, usually of a morbid persuasion.
Valentine's Extreme Garnishing, Hoxton Grill, Tue, £20. If a fear of your un-fancy finishing is hampering your romantic ambitions, this could be the solution – a one-stop garnishing workshop covering such aphrodisiac madness as edible Valentine's cards, takeaway love potions and molecular gastronomy.
The Crick Crack Club Presents: This Thing Called Love, Rich Mix, Thu, £6 adv, £8 on the door. Listen to live and unscripted tales of love, lust, madness and romance at the Crick Crack Club's latest evening of storytelling. Nell Phoenix, Tim Ralphs and Nick Hennessey will be providing the entertainment, prolonging the love post Valentine's Day.
RHS London Early Spring Fair, RHS Lindley Hall, Tue-Wed, £6. Formerly known as the RHS London Plant and Potato Fair, this two day celebration features beautiful early flowering plants including snowdrops and bulbs from top nurserymen and growers.
SuperLabs!, Cartoon Museum, Thu, free. Don your superhero capes for two evenings of superhero possibilities for children and adults. Scientists, engineers and artists will explore just how to walk on the water, see through walls and a host of other superskills to defeat your arch nemesis.
Life After Pi: Yann Martel on Stories, The School of Life, Thu, £20. Tonight The School of Life welcomes Yann Martel, author of the Man Booker Prize-winning novel 'Life of Pi' to the stage to examine the stories that unite us and the challenges we all face.
London's Urban Jungle, Horniman Museum, all week, free. The Horniman's latest exhibition delves into the life of Victorian London's leading dealer of exotic animals, shells and other artefacts, Charles Jamrach.
…or check out more events happening in London this week.
The Theatre of Beer
Eating and drinking
The Mid-week Solo Supper Club, The Calthorpe Project, Wed, £18.50, £13.50 students + booking fee. If you're looking to meet new people or 2016's resolution is to improve your culinary skills, then book onto this class that will see participants rustle up a delicious three-course meal together.
The Theatre of Beer, Clapham Grand, Wed-Thu, £6. The Clapham Grand will host this traditional but lighthearted beer festival featuring live music, food vendors and more brews than you could ever hope to work your way through.
The Supp-ha-ha Supper Club, The Pill Box Kitchen, Thu, £35. Culinary delights and comedy meet at this supper club from pop-up pros Hope & Harris. Tickets include a four-course meal, welcome drink and plenty of belly laughs from comedians performing stand-up, sketch and musical numbers throughout the night.
Make Your Own Sauerkraut Workshop, Whole Foods Market, Thu, £10. The fermenting process is magical really, it produces alcohol, bread and yoghurt. And in this workshop you can learn how to ferment your veggies into sauerkraut with a glass of wine and Rude Health co-founder Nick Barnard.
Gladiator's Dinner, Secret London location, Thu, £45 earlybird. That idea of Romans throwing up after dinner to fit in more dinner? A myth. That stereotype of orgies, lavish menus and parties for days? Truth. So pull on a toga and get immersed in Ancient Roman tradition of much food and wine in a secret London location.
…or check out the latest restaurant reviews.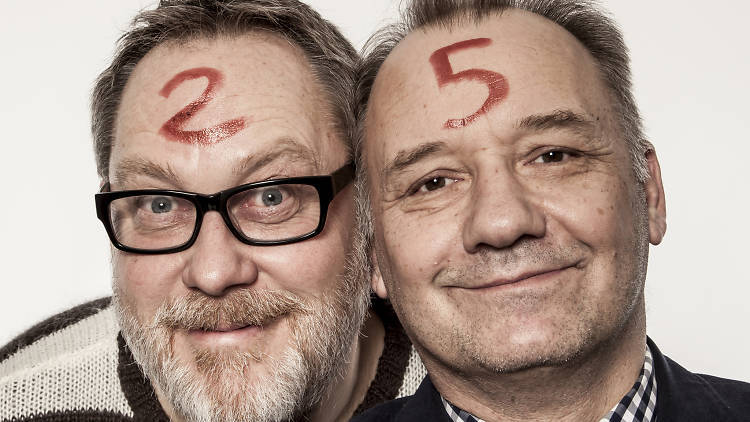 © Rob Greig
Comedy
25 Years of Reeves & Mortimer – The Poignant Moments, Eventim Apollo Hammersmith, Mon-Tue, £36. The absurdist comedy heroes celebrate their silver anniversary with a massive new 'best of' tour.
Rob Auton: The Water Show, Soho Theatre, Mon-Wed, £10. Comedy poet Rob Auton had a hit on his hands with 'The Yellow Show' a few years back, and then 'The Sky Show' and 'The Face Show'. Now he's moved on to water for – you guessed it – 'The Water Show.
The James Acaster Experience, The Invisible Dot Ltd, Thu, £10, £9 concs. Four-time Foster's Edinburgh Comedy Award nominee James Acaster hosts these Invisible Dot gigs, introducing some of his comedy pals.
Sarah Kendall: A Day in October, Soho Theatre, all week, £10-£15. Aussie stand-up Sarah Kendall was nominated for the 2015 Foster's Edinburgh Comedy Award for her latest, touching storytelling show. It an intricately woven and beautifully told tale, mixing fact and fiction about her high school years.
…or check out all the critics' choice comedy shows.
Live music and nightlife
Poliça, Village Underground, TONIGHT, £18. Vocoder-heavy Minneapolitans Poliça whipped up a storm of hype with their first album, 'Give You the Ghost' – its seductive blend of trip hop and synth-pop bought them high-profile fans including Jay Z and Justin Vernon of Bon Iver.
Little Simz, O2 Academy Islington, Tue, £11. Masterful in her ability to assimilate every conceivable rap genre, the frighteningly talented Little Simz is finally garnering some well-deserved recognition riding the recent wave of trap music.
Foals, Wembley Arena, Tue, £26-£36. Foals have evolved into one of the country's finest alternative rock bands, matching intelligence and a knack for smart, danceable pop tunes with a new love for sludgy riffs, funk grooves and organic improvisation – all of which makes them a fearsome live act.
Suede, O2 Academy Brixton, Wed, phone for prices. Brett Anderson's glam Britpoppers return with a new album, 'Night Thoughts'. Alongside the new songs listen out for some '90s classics and tracks from their 2013 comeback album 'Bloodsports'.
Hinds, Koko, Thu, £12. Formerly Deers, this incredibly fun indie quartet from Madrid are beholden to the Velvet Underground, the Phil Spector-produced girl bands of the '60s, riot grrrl and British indie-pop.
King Gizzard & The Lizard Wizard, Electric Ballroom, Thu, £15.60. The Aussie collective explore the outer regions of psychedelic rock, with tasty results.
Your Mum's House, The Nest, Thu, £7, £5 before midnight. Not for the faint-hearted, this weekly jaunt is a 'dress up 'n' get messed up' night of mayhem and mischief, with a soundtrack of bassy house, hip hop, old school bangers, trap, R&B and UK garage.
…or take a look at all the live music events in London this week.
Zoolander 2
Film
'Lord of the Flies' + Peter Brook Q&A, Ciné Lumière, Wed, £10, £8 concs. Legendary theatre maverick Peter Brook will introduce three of his films over two days, including this adaptation of William Golding's 1954 novel about a gang of English schoolboys stranded on a desert island after a nuclear holocaust.
Disaster Film Club: 'True Stories', Hackney Picturehouse, Wed, £5. Talking Heads frontman David Byrne's oddball indie adventure celebrates its thirtieth anniversary.
'Leave to Remain' + director Q&A, Queen Mary University of London, Thu, free. Explore the plight of refugees with this solid British drama, a director Q&A and talks on legal issues surrounding migrants.
Or at the cinema...
A Bigger Splash ★★★★☆ Ralph Fiennes steals the latest melodrama from Tilda Swinton and 'I Am Love' director Luca Guadagnino.
Zoolander 2 ★★★★☆ Yes, it's far from deep – but this 'Zoolander' sequel delivers what fans will be after: ample celeb cameos and an equal amount of lunatic plotting.
…or see all of the latest releases.
© Philip Tull
Theatre
Hardboiled: The Fall of Sam Shadow, New Diorama Theatre, Tue-Thu, £12.50, £10.50 concs. A fringey tribute to the golden age of film noir could easily have been excruciating – all squawky gangster accents and over-done key-lighting. But, in the hands of theatre company Rhum and Clay and writer-director Beth Flintoff, it's pulled off triumphantly.
The Restoration of Nell Gwyn, Park Theatre, Tue-Thu, £14.50-£18, £16.50 concs. This tale of King Charles III's mistress is every bit as bawdy as its West End counterpart.
Ursula Martinez: Free Admission, Soho Theatre, all week, £15-£25 (£12.50-£17.50 concs). Performance artist Martinez builds a wall and tells blunt truths in a fine new show.
…or see our theatre critics' choices.
This week's best new art
Delacroix and the Rise of Modern Art, National Gallery, Wed-Thu, £8-£16, under-12s free. The audacious, under-appreciated Romantic painter steps into the spotlight in this blockbuster show.
Performing for the Camera, Tate Modern, Thu, £16. Beginning by looking at photography's crucial role in a capturing ephemeral performance art for posterity – by artists such as Yves Klein and Yayoi Kusama – the show goes on to consider how the photographic image has moved centrestage to become a means of acting out roles, posing and performing in its own right.
…or see all London art reviews.
And finally
Win... a really, really, ridiculously, good-looking weekend in Paris or an epic theatre trip to see Hand to God in the West End
Grab... tickets for HiddenCity's 'Moriarty's Game'- a Sherlock Holmes inspired cryptic trail for up to four people
Book… these gigs while you still can
Best of the blog
Want to live in Chandler Bing's London flat?
Someone's created a map of TV shows set in London
This is what London would look like if plans for 250 more skyscrapers are approved