This weekend is bringing both sun and fun to the capital. Peckham's got a rum-fuelled party to get down to, there's a Bugsy Malone Birthday Bash complete with its own speakeasy, and there are classic films to be watched at the Guildhall Yard Open Cinema. See ya on the flip side, gang!
Things to do
Dodgeballdayer, Wimbledon Rugby Club, Sat, £27.50 registration, £10 spectator. This charity fundraiser will see over 850 dodgeball players battle it out over the day, will music from DJs, plus food and drink stalls to keep players fuelled and spectators happy.
Well Street Market Against Racism, Well Street Market, Sat, free. An anti-racism event to celebrate Hackney's diverse community. Local stores, artisans and musicians will be involved in the day which has the backing of the Mayor of London as part of the London is Open campaign.
King's Cross Sports Day, multiple venues, Sat, free. Egg and spoon races, a climbing wall, sack racing, yoga, tightrope walking and three-legged races: King's Cross Sports Day is back, so lace up your trainers.
Ultimate Frisbee, Marlborough Sports Garden, Sat, free. Frisbees will be flying left, right and centre at this friendly weekend tournament for teenagers and adults. Beginners are welcome and games will be played between 1pm-4pm on the sand court in Southwark.
Peckham Salvage Yard, Copeland Park, Sat-Sun, free. Get your paws on vintage threads, homeware and handmade items at this south London fair from the gang behind Hackney Flea Market.
The Stitch Academy, various venues, Sat-Sun, free. Fashion outlet district Hackney Walk are putting on this series of free workshops which let budding creatives try their skills under the watchful eye of industry experts.
Sound Advice Acoustic Sunday, St Peter's de Beauvoir, Sun, free. These summertime concerts are held at St Peter's Crypt Cafe and feature a variety of folk acts. Catch an open mic session from 2.30pm and feast on soft shell crab burgers, posh fish finger sandwiches and sangria from the pop-up bar.
Bugsy's 40th Birthday Bash, BAFTA, all weekend, prices vary. Enter Fat Sam's Grand Slam and celebrate Bugsy's birthday at this weekend of family-friendly events spanning talks, screenings and an exhibition documenting the making of 'Bugsy Malone'.
Rio in Dalston, multiple venues, all weekend, free. Grassroots events in Dalston celebrate the Rio Olympics for two weeks including a roaming big screen showing events, Brazilian music and street food and a celebration of the first ever Refugee Athletes team.
…or check out more events happening in London this weekend.
Eating and drinking
London Beer City, King & Co, TONIGHT, free. London Beer Factory takes over the taps for London's Beer City week celebrations.
Night Feast, Walthamstow Town Square, TONIGHT, free. Enjoy the last of the summer evenings with local food and drink in Walthamstow Town Square with arts and crafts, fresh produce and kids entertainment stalls to keep the whole family entertained.
Garden Variety cocktail bar, Geffrye Museum, Fri-Sat, from £3. London's loveliest bartenders appear in a series of weekend residencies, using herbs and flowers from the Geffrye gardens to make delicious cocktails.
Wray's Jerk Fest, CLF Art Cafe (The Bussey Building), Sat, free. Rum brand Wray & Nephew are hosting the alfresco party so expect plenty of boozy punch and free pouring challenges alongside a live graffiti mural and expert DJs.
Wylam Brewery Tap Takeover, The Taproom, all weekend. Following a tap takeover at the new Tate Modern, the Wylam Brewery team are now setting up at The Taproom in Islington.
…or check out the latest restaurant reviews.
Live music
Cold Specks, Shacklewell Arms, TONIGHT, free. Canadian expat Al Spx performs minimal epics, full of raw guitar and piano lines. After two impressive records that blended anguished blues, gospel and big, dark soul tunes, she's performing songs from album three tonight.
Wild Beasts, Rough Trade East, TONIGHT, free with wristband. The bolshy indie crew from Kendal have reactivated, with their signature swooping vocals and caustic lyrics backed by a grinding electronic groove on their new single 'Get My Bang'.
51st State Festival, Trent Park, Sat, £25-£75. A one-day dance festival in north London specialising in classic US house music.
Visions Festival, multiple venues, Sat, adv £30, early bird £25. Another one-day festival of underground music, street food, craft markets and summer fun in Hackney.
Beardyman, Regent's Park Open Air Theatre, Sun, £24. The beatboxer extraordinaire and festival favourite brings his seemingly physically impossible vocal talents to this outdoor gig.
…or take a look at all the live music events in London this weekend.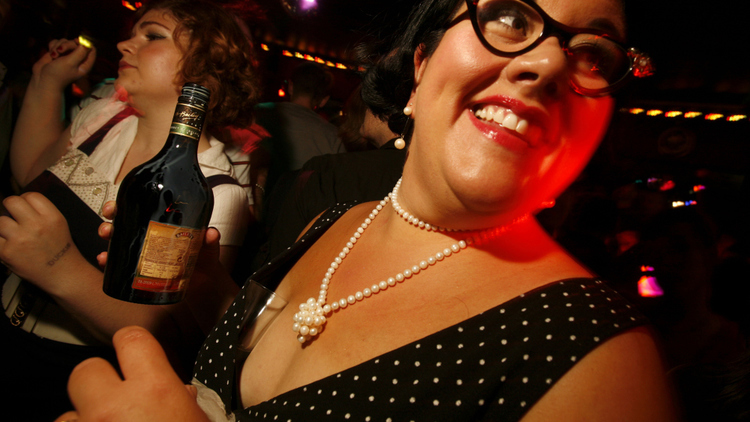 Nightlife and parties
Duckie, Royal Vauxhall Tavern, Sat, £6. Rock disco with artistic live turns, hosted by Amy Lamé with the best retro set in town from DJs The Readers Wifes.
Party People, Mick's Garage, Sun, free. A free daytime party in Hackney Wick happening every Sunday, all summer long.
Balamii, The Nines, Sat-Sun, free. The Peckham night and radio show serve up underground-leaning sounds every weekend in August, with high-quality leftfield producers and DJs from Yam Records, The Vinyl Factory, Wavey Garms and Wah Wah 45s.
Brixton Beach Boulevard, Valentia Place, all weekend, from £4. A big, bold new summer pop-up hits Brixton for 14 weekends of daytime parties on a rooftop beach.
…or see all the parties planned this weekend.
Film
£1 Cinema Club: 'Spice World: The Movie' + party, The Grand, TONIGHT, £1. If you hate the movie, stop reading now. But if you're a fan, this epic night of girl power antics is for you. Not just a screening of the Spice Girls' one and only cinematic effort, this is also a dance party, costume competition and even a tribute act – all for £1.
Nicolas Winding Refn presents: 'Body Double', Picturehouse Central, TONIGHT, £8. Another in 'Drive' director Nicolas Winding Refn's season of hand-picked movies he probably wishes he'd made.
Sunday Shorts, The Foundling Museum, Sun, free. Inspired by its ongoing exhibition of found objects, The Foundling Museum is screening a lovely double bill of classic short films.
Guildhall Yard Open Air Cinema, Guildhall Yard, all weekend, £12. Catch classic films at these summertime screenings taking place in the open air. Highlights include a charity screening of 'Stand By Me', and Baz Luhrmann's 'Romeo + Juliet' marking 20 years since its release 400 years since Shakespeare's death.
Or at the cinema...
Suicide Squad ★★★★☆ Never mind the Batmans: here's a rude antidote to dull superheroics and epic running times.
…or see all of the latest releases.
Theatre
The Plough and the Stars, National Theatre, Lyttelton, Fri-Sat, £18-£65. A powerful revival of Sean O'Casey's great play about the Easter Rising.
Extravaganza Macabre, Extravaganza Macabre, all weekend, £12.50 & £17.50. Little Bulb dive into the world of Victoriana in this lively new outdoor show.
¡Vamos Cuba!, Sadler's Wells, all weekend, £12-£45. '¡Vamos Cuba!' is feel-good summer dance fare, designed to indulge all our favourite Cuban stereotypes, while showcasing a whole range of the nation's dance, from salsa and mambo to Afrocuban folkloric and reggaeton.
…or see our theatre critics' choices.
Art exhibitions
Performer/Audience/Mirror, Lisson Gallery, Fri-Sat, free. Featuring video installations by a roster of big-shot artists that span decades, genres and continents, the latest show at the Lisson will send you through a spectrum of emotion: humour, intrigue, frustration and, yes, sometimes outright boredom.
Ragnar Kjartansson, Barbican Centre, all weekend, £12. First UK survey of the internationally acclaimed Icelandic artist.
William Eggleston Portraits, National Portrait Gallery, all weekend, £5.50-£7. Legendary Memphis photographer William Eggleston has created a whole genre of psychologically ambiguous Americana, much of it centred on apparently mundane bits of his home town.
…or see all London art reviews.
And finally
Win... a spectacular culinary adventure in Jamaica or Festival No.6 tickets with Birra Moretti
Grab... up to 52% off tickets to this foodie haven on August bank holiday
Book… these gigs while you still can
Best of the blog
You tell us: what's your wildest night-out story?
You can now go on a 'Pokémon Go' guided tour of London
London riots five years on: we speak to those who were involved
Exclusive: we've got early tickets for the new Gingerline Chambers of Flavour dining adventure