Thinking of having a quiet weekend in? Think again! London's brimming with too many ace events, parties and pop-ups for you to stay at home. Achieve killer brows on board Benefit's beauty boat, scoop yourself some free ice cream at La Gelateria's new branch and finish off the week with the Mister Sunday crew who are hosting the perfect Sunday session. Have a blast with our tips below.
Things to do
Vaisakhi Festival, City Hall, Sat, free. The festival takes place at City Hall and The Scoop at More London for a second year with lots of fun activities taking place. Expect talks, poetry readings and a jam-packed programme of live performances that includes martial arts and folk dance.
Peckham Flea Market, Peckham Pelican, Sat, free. Find a handful of vintage traders pitching up in Peckham with clothing, homeware, jewellery and books available to buy alongside new fashion pieces and food and drink from the bar.
Good Ship Benefit, R.S. Hispaniola, Sat-Sun, free. Ahoy beauty buffs! Benefit have taken charge of the waters at Victoria Embankment, transforming an elegant ship into a pampering paradise inspired by the brand's San Francisco roots.
Crafty Fox Spring Market, Geffrye Museum, Sat-Sun, free. Shop for crafts, jewellery, accessories, homewares and trinkets from over 100 makers handpicked by Crafty Fox guest curator Charlotte Abrahams.
Rhythm Junction London, The Tabernacle, Sat, £15 adv. Get your curlers in and your brogues polished for this vintage evening of high spirits and great music returning in 2016. Swing and jive bands will fill the Tabernacle with tunes from the archives, be it the hot jazz of the twenties, big band swing from the thirties and forties or jump jive of the fifties.
Chop With A Beet, Borough Market, Sun, free. Transform grub destined for landfill at this communal cook-along soundtracked by DJs in Borough Market. Attendees will work together to chop, sizzle and stir up a fine soup using leftovers from the market while learning more about how to reduce food waste.
The Bluestocking Club, Waterstones Tottenham Court Road, Sun, £6.47. This brand new literary film club launches with a screening of the 1967 cult classic Valley of the Dolls.
In the Loop Workshop, Jewish Museum, Sun, £10. Shirt feeling a bit naked? Fashion designer and pattern cutter Laura Jones will lead a workshop into the history of the necktie and assist you in making your very own tie, be it skinny, regular or 70s kipper-style.
Ceramic Art London, Central Saint Martins, all weekend, £15, £12 concs. Now in its twelfth year, this showcase for contemporary ceramicists will feature over 80 artists from all over the globe.
ATP Exhibition & Sale, ATP Pop Up Venue Stoke Newington, all weekend, free. In the run-up to their upcoming festivals, ATP host this pop-up weekend party with drinks in their beer garden, grub from Big Apple Hot Dogs and vintage merch and limited edition prints for sale.
…or check out more events happening in London this weekend.
Eating and drinking
Free Gelato from La Gelateria, La Gelateria Stratford, Sat, free. To celebrate the opening of their new venue, La Gelateria are giving away free gelato. No, we are not making it up.
Spring City Cheese Walk, Leadenhall, Sat, £35. A cheese inspired tour of the City followed by a cheese and wine tasting sessions and a queso-themed quiz.

London Coffee Festival, Old Truman Brewery, all weekend, £14.50 adv, £20 on the door. Returning for 2016, the London Coffee Festival is the UK's largest coffee and artisan food event, a celebration of London's vibrant coffee culture featuring gourmet coffee, speciality tea, artisan food, demonstrations from world-class baristas and live music.
Wandsworth Common Beer Festival, Le Gothique, all weekend, £5, £1 CAMRA. Annual festival featuring 150 beers from across Britain, as well as wine and cider. In its eighth year, the festival is still child and dog-friendly, and still does lovely festival grub for between beers.
…or check out the latest restaurant reviews.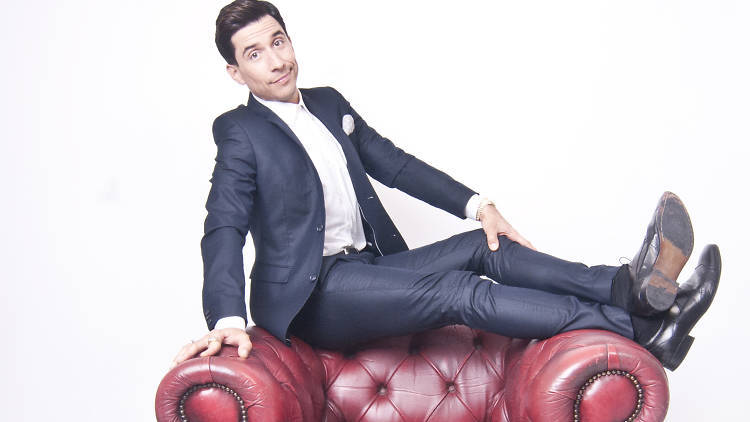 Russell Kane
Comedy
Bush Hall presents..., Bush Hall, TONIGHT. Every so often the Show and Tell team take over this beautiful music venue in Shepherd's Bush with intelligent, all-headline bills featuring some of the most erudite comics in the land. Tonight's line-up: Reginald D Hunter, Liam Williams, Andrew Maxwell and a special guest.
Russell Kane: Right Man, Wrong Age, Leicester Square Theatre, Fri-Sat, £15. Russell's on top form at the moment – his trademark puppyish energy is still intact but toned down a little, and it now comes with a new-found relaxed confidence.
Tom Stade: You're Welcome, Leicester Square Theatre, Fri-Sat, £17.50, £16 concs. Ultra laidback Canadian comic Tom Stade is back on tour, after appearances on 'Michael McIntyre's Comedy Roadshow' and 'Live at the Apollo'. He's a hard-hitting storyteller, offering contentious opinions about the world.
…or check out all the critics' choice comedy shows.
Skinny Girl Diet© Paul Hudson
Live music
NTS Is 5, Corsica Studios, TONIGHT, £10-£15. Live performances and DJ sets to celebrate the ace Dalston radio station's fifth birthday.
Melissa James, National Portrait Gallery, TONIGHT, free. Vocalist Melissa James presents material from her new album 'Stripped Back', joined by guitarist Tom Gamble and pianist Arthur Lea.
Ibibio Sound Machine, Hootananny, TONIGHT, £4, free before 10pm. This international eight-piece collective from London, led by the charismatic Eno Williams, whip up a storm of afrobeat, funk and disco.
…or take a look at all the live music events in London this weekend.
© Natalie Keyssar 2012
Nightlife
Supa Dupa Fly: East LDN Sessions, The Laundry, Sat, £9. Expect 1990s and 2000s hip hop from 2Pac, Bigge, Lil Kim, A Tribe Called Quest, DMX, Jay-Z, Busta, Kanye, Outkast and more.
Tiga Non Stop, XOYO, Sat, adv £13.50. After stonking residencies by Eats Everything, Skream, The 2 Bears and others, XOYO has bagged dapper Canadian disco king Tiga as its latest 12-week headliner.
Savage, Metropolis, Sat, £5. Those restless polysexual party animals Sink The Pink are at it again. Their latest venture is a weekly disco bash at strip club-cum-club space Metropolis, where you can roam around three floors of filthy fun for only a fiver.
Mister Sunday, Oval Space, Sun, £10-£15. An eclectic all-day Sunday party bursting with disco, house, pop, blues and everything in-between, hosted by New York DJ duo Justin Carter and Eamon Harkin.
…or see all the parties planned this weekend.
Film
Archive Video: 'American Movie', Birkbeck Cinema, TONIGHT, £8. This new film club sets out its stall in style with a rare screening of one of the best ever films about film, and a key text in American documentary cinema.
Kinoteka Polish Film Festival: 'Barrier' + director intro, Barbican Centre, Sat, £11.50, £10.50 concs. This annual celebration of Polish film past and present returns with a feast of new releases and, excitingly, a tribute to directorial legend Jerzy Skolimowski.
A Night with Apichatpong Weerasethakul, Tate Modern, Sat, £15. You may not be able to pronounce his name, but don't miss this opportunity to immerse yourself in the unique world of one of the most idiosyncratic filmmakers working today.
Or at the cinema...
Midnight Special ★★★★☆ Michael Shannon is a dad who kidnaps his son from a cult in an intriguing sci-fi with echoes of Spielberg.
Dheepan ★★★★☆ Jacques Audiard's Palme d'Or-winning 'Dheepan' is the story of a Sri Lankan man, woman and child who masquerade as a family to escape to France from the aftermath of their country's civil war.
Hardcore Henry ★★★★★ You become the action hero in this adventurous, violent, giddy-making triumph, all shot from the hero's perspective.
…or see all of the latest releases.
© Manuel Harlan
Theatre
X, Royal Court Theatre, Fri-Sat, £10-£35. Alistair McDowall follows up his stunning 'Pomona' with this brain-melting sci-fi odyssey.
Sunset Boulevard, London Coliseum, Fri-Sat, £12- £105. Glenn Close is superb – if a little on the old side – as a fading screen goddess in Andrew Lloyd Webber's ho-hum musical.
Princess Caraboo, Finborough Theatre, all week, £12-£18, concs available. Funny, charming fringe musical about a woman who fooled Regency England.
…or see our theatre critics' choices.
This week's best new art
Helen A© Natalie Keyssar 2012: Encounters, TJ Boulting, Fri-Sat, free. Since graduating from the RCA Painting course in 2011, this South African artist has gone on to make sculptural and installation work. This new show features projectors and prisms that combine to create a play of light across walls and objects.
John Kørner: Apple Bombs, Victoria Miro Mayfair, Fri-Sat, free. There's often a disconcerting lightness of touch to John Kørner's paintings. The Danish artist paints wet-into-wet, apparently quickly, leaving lots of space for things to start to dissolve, or begin to blend into other things.
Laura Buckley and Kim Coleman: Polarised, Block 336, Sat, free. An installation that uses lenses to obstruct and refract moving images.
The Other Art Fair, Victoria House, all weekend, £8.80, £6.60 concs. The annual artist-led fair returns for its spring 2016 edition at Victoria House, WC1.
…or see all London art reviews.
And finally
Win... one of three family weekend tickets to Camp Bestival 2016 or a three night stay at a boutique inn in the Cotswolds
Grab... a mani and/or pedi at Singhar Beauty West End on Oxford Street - up to 65% off
Book… these gigs while you still can
Best of the blog
Is the Loch Ness Monster on the loose in the Thames?
Buzzing! It's your favourite espresso martinis in London
Six dating apps for Londoners that make a change from Tinder
Four street food pub residencies happening in London this April