Head to the Royal Academy of Arts for an evening of performances, installations and fun in the galleries, taste the latest street food offering at Netil Market, or catch a screening of 'West Side Story' in Middle Temple Gardens. So much fun awaits!
Things to do
Life on Foot: A Day of Talking and Walking, Design Museum, Sat, £14, £10.50 concs, £7.50 members. Explore how, why and where we walk at this feet-focussed celebration dedicated to finding our way through the city. The programme sees a mix of workshops, family sessions and talks scheduled across the day as well as a tour of the current Life on Foot exhibition.
Hackney Flea Market Pop-Up, Chats Palace, Sat. To coincide with this year's Chatsworth Road Festival, Hackney Flea market brings its eclectic selection of vintage finds, handmade goodies and antique odds-and-ends to Homerton's Chats Palace Arts Centre.
RA Lates: Enchanted Cosmos, Royal Academy of Arts, Sat, £22. This RA Late event brings together a bevy of magic and science themed entertainment inspired by Joseph Cornell's obsession with theatrical performance and the allure of an infinite cosmos.
London Scavenger Hunt, various locations, Sat, £15. Teams of four will meet on the green next to Christ Church Spitalfields to collect their instructions before rampaging through London taking on challenges, snapping photos, talking to strangers and finding clues.
Rhythm Junction London, Imperial College, Sat, £25, £18 adv. Get your curlers in and your brogues polished for this vintage evening of high spirits and great music. Swing and jive bands will fill the Imperial College Concert Hall with tunes from the archives, be it the hot jazz of the twenties, big band swing from the thirties and forties or jump jive of the fifties.
Return of The Walthamstow Mysteries, various locations, Sat-Sun, free. This promenade performance is half walking tour and half theatre, as the audience will be led through Walthamstow Marshes and introduced to local marvels and mysteries.
Feminist Solidarity Fest, Hackney Downs, Sun, free. Whether you've been a feminist since Germaine Greer was in short trousers or you've recently started wondering what Caitlin Moran is on about, this picnic event will help you get your head around new aspects of the fight for gender equality.
Souq for Syria, Rich Mix, Sun, free. This family-friendly fundraiser is organised by Watanili, a grassroots initiative which provides support for displaced Syrians. Visitors will explore a traditional Syrian market filled with arts, crafts, jewellery, toys and Arabic cuisine.
Battersea Dogs & Cats Home Annual Reunion and Fun Day, Battersea Park, Sun, free. Around 8,000 people and their four-legged friends took over Battersea Park for this event last year. A flurry of fur and friendly faces will celebrate the famous animal sanctuary and hopefully encourage visitors to rehome a Battersea dog.
The Making of Harry Potter: Sweets and Treats, Warner Bros Studio: The Making of Harry Potter, all weekend, £33 upwards. Sweet-toothed fans of the boy who lived are in for a treat this summer as The Making of Harry Potter present a showcase of the culinary delights rustled up for the silver screen.
A Mile in My Shoes, Riverside Gardens, all weekend, free. The Empathy Museum presents an audio portrait of Wandsworth in the form of an interactive shoe shop. Visitors are invited to put on another person's shoes and walk a mile along the riverside as they listen to the stranger's life story.
…or check out more events happening in London this weekend.
Eating and drinking
Lemlem Kitchen, South Hackney. Rather than trying to authentically duplicate street foods from Africa, Lemlem Kitchen riffs on the already popularised staples of tacos, wings and fries. Soft-shell tortillas form a base for 'afro-tacos,' with a spongy injera flatbread layered on top.
Hackney Drinks Market, Hackney Downs Studios, Sat. This monthly gathering of London producers is a more liquid sister to the Dalston Food Market, so if your passion is for things that come in bottles you'll be in thirst-quenching heaven.
Greenman presents: Courtyard, Lewis Cubitt Square, Sat. A day-long celebration of Welsh beer and cider in King's Cross, with over 100 varieties to choose from. A programme of music performances and workshops is also scheduled

Cookbook Confidential Festival, Southbank Centre, Sat, £10 per event. This day of talks, demonstrations and tastings celebrates the world of cooking, with some big names from the food world on the bill.
Grillstock, Chestnuts Field, Sat-Sun, £30 per day. At US barbecue festivals meat and music combine to create one hell of a party, and Grillstock will be bringing the hunger-inducing, hip-shaking combination to Walthamstow this September.
Kerb Southbank Riverside, Southbank Centre, all weekend, free. Swing by the riverside stretch in front of the Southbank Centre for these food markets which will keep you eating from lunch until sundown if you think you're hungry enough.
…or check out the latest restaurant reviews.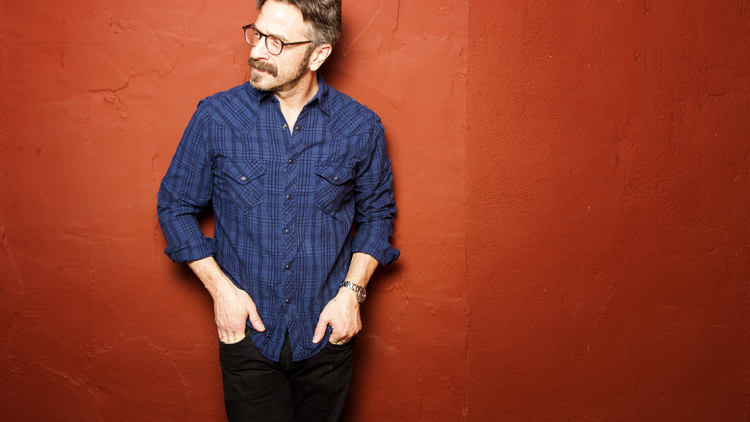 © broachphoto Marc Maron
Comedy
Marc Maron – Maronation, Queen Elizabeth Hall, Fri-Sat, £22.50. Ever listened to Marc Maron's hugely popular podcast, 'WTF'? Now's your chance to catch the US comic's endless rants live in London.

Laugh Out London's Alternative Pick of the Fringe, Camden Head, TONIGHT, £5, £4 adv. One of our favourite comedy clubs in town returns from the Fringe baring gifts – funny, experimental gifts in the shape of humans doing comedy. It's their Alternative Pick of the Fringe!
Zoe Coombs Marr – Dave, Soho Theatre, Fri-Sat, free. We love a bit of comedy about comedy. Aussie favourite Zoe Coombs Marr's show is a proper parody of lazy stand-up. She plays Dave, a generic male comedian who likes beer, sex, women and football.
…or check out all the critics' choice comedy shows.
Live music
Lee Fields And The Expressions, Brooklyn Bowl London, TONIGHT, £23, £20 adv. A veteran James Brown-style soul belter, Fields rolls up with his big, funky, brass-heavy band. They specialize in tight arrangements, topped by his rhythmic grunting and suitably tortured vocals.
Culture Club, Eventim Apollo Hammersmith, Sat, £43.50-£71. By George! The '80s soul-poppers are back for their first full tour with their full original line-up since 2002. Hits are guaranteed, with 'Do You Really Want To Hurt Me?' and 'Karma Chameleon' sure to stir a few hazy youthful memories in the crowd.
Laura Marling, The Forum, Sun, £25. The acclaimed singer-songwriter is back in the capital – expect songs from new album 'Short Movie'.
Multi-Story Orchestra, Peckham Multi-Storey Car Park, Sun, £5. Talk about musique concrète! Peckham's disused multi-storey car park is the setting for summer concerts from the 60-strong Multi-Story Orchestra under Christopher Stark.
…or take a look at all the live music events in London this weekend.
Elrow
Nightlife
Julio Bashmore and Ptaki, Phonox, TONIGHT, £10, £5 adv. Bristolian house maestro Julio Bashmore plays a back-to-back set with mysterious Polish DJ duo Ptaki for the first Friday night party at new Brixton club Phonox.
Elrow, Studio 338, Sat, £12.50-£30. The Balearic-feel party loved in Ibiza and Cape Town brings its carnival-style fun to London.
The XOYO Residency Series: Bicep, XOYO, Sat, £13.50. House heroes Bicep curate a 13-week residency at Shoreditch club XOYO, featuring high-profile DJ guests.
…or see all the parties planned this weekend.
Me and Earl and the Dying Girl
Film
The Nomad presents 'West Side Story', Middle Temple Gardens, TONIGHT, £16–£31. Reheating 'Romeo and Juliet' in the distressed, red-brick pressure cooker of late-'50s New York City, cine-chameleon Robert Wise and choreographer Jerome Robbins made a fine fist of transplanting the Leonard Bernstein/Stephen Sondheim Broadway play to the screen.
The Complete John Waters: 'Mondo Trasho', BFI Southbank, TONIGHT, £8.35–£11.75. Everyone should see at least one early John Waters film. From the moment the picture wobbles reluctantly on to the screen, Waters's first feature clearly demonstrates that the Baltimore boy was ahead of his time when it came to punk aesthetics and shock for shock's sake.
Onwards and Outwards: 'Morvern Callar', ICA, Sun, £11, £8 concs. Onwards and Outwards is a travelling season of films directed by British women, sporting a superb lineup including work by Andrea Arnold, Clio Barnard and of course Lynne Ramsay, whose second film screens alongside the classic experimental short 'Meshes of the Afternoon', directed by the female-but-not-British avant garde genius Maya Deren.
Or at the cinema...
Me and Earl and the Dying Girl ★★★★☆ A higher class of weepie that'll have you sobbing in your popcorn.
Ricki and the Flash ★★★★☆ Meryl Streep is Oscar-winningly brilliant as a rock 'n' roller.
…or see all of the latest releases.
Theatre
My Eyes Went Dark, Finborough Theatre, all weekend, £16-£18, £14-£16 concs. Matthew Wilkinson's thrilling new play is about a grieving man, suffering a deep, awful trauma. As a visceral, realistic exploration of whether a victim can and should forgive, it's practically Greek on the tragedy scale.
Our House, Union Theatre, all weekend, £20, £17 concs. 'Our House' is like being 16 again. Hormones are rampant, emotions are rocketing, energy levels are endless – and nothing makes a lot of sense. Underpinned by a cracking soundtrack from ska band Madness, 'Our House' won the Olivier award for best new musical in 2003.
Thoroughly Modern Millie, Landor Theatre, all weekend, £22, £20 concs. Matthew Iliffe's production of this 2002 musical about the roaring '20s offers a burst of sleek hair bobs, jazzy steps and swinging flapper dresses. The staging, dancing and costumes are enough to make you want to do a spontaneous Charleston.
…or see our theatre critics' choices.
This week's best new art
Jennifer Rubell: Not Alone, Stephen Friedman, Fri-Sat, free. Wanting people to engage with art differently to the conventional methods, the American artist ups the ante with her latest works made over the last three years after the birth of her second child.
Düsseldorf Photography: Bernd and Hilla Becher & beyond, Ben Brown Fine Arts, Fri-Sat, free. Show of documentary photographs by revered duo Bernd and Hilla Becher and their students.
Keith Arnatt: Absence of the Artist, Sprüth Magers, Fri-Sat, free. Best known for his photographic work that questioned not only what art might be but also the role of an artist, this show focuses on the late conceptual artist's work made between 1967 and 1972.
DIY Art Market, EPIC Dalston, Sun, free. Although summer's drawing to a close, this bi-monthly one-day market showcasing a host of London's emerging artists and independent publishers will brighten the imminent autumn days.
…or see all London art reviews.
And finally
Win... tickets to sold-out 'You Me Bum Bum Train' or tickets to ATP 2.0: Nightmare Before Christmas festival, North Wales
Grab... £10 tickets to 'House of Burlesque' at London Wonderground
Book... these gigs while you still can
Best of the blog
The night tube is definitely being delayed
Overheard in London: this week's #wordonthestreet
In 'stagrams: the enormous balloon installation in Covent Garden