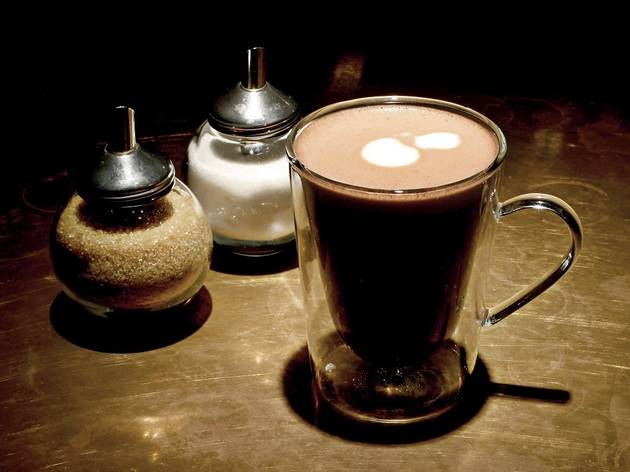 Ten indulgent hot chocolates to warm you up this winter
Updated: Sunday January 17 2016, 8:30am
Now that the weather's getting colder, warm up with a mug of chocolatey goodness at these popular spots.
G&W are great for coffee and cake, but their hot chocolate with chilli (£3.30) is a real treat – and it packs a punch. 4A-5A Perrin's Court, NW3 1QS.
Young's classic hot chocolate (£3.95) is made with dark 70 percent chocolate and has the added bonus of being dairy-free. 112 Wardour St, W1F 8WA.
Their hot chocolate (£3.00) is a lovely cup, best enjoyed while having a good chinwag with a friend or reading a chapter or two of a good book. 26 Rathbone Place, W1T 1JD.
They do a Nutella hot chocolate (£3.00) which tastes exactly as you would imagine. It's a hazelnut-laden dream of a hot drink. 115-117 Regents Park Rd, NW1 8UR.
Go for their Artisan Hot Chocolate (£7). It's a milky and smooth sipping chocolate. 1st floor, Fortnum & Mason, W1J 9FA.
This Dalston stalwart is now settling into new digs over in the Olympic Village and offers a simple, milky hot chocolate (£2.80), which is great with a hearty slice of their chocolate-laden bread and butter pudding. 2 Olympic Park Avenue, E20 1FT.
Godiva chocolates are delicious so it makes perfect sense that their hot chocolate would be just as divine. The Chocolixir (£7) is three layers of warm chocolate ganache, steamed milk and foam. 2nd Floor, 87-135 Brompton Rd, SW1X 7XL.
Of all the varieties they do, the sea salt hot chocolate (£3.80) is too good to be true. 5 Motcomb St, SW1X 8JU.
This chocolatier has a real talent for hot chocolate. Go for the 'Mayan' (£3.50) – it's a 70 percent dark Amedei Toscano chocolate blended with ginger, nutmeg and cinnamon. Warming and delightful. 198 Ebury St, SW1W 8UN.
The thick Spanish hot chocolate (£3.10) is dark, rich and velvety and perfect after a plate or two of tapas or alongside a slice of cake or some excellent churros. 177-179 Queensway, W2 5HL.
Check out your favourite hot chocolate in London.
Or, even better: London's best hot chocolates.
Share the story