Five reasons to see Michael Che
New Yorker Michael Che only just made it into Rolling Stone's poll of '50 Funniest People Now'. Catch him in London while you can. He'll be much higher up the list next time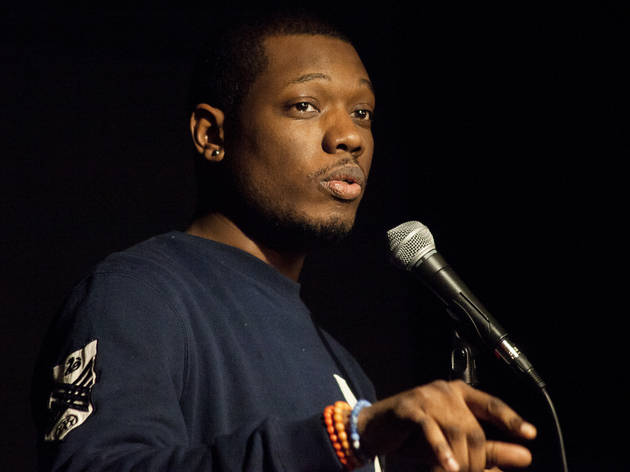 You might not recognise Michael Che, but before long you will know his name. The Lower East Side-born writer-comedian, who makes his London debut this week, is quickly joining the comedy elite in his home country, so we recommend you see him this side of the Atlantic while you have the chance. Not convinced? Here's why.
Che made it into
Rolling Stone
magazine's 2013 countdown of '
The 50 Funniest People Now
', scraping in at number 50. 'I was pleased that they even knew who I was,' says Che.
On stage, Che is smooth, confident and in no hurry at all. But in reality the 31-year-old has been working furiously hard, gigging seven nights a week, and he's rapidly risen up the ranks. After just a few short years on the circuit he scored a job most US comedians would kill for.
That dream job was as a writer on NBC's long-standing sketch comedy institution 'Saturday Night Live'. Other writers on the show have included Bill Murray, Tina Fey, Eddie Murphy and many others. 'It was bizarre,' admits Che, about the job. 'I had so much fun there. It's very tough to leave.'
The reason for Che's departure from 'SNL'? He's just been hired as the latest correspondent on 'The Daily Show with Jon Stewart', the satirical monster which has launched the careers of more starry names. But Che admits he's not up to speed on his politics: 'I hope I can just fake my way through it,' he says. 'That's the plan, at least.'
Because of the 'Daily Show' gig Che has been forced to cancelled his Edinburgh Fringe run this year. He had fun at last year's festival – 'Scotland's beautiful,' he says, 'even though my presence probably doubled the entire black population' – but with his schedule getting busier it's hard to believe he'll return to the UK any time soon. This isn't goodbye, though, he insists. 'It's more like, "See you when I get fired."'
Looking for more comedy features?
'They want to extend the Northern line, but I think this is Morden adequate.'


Read more
The twee comedian and 'Harry Potter' star draws Time Out a few London-themed drawings
Read more
The hellraising US stand-up and Time Out favourite picks his favourite fellow comics
Read more
The Foster's Award nominee talks us through some hidden gems from his record collection
Read more
Musical comedians pick their favourite tracks by the king of musical parody
Read more
A scruffy, bearded man who plays to rooms packed with lefties. Is Liam Williams the comedy Jeremy Corbyn?
Read more
As part of the #TimeOutTakeover, reader Jen Wakefield meets sketch troupe Minor Delays
Read more
The Australian comedian has turned spiritual guru in his latest show. Here, he gives Time Out a quick relaxation lesson
Read more
This year's Foster's Edinburgh Comedy Award-winner. But what made this new show the funniest at the Fringe? We speak to the Aussie absurdist
Read more
Show more
See all comedy features