The art of sketch (according to Pappy's)
The absurdly funny comedy troupe reveal their golden rules…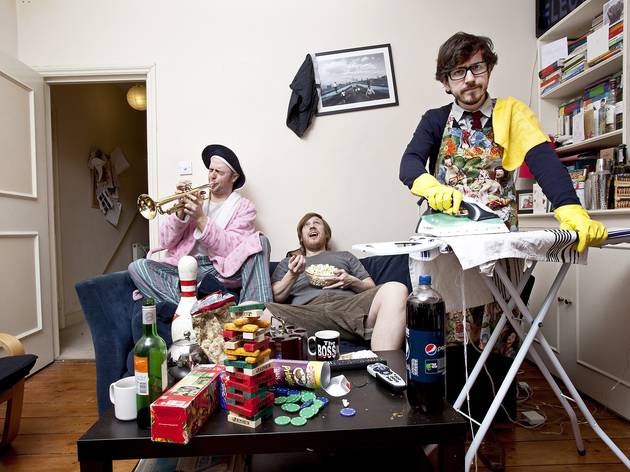 1. Plan your route to the gig
Ben Clark 'There was one journey where Matthew was so keen to eat a KFC he navigated us straight to Oxford services.'

Tom Parry 'It wasn't until we had eaten that we realised the gig was in the opposite direction and we were on the wrong motorway.'

Matthew Crosby 'Hey, it's the best service station-based chicken outlet in the country, so I stand by my decision.'
2. Check you have all your props
TP 'Ben once left our guitar on a train.'

BC 'At least I got it back, Tom, unlike when you left it in a park.'

TP 'In my defence, I was very drunk.'
3. Always stick to the script
TP 'I disagree. Rule number three should be: mix it up and always keep it fresh.'

MC 'No, Tom, because your idea of keeping it fresh is ignoring the script in favour of unrelated tangents. Like your "slippers are just indoor shoes" rant.'

BC 'It made me laugh.'

MC 'It didn't make the audience laugh.'
4. The show must go on
BC 'I once twisted my ankle right at the start of a show and had to carry on.'

MC 'Which would have been bad enough, but you had to do a whole sketch where you carried Tom on your shoulders.'

TP 'Ben was too professional to tell me.'

BC 'I was in too much pain to tell you!'
5. Challenge yourself
TP 'We are always trying to do new things, to push ourselves.'

MC 'With "Last Show Ever" we wanted to make a sketch show that wasn't just funny, but also made people feel something.'

BC 'I felt something during the gig that I sprained my ankle: immense pain.'

TP 'I didn't feel a thing, but in my defence, I was very drunk.'
Pappy's 'Last Show Ever' is at the Soho Theatre, Mon Apr 1 to Sat Apr 20.
Latest comedy features
'They want to extend the Northern line, but I think this is Morden adequate.'


Read more
The twee comedian and 'Harry Potter' star draws Time Out a few London-themed drawings
Read more
The hellraising US stand-up and Time Out favourite picks his favourite fellow comics
Read more
The Foster's Award nominee talks us through some hidden gems from his record collection
Read more
Musical comedians pick their favourite tracks by the king of musical parody
Read more
A scruffy, bearded man who plays to rooms packed with lefties. Is Liam Williams the comedy Jeremy Corbyn?
Read more
As part of the #TimeOutTakeover, reader Jen Wakefield meets sketch troupe Minor Delays
Read more
The Australian comedian has turned spiritual guru in his latest show. Here, he gives Time Out a quick relaxation lesson
Read more
This year's Foster's Edinburgh Comedy Award-winner. But what made this new show the funniest at the Fringe? We speak to the Aussie absurdist
Read more
Show more
See all comedy features