Udderbelly Festival 2013: the comics' choices
We ask four comedians playing the pop-up venue for their personal picks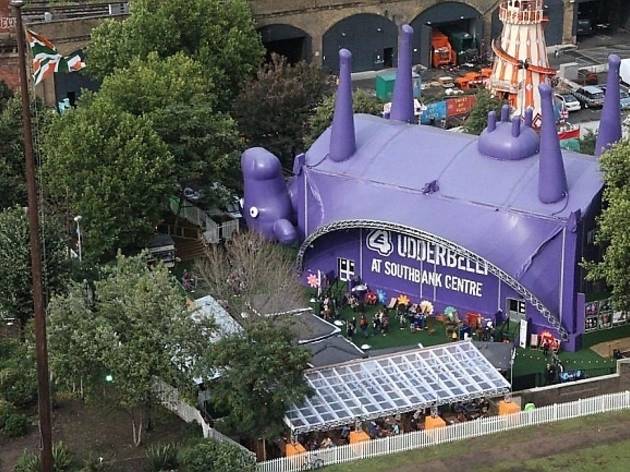 Susan Calman,
May 4 and 18
. Andy Zaltzman,
Jun 27
.
'The first time I went to the Edinburgh festival in 2008 I took a punt on a Canadian comedian called Glenn Wool. I was new to the world of comedy, so had never seen or heard of him before. His hour turned out to be a sublime mix of real-life issues and intelligent, grown-up content with a lovable goofy delivery. He's a truly engaging storyteller and I've been a fan ever since – quite possibly at the height of his powers right now so see him while you can!'

Doc Brown, Apr 26 and May 3. Glenn Wool, Jul 9.
'If you've seen a poster for The Boy with Tape on His Face you've probably had a "what the heck could this possibly be?" reaction. You need not worry – just come and watch the fun unfold. Using household items, a wide-eyed expression and audience participation, The Boy takes you on a silent journey through staple-gun Wild West standoffs and tape-measure lightsabre battles. But I'm not going to give away all the secrets here – just go and enjoy being caught in his act.'
Michael Winslow, Apr 30-May 4. The Boy with Tape on His Face, Jun 25-Jul 14.
'The Boy suggests you head along to Friday Night Freakshow and take in an evening of oddities. After a few drinks on a Friday night, a freakshow is the perfect entertainment! But be warned; after watching a bunch of strange people with peculiar talents you could be inspired to take to the streets and expose your inner freak. Forget the glitz and glamour that other shows try to use to get you in the door – freaks keep it real. Real freaky.'
The Boy with Tape on His Face, Jun 25-Jul 14. Friday Night Freakshow, Apr 19 and 26, May 24, Jun 14 and 28.
Latest comedy features
'They want to extend the Northern line, but I think this is Morden adequate.'


Read more
The twee comedian and 'Harry Potter' star draws Time Out a few London-themed drawings
Read more
The hellraising US stand-up and Time Out favourite picks his favourite fellow comics
Read more
The Foster's Award nominee talks us through some hidden gems from his record collection
Read more
Musical comedians pick their favourite tracks by the king of musical parody
Read more
A scruffy, bearded man who plays to rooms packed with lefties. Is Liam Williams the comedy Jeremy Corbyn?
Read more
As part of the #TimeOutTakeover, reader Jen Wakefield meets sketch troupe Minor Delays
Read more
The Australian comedian has turned spiritual guru in his latest show. Here, he gives Time Out a quick relaxation lesson
Read more
This year's Foster's Edinburgh Comedy Award-winner. But what made this new show the funniest at the Fringe? We speak to the Aussie absurdist
Read more
Show more
See all comedy features