Ten years of the hippest hop at The Jump Off
We get the lowdown from the hip hop dance competition that launched Flawless and Diversity on the eve of their tenth birthday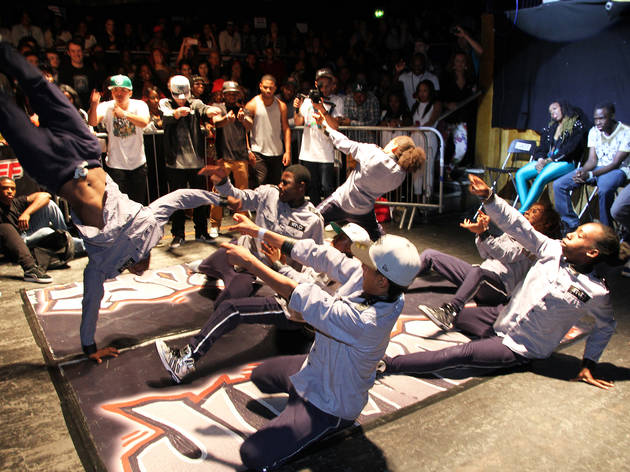 The Jump Off
has been a rollercoaster. Houses have been sold and credit card debts racked up.
But the live battle series, where singers, MCs, dancers and producers compete for big-money prizes, has reached its tenth birthday. Why did they stick it out? 'The demand and the legacy,' says Steven. 'When you realise what you're doing is affecting people's lives around you, you take it seriously.' Rapper Professor Green and street dance crews Diversity and Flawless all made their mark in early Jump Offs. So if you're looking for future stars, head to next week's final when Essex crew Mutants and east Londoners IMD Legion will be going head-to-head, with the Mutants' more theatrical style against the tight routines of IMD.
The dancers are aged between eight and 25, with more children entering the competition as a result of being exposed to dance on TV. The shift means there's now pride at stake for the adults. 'A lot of them are scared,' says Steven. 'If you're battling a crew of six-year-olds and you're over 18 –well, the dance community talks.'
The crowd have a say in the judging and the aim is for the performances to be as spontaneous as possible. 'There's incredible atmosphere and energy,' says Steven. And that, apparently, is worth betting your house on.
More about dance in London
Sponsored listing
Wigmore Hall
Built in 1901 as the display hall for the German company Bechstein Pianos, the Wigmore Hall was seized as enemy property in WWI and sold at auction for a fraction of its value. These days, boasting perfect acoustics, art nouveau decor and an excellent basement restaurant, the 'Wiggy' is one of the world's top chamber music venues and currently hosts around 400 events a year. Programming leans on the classical and Romantic periods. The Monday lunchtime recitals, broadcast live on BBC Radio 3, are excellent value, as are the Sunday morning coffee concerts. Musical luminaries who have performed at the Wigmore Hall include Sergey Prokofiev, Shura Cherkassky, Paul Hindemith, Andrés Segovia, Benjamin Britten and Francis Poulenc. Tours of the auditorium, with its famous Art Nouveau mural, and other parts of the building take place during the Open House London event in September.
Venue says: "Booking now for Sep-Dec 2017! Intimate concerts featuring internationally acclaimed classical musicians. Tickets from £15 or less."