Heads up! We're working hard to be accurate – but these are unusual times, so please always check before heading out.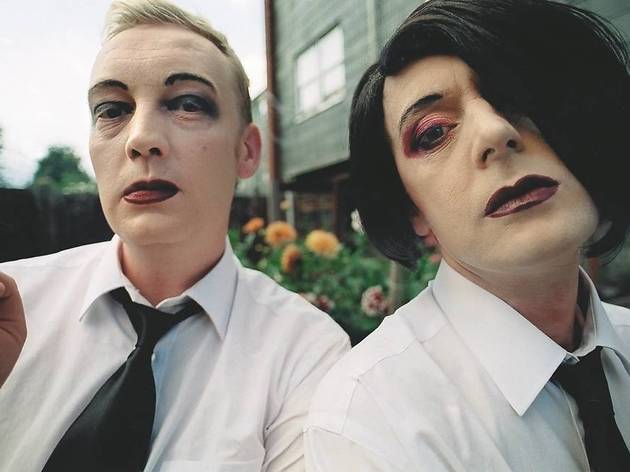 The Readers Wifes: interview
Duckie DJs The Readers Wifes have been instrumental in making the gay dancefloor more eclectic. But there's more than a hint of '80s pop familiarity about their debut album


It's a story as old as disco itself – DJs making music. 'It's such a cliché, I know,' groans Mark Wood (lyrics), also known as Chelsea Kelsey or The Blond One from The Readers Wifes, resident DJs at arty gay hangout Duckie. 'It's really embarrassing,' sighs Mark Johnston (vocals), also known as Kim Phaggs or The Dark One. 'In a way the odds are really stacked against you.'

The Wifes are discussing their new album 'Gaslight', and their slow but inevitable journey from the DJ box to the recording studio. 'It began in 2001,' says Wood. 'We used to do these mix tapes for the regulars at Duckie, and out of that we started mucking about with synth programs. And then we recorded a really bad song, called "Readers Wifes Covered In Blood". We gave a copy to Jeremy and Mark and they took it away, re-recorded it and said: "We think it should sound more like this."'

Jeremy Kimberley and Mark Sokcanic are the other two members of the band. And, as luck would have it, they have a studio. And synths. Lots of synths.

'Coming out of the '90s, it was all guitar bands and Britpop,' says Wood. 'And at Duckie we'd never really been into Britpop as such. We prefer people like Soft Cell and the Human League and Kraftwerk. And when we met Jeremy and Mark we found we could make those sounds, because they had all these old synths.'

'A lot of people lumped Duckie and Popstarz together,' says Johnston. 'But they were much more into Britpop and indie. We were much more into disco and electronica. Duckie started with us in our front room playing records and mucking about with our mates.'

It's easy to forget, but when Duckie started back in 1994 the London gay scene wasn't the wild celebration of diversity it is today. With the honourable exception of Popstarz, it was wall-to-wall house music with a side order of cheese at G-A-Y. Nobody played glam, ska, punk and disco in the same set, and you rarely heard a Kate Bush record. The Readers Wifes may have just been mucking about with their mates, but their impact on the scene was enormous. Given their obvious love of music, it isn't surprising that they got a band together. What's surprising is that it took them so long.

'The band came together very slowly,' admits Wood. 'We didn't play anything to anyone for a year. And we never intended to be a live band. We were just making records we could play at Duckie.' Then, in 2002, they were offered a gig at the Retro Bar and everything changed. 'It was the busiest night they'd ever had,' remembers Wood. 'And I've never been so scared in my life. But it was a fantastic night. People really liked the songs.'

One of those people was former Banshee Steve Severin, who encouraged the foursome to really focus on their songwriting and even offered to produce their single, 'Nostalgia', featuring Justin Bond. 'Things got a bit more serious after we met Severin,' says Wood. 'Having someone like that tell you it's worth pursuing – well, it's validation, really.'

With three singles to their name, including a scathing attack on the music industry called 'Bitch At The Brits' and 2005's 'Scumpop/Black Silk Stocking', it was only a matter of time before the Wifes brought out an album. In fact, it took rather more time than expected. But now, finally, it's here. And let me be the first to say that it's been worth the wait. 'Gaslight' is a very retro-sounding album, but in a good way. Engineered by Jon Astley, the man responsible for Bowie's 'Diamond Dogs', there's a bit of Donna Summer in there, and the crunchy synthesizer sounds of Soft Cell and the Human League.

'You can definitely hear things like Soft Cell in there,' says Wood. 'But my take on this is that it's pretty much impossible to avoid these days. If you listen to Amy Winehouse, that to me sounds just like '60s soul music. People always say about electronic music: "Oh, that sounds like Human League or Kraftwerk." But guitar music today sounds exactly like U2 or The Boomtown Rats did 20 years ago. A band like Arctic Monkeys have their good points, but their music is not progressive in any way.'

With song titles like 'Gays In Suits' and a hi-NRG beat you can dance to, does this mean we can expect to The Readers Wifes perform live at G-A-Y? Wood laughs: 'I don't think so. I don't think they'd have us. But it is different now. The G-A-Y wars have been fought. Some of the people who play at G-A-Y I actually quite like as pop stars.'
Support Time Out
We see you're using an ad-blocker. Ad revenue is Time Out's main source of income. The content you're reading is made by independent, expert local journalists.
Support Time Out directly today and help us champion the people and places which make the city tick. Cheers!
Donate now