The 100 best cheap eats in London: cheap breakfasts in London
Start your day in style, without making toast of your finances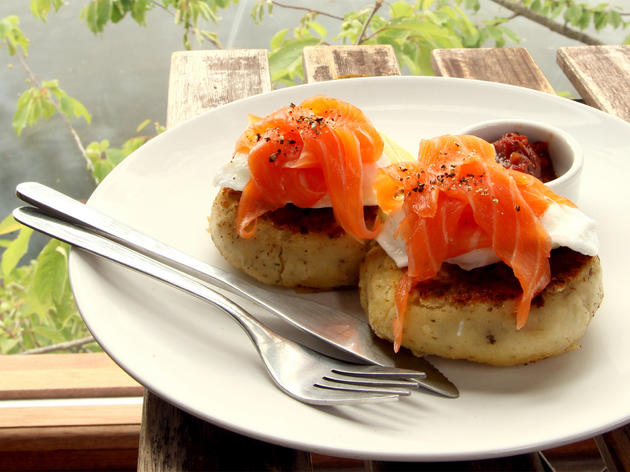 Whether you're keen on a kipper or pining for porridge, here are our favourite London restaurants from our cheap eats guide that will guarantee you a money-saving breakfast.
RECOMMENDED: The 100 best cheap eats in London
Sponsored listing
Black Roe
I know what you're thinking. Hawaiian-inspired restaurant equals hula girls in grass skirts and coconut bras. But at Black Roe, the vibe is swanky Asian fusion (don't forget, a large proportion of Hawaii's population are of Japanese descent) – all sexy dark woods, flattering lighting and chilled tunes. As for the people: sharp suits, girls with expensive hair. This is a place to pose. Hardly surprising, considering it's from Kurt Zdesar, the brains behind see-and-be-seen sushi hangout Chotto Matte.  But while that joint balances slick style with culinary substance, Black Roe's kitchen has some work to do. There's no faulting the idea of serving pokē, a seasoned 'tartare' (it means 'to cut') of fish, meat or occasionally veg, as a signature. But the execution is off. Pokē can be served with or without rice; here, it's the 'served-over-rice', eye-on-the-profit margin version. Fair enough. But it needed restraint: I tried four kinds and each saw the high-quality protein clobbered by a different kind of unnecessarily overbearing sauce. Other dishes were better: succulent monkfish and tiger prawns on a puddle of citrus salsa, or pink-middle lamb chops with an intriguing coconut crust. But dessert: two scoops of watery, sweet-but-not-fragrant 'cherry' sorbet, was a final disappointment. Factor in the 20-minute wait for the bill and absence of service (we weren't offered fresh drinks once) and it's a black mark for Black Roe, sadly.
Venue says: "London's first poke bar and grill. Pacific Rim cuisine located in Mayfair."