The best brunches in London
Start your weekend right with this epic list of the best brunches in London, from waffles and pancakes to fry-ups and eggs every which way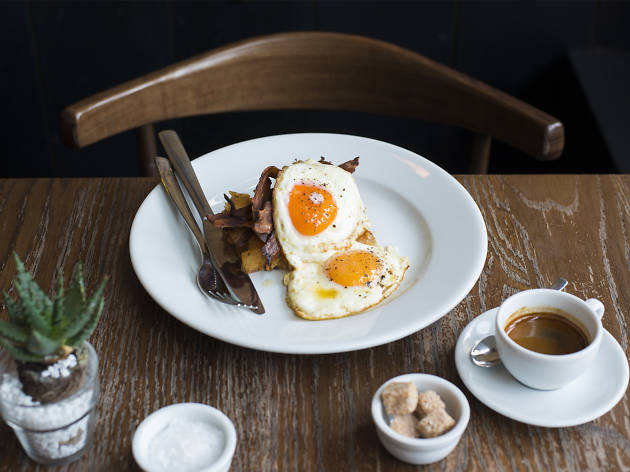 Brunch in London is bigger than ever. You can bearly set foot out your front door at the weekend without stumbling across a steaming pan of shakshuka or finding the waft of waffles in the air. So let us guide you to the best spots in town for a kick-ass weekend brunch in London, from boozy bottomless brunches to traditional Full English fry-ups and even New York-style feasts, you can start off your weekend in style.
Reviews by Laura Richards, Ashleigh Arnott, Cath Clarke, Dave Calhoun, David Clack, Megan Carnegie, Matilda Egere-Cooper, Gail Tolley, Isabelle Aron, Phoebe Trimingham, Alexi Duggins, Stephen Farmer, Alex Plim, James Manning and Eddy Frankel.
The best brunches in central London
The best brunches in north London
The best brunches in east London
The best brunches in south London
The best brunches in west London
What about the weekdays?
Our team of experts have sought out the best breakfasts and brunches across London. Whether you're looking for coffee and pastries in a café, a posh Sunday brunch, or a mouthwateringly meaty fry-up, we've got plenty of options to make sure the most important meal of the day is also the tastiest.
Read more
Sponsored listing
Firedog
This new restaurant – on the site of what was Piquet – is apparently inspired by the ancient Aegean civilisations. That basically means a menu influenced by Greek and Mediterranean cuisines, cooked with simple cooking and prep techniques. There's also a 'no-avocado' policy, which some might cheer. Currently, it's only open for breakfast and lunch, with dinner coming soon. Breakfasts include options such as chargrilled plums with kaymak honey, salted pistachios and toasted brioche, crispy sujuk on sourdough with dill mayo, tomato and a fried egg, and baked eggs with smoked tomato, charred peppers, yoghurt, chilli oil and grilled flatbread. Lunch includes grilled halloumi with charred fennel, maple beetroot, marinated peppers, spiced walnuts and fresh herbs, and flaked smoked mackerel with grilled sourdough, sumac, onions, parsley, apple and dill.
Venue says: "Turkish restaurant, inspired by flavours of the Aegean. Focusing on mezze brunches and morning-to-night sharing plates."