London's best pancakes
Find yourself a bit of batter in the capital this Pancake Day and beyond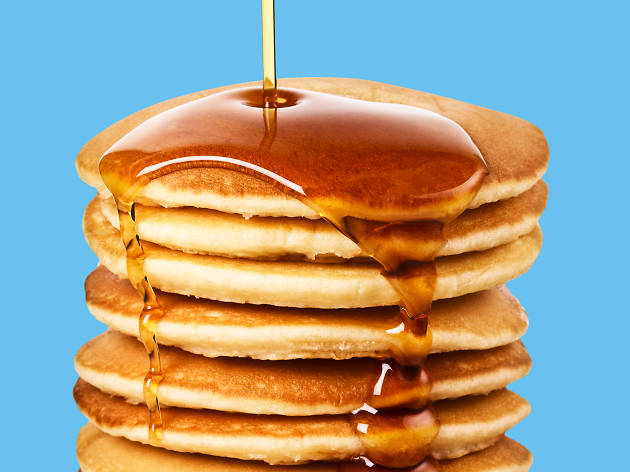 Pancakes may be avaliable all year round, but Shrove Tuesday (Tuesday February 28 2017) is 'Fat Tuesday' in Christian tradition, when rich ingredients are purposely used up before the fast of Lent. Whether you're preparing for a fast or simply after some mouthwatering stodge, brace yourself for a battering at these London pancake venues.
The best pancakes in London
Pancake Day specials in London restaurants
More on Pancake Day in London
Get your frying pans at the ready folks, Tuesday February 28 2017 is Shrove Tuesday and this year's pancake action need not be confined to the kitchen.
Read more
Sponsored listing
Where the Pancakes Are
Who doesn't love a pancake? That's the simple premise behind this bright new addition to Southwark's Flat Iron Square, and it seems to be working – I had to wait 20 minutes to get a table on my visit. It's easy to see why: the buttermilk beauties served here have just a hint of sourness, managing to be substantial and moist without stodginess. In other words, flipping perfect. The intriguing menu is split into sweet and savoury. Take the Hummingbird, for example, with cinnamon poached pineapple, crushed meringue and a scattering of delicate flowers. Fancy, eh? Or the Instagram-ready Dutch Babies, which are baked in an oven and served in a heavy black frying pan, from which they billow like enormous Yorkshire puddings blotched with goat's cheese, cheddar and parmesan. Sure, it's a bit more fiddly than a squeeze of lemon and sprinkle of sugar, or frazzled strips of bacon with a glug of maple syrup, but those are on the menu too if you're in the mood for something more straightforward. The dining space is covered in soft woods, with a white powdered ceiling and a wall of felt discs that dampen the hubbub around you. The light fittings resemble upturned stacks of pancakes with leafy vines spilling over the sides and large bulbs with spiraling filaments; when viewed from the roomy mezzanine, they become fetching hanging planters. In short, Where the Pancakes Are makes a great brunch or lunch option as well as a nice place to go on your own if you're looking for somewhere to cos