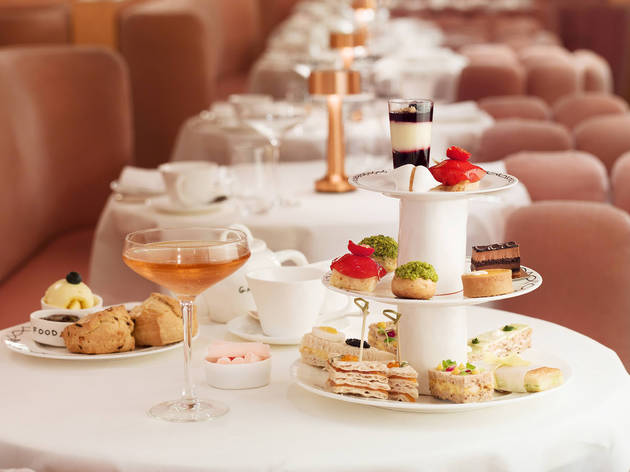 London's best afternoon teas
Here are the best classic afternoon teas and quirky cuppas in London – back and now taking bookings
Forget brinner and brunch: eating at odd hours doesn't get more indulgent, more delightfully decadent, than afternoon tea. London's hotels, restaurants and cafés have the world's best spread, so we've done the decent thing and eaten our way through the crème de la crème.
We've got the lowdown on exactly which afternoon teas are being served again in London and we'll keep you updated as even more places share info on welcoming back customers.
It's going to be a little bit different: many hotels and restaurants have reduced opening hours and limited places due to social distancing. For any other safety details, check with venues in advance of your visit. But otherwise, go and devour all those miniature treats!
Video: check out our pick of five of the best afternoon teas in town.
The best afternoon teas in London
What's the vibe? If you're 'doing' London in a day or so, this Routemaster-based tea-cum-tour is fab value and a smart use of your time. Hop aboard a vintage double-decker at Victoria (or near Trafalgar Square) and scoff a fancy-schmancy platter of finger sandwiches, profiteroles, croque monsieurs and cupcakes as lively staff flit about with drinks. An unobtrusive voiceover gives an accessible overview of historic London as it passes by outside. Tourists bloody love it – we got stuck behind the Prime Minister's motorcade on Whitehall, and a neighbouring tea taker got so excited, Earl Grey shot out of his nose. For kids, there's also a Peppa Pig afternoon tea bus to jump aboard.
Price? £45 per person.
Dietary needs? Gluten-free, vegetarian, vegan, halal and kosher needs can be accommodated. Notice on booking is required.
Times? Daily noon, 2.30pm or 5pm from Victoria; 12.30pm, 3pm from Northumberland Avenue.
What's the vibe? Head to the Corinthia Hotel's light-filled Crystal Moon Lounge if you want to sample afternoon tea amid the comforting glow of 1,001 baccarat crystals. The indulgent spread (with or without a glass of fizz) includes an assortment of upscale finger sandwiches (truffle egg mayo, tandoori chicken with green apple etc) plus scones and a host of sweet-toothed delicacies such as pear and cinnamon eclairs. Tea drinkers will find a fascinating line-up of bespoke blends and single-estate sips – but don't miss Corinthia's indulgent hot chocolate, served in a pot with marshmallows, whipped cream and chocolate splinters. Luxuriate at your leisure while a Steinway tinkles in the background.
Price? £55 per person, £65 with a glass of champagne, £75 with a glass of rosé champagne.
Dietary needs? All dietary requests can be accommodated. 24 hours' notice is preferred.
Times? Daily, 2pm-6pm.
What's the vibe? F&M's elegant tea salon has been serving the good stuff since 1926. A pastel-coloured dining room on the fourth floor of the iconic St James's department store, this spacious spot excels in both 'sweet' and 'savoury' teas. Top picks from the former include the smooth chocolate mousse (not forgetting treats from the 'cake carriage'), while stars of the latter include savoury scones with Shropshire Blue cheese and cranberry jelly or courgette and thyme with red onion marmalade. Our all-round winner, however, is Fortnum's very own smoked salmon sandwich with tartare dressing (available on both menus). Tip: if you're going on a sunny day, ask to sit close to the windows, where there's more natural light.
Price? £60 per person (£30 per child), £74.95 with a glass of Fortnum's Blanc de Blancs, Hostomme NV.
Dietary needs? Vegetarian, vegan, gluten-free and dairy-free menus available on request.
Times? Mon-Sat 11.30am-7pm, Sun noon-6pm.
What's the vibe? As Harrods is to shopping, so The Ritz is to hotels: a London icon and the perfect haven for out-of-towners who'll revel in its bespoke traditions – right down to the formal dress code. The high-ceilinged Palm Court, where one takes tea, frames feminine pastels with gilt edging and chandeliers, while live entertainment comes from the house pianist, a harpist or string quintet. Come if you've got a sweet tooth: the (unlimited) sandwiches and scones are somewhat ordinary, but the showstoppers here are the wonderful pastries, from a delectable 'rhubarb and custard' choux to a nicely sharp lemon posset macaron. There's even a dessert trolley for by-the-slice delights (such as an excellent 'belle époque' pear tart).
Price? £53.50 per person (£35 per child). Celebration tea £82 per person, including a slice of cake.
Dietary needs? All dietary requests can be accommodated. 48 hours' notice is required.
Times? Daily, sittings 11.30am-7.30pm.
What's the vibe? As part of Sketch's luxe Mayfair pleasuredome, the velvet-clad dandy-esque Gallery is a lesson in more-is-more eclecticism, a restaurant and exhibition space that's currently home to more than 200 prints and drawings by Turner Prize-winning artist David Shrigley – he's even put his own stamp on some of the tableware. Afternoon tea in this decadent pink boudoir is something else – a gorgeous line-up of pretty delights ranging from a truffle croque, finger sandwiches and still-warm scones to Victoria sponge from the trolley and assorted 'petits' gateaux' (think mandarin battenberg, malabar marshmallow, lemon cheesecake or a pistachio choux bun). Don't miss a trip to the cluster of egg-shaped toilets, where birdsong is piped into each pod.
Price? From £49 per person.
Dietary needs? Sketch has devised a tailored allergen-free patisserie menu which is suitable for nut, dairy and gluten allergies as well as vegetarian, vegan, pescatarian and gelatine-free dietary requirements.
Times? Fri-Sun, 11.30am-6pm.
Available from October 1
What's the vibe? We can thank Anna Russell, the 7th Duchess of Bedford, for dreaming up the idea of a mid-afternoon repast back in the 1800s, although it was London's grand hotels that really ran with the idea. The Palm Court at the Langham was in on the act from the very beginning, and you can still partake of its dainty wares against a palatial art-deco backdrop of plush fabrics, crystal lights and potted palms. Now dubbed 'Seasoniltea', the spread is based on the best seasonal produce – so expect a calendar-tuned line-up of speciality sandwiches, home-baked scones, cakes and pastries, all served on Wedgwood china. As for the cup that cheers, the Palm Court offers a choice of 30 blends, all stage-managed by a tea sommelier.
Price? Afternoon tea with Wedgwood £62 per person, £75 with a glass of Perrier-Jouët Grand Brut champagne. High tea with Wedgwood £68.
Dietary needs? All dietary requests can be accommodated. Notice on booking preferred.
Times? Daily, 12.30pm-5.30pm.
Venue says Palm Court is famed as the birthplace of afternoon tea providing a sense of occasion against a backdrop of daily live music.
What's the vibe? Sidestep the swarms on Regent Street to find shisa-scented Momo, a low-lit café with an array of colourful trinkets adding to the vibe of an exotic bazaar. Bite-sized classics are given an exotic twist (think cucumber sandwiches with labneh and mint) and there are savoury meze riffs too. On the sweet side, syrupy maghrebi pastries sit alongside choux buns and black forest gateau, but the real showstoppers are the lightly crumbling date scones paired with clotted cream, lemon curd and a dulcet quince and prickly pear jam. Wash it all down with Moroccan mint tea, poured from a great height to allow oxygenation. You can also get a mini 'cream tea' for under a tenner.
Price? £34 per person, £44 with a glass of champagne.
Dietary needs? The meal is halal, with vegetarian options available on the day. All other dietary requests can be accommodated with 24 hours' notice.
Times? Daily, noon-4.30pm.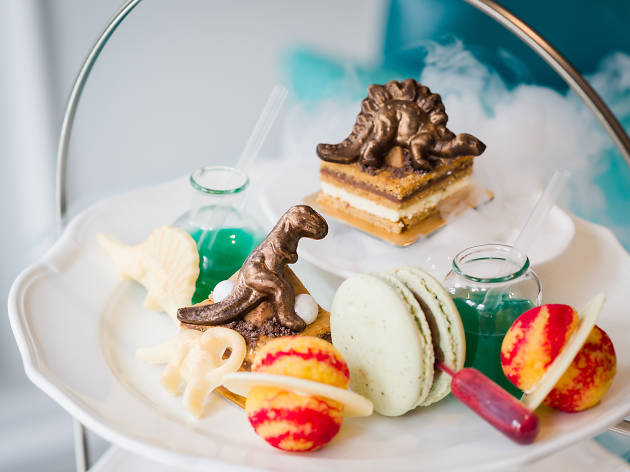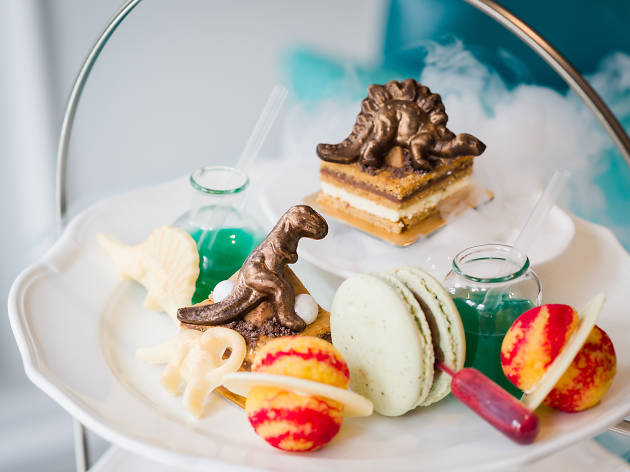 © Amy Murrell May
Science afternoon tea at The Ampersand Hotel
What's the vibe? Fancy a side of chemical gas with your Earl Grey? Inspired by its South Kensington neighbour, the Science Museum, afternoon tea in the Drawing Rooms of this luxury hotel may be served on a classic three-tier stand, but the rest is anything but traditional. Highlights include a chocolate and passion fruit 'planet mousse' that arrives billowing clouds of dry ice, a choccy spaceman, jelly in a petri dish and lemon curd squeezed from a tube. And if that all sounds a bit child-friendly for your liking, don't panic: The Ampersand's swish interiors and perfectly toasted scones will keep even the most sophisticated tea-drinker happy. Plus, there are unlimited refills of everything except the champers.
Price? £44.50 per person, £54.50 with a glass of champagne.

Dietary needs? Vegetarian, vegan and gluten-free alternatives available on the day.

Times? Mon-Sat 12.30pm-9pm, Sun 12.30pm-7pm.

What's the vibe? Under a lofty glass dome, the sumptuously traditional Thames Foyer plays host to Instagramming Japanese girls, sedate celebrating couples and excited groups having a grand day out in an unstuffy but top-drawer setting. A piano tinkles in the background as punters scarf down a perfect (and limitless) selection of finger (and open) sandwiches such as coronation chicken on carrot and coriander bread, ahead of scones with homemade lemon curd, jam and clotted cream. After that, indulge in the array of handmade cakes, tartlets, pastries, madeleines and other signature treats. Pace yourself: takeaways, we were delicately informed, are not available at The Savoy.
Price? £75 per person, £85 with a glass of Louis Roederer Brut Premier champagne, £95 with a glass of Deutz rosé.
Dietary needs? Vegan and vegetarian menus are always available, but all dietary requests can be accommodated. 24 hours' notice preferred, but not mandatory.
Times? Daily, 1pm-5.45pm.
What's the vibe? Served in the gilded lounge of the regal Goring hotel, this is the Grace Kelly of afternoon teas. 'Smart casual' is the official line outfit-wise, but this is a spread you'll want to get dressed up for. The sandwiches, in particular, are faultless: perfect little crustless soldiers made fresh to order. Scones (plain or fruity) come tucked up in a napkin nest to keep them toasty warm, and the clotted cream is in just-perfect scoops. The pastry chef has had fun with the cakes; there's giant macaron and a blood-orange-mousse dome that looks like a Disney toadstool. The best bit? You'll be offered refills without having to ask for them.
Price? £50 per person, £62 with a glass of Bollinger Special Cuvée, £72 with a glass of Bollinger Rosé.
Dietary needs? Vegetarian and pescatarian requests can be accommodated on the day, but notice on booking is preferred for gluten-free or dairy-free menus.
Times? Sun-Fri 4pm-4.30pm, Sat 1pm-4pm.
What's the vibe? Tea at The Lanesborough ticks all the boxes. Served in the elegant Céleste restaurant or the hotel's sumptuous 'Withdrawing Room', this 'Back to Classic' offer is an Instagrammer's dream and an occasion to be treasured. Soft, fluffy sandwiches are in the ultra-traditional mould of coronation chicken, smoked salmon with cream cheese or even cheddar and pickle, while the patisserie selection spans everything from battenberg cake to lingonberry religieuse. Everything else is done with confidence, from the fresh warm scones to the carefully chosen – but not excessively long – tea list. Also watch out for a new menu from patisserie diva Peggy Porschen, launching in March 2020.
Price? £49 per person, £62 per person with a glass of champagne.
Dietary needs? Vegetarian menus available on the day. Other requirements can be accommodated with 24 hours' notice.
Times? Mon-Thu 2.30pm-4.30pm, Fri-Sun 12.30pm -4.30pm.
Venue says The celebrated Peggy Porschen afternoon tea returns just as soon as we can reopen under government guidelines. Advance bookings accepted!
What's the vibe? Flattering lighting, the scent of fresh roses, classical musicians in the corner: The Foyer at Claridge's is a class act. This elegant art deco space is where chic A-listers and other 'people with taste' come to take tea. The pastries are decent, the just-baked scones even better (look out for the sensational Marco Polo 'tea jelly'), but at Claridge's, it's the savouries that are the stars. Not only are the finger sandwiches moist, full-flavoured and unlimited, but there's an ever-changing 'special' – perhaps peppered goat's cheese with pumpkin and sage jalousie. Gracious, discreet service is a bonus.
Price? £70 per person (children £40), £80 with a glass of Laurent-Perrier champagne, £90 with a glass of Laurent-Perrier rosé champagne, £75 with a glass of non-alcoholic jus de raisin pétillant.
Dietary needs? All dietary requests can be accommodated. 24 hours' notice is preferred.
Times? Daily, sittings 2.45pm-5.30pm.
What's the vibe? Afternoon tea at The Dorchester is a dark horse. The Promenade looks every bit the foyer of a Park Lane hotel: sumptuous, with heavy drapes, plush carpets and marble columns. But dig deeper and you'll see it's a breath of fresh air: staff wear tailcoats but are charming and approachable; the crowd comprises sartorially slick Londoners; and best of all, the piano player's tinkle-list covers all bases. Scones are pedestrian but the (unlimited) finger sandwiches are terrific (elevated by interesting breads, such as caraway seed or walnut), as are pitch-perfect pastries: the moist battenberg, wrapped in homemade marzipan, is not one we will easily forget. Note the early sittings for 'elevenses'.
Price? £58 per person, £68 with a glass of Laurent-Perrier champagne, £75 with a glass of Laurent-Perrier rosé champagne, £90 with a glass of Dom Pérignon vintage champagne.
Dietary needs? All dietary requests can be accommodated. Notice on booking is preferred.
Times? Daily, sittings 11.30am-5.30pm.
Available from October 14
What's the vibe? A stylish boutique hotel amid the grand stucco avenues of SW7, The Kensington serves a London-themed afternoon tea in its all-day restaurant, Town House. Here, in a bay-windowed, multiple-roomed space with plush sofas and well-manicured staff, you can nibble on cute versions of The Shard, The Gherkin and Big Ben (The Elizabeth Tower, for purists). Start with a cup of floral earl grey before horsing into sweets and savouries: our favourites were the lightly curried coronation chicken sandwich and a white chocolate Gherkin filled with dark chocolate ganache. Unusually, tea kicks off with a plate of warm canapés: we especially loved the micro-sized steak and ale pie.
Price? £42 per person, £54.50 with a glass of champagne.
Dietary needs? Gluten-free menu available.
Times? Daily, noon-6pm (last sitting at 4pm).
Venue says Private dining special: room hire will be waived on all bookings until March 31. For more information, please contact the hotel team.
What's the vibe? If you're looking for a classy and classic afternoon tea, head to the wood-panelled Drawing Room at Brown's Hotel. Staff will guide you through its rich bounty of teas and infusions – and can recommend a brew to suit every palate. The contents of your stand will include all sorts of savoury twists ranging from mini bagels fills with smoked coronation chicken to a ploughman's tartlet with puff pastry, while pretty cakes and pastries adorn the top tier – perhaps rhubarb mille-feuille, hazelnut and banana paris brest or salted caramel tarts. If you're on a health kick, you can also plump for the special gluten-free 'Tea-Tox' menu.
Price? £55 per person, £65 with a glass of Moët & Chandon Brut Imperial, £68 with a glass of rosé champagne.
Dietary needs? 24 hours' notice is preferred for vegan, dairy-free and gluten-free menus.
Times? Daily, noon-6pm.
What's the vibe? Westbourne Grove's vegan-friendly Farmacy prides itself on its approach to 'clean indulgence' – and afternoon teas don't get more cleanly indulgent than its plant-based platter. For a start, there are no dairy bits, refined sugars, additives or chemicals herein. It also includes cannabis choccies – albeit the non-psychoactive, apparently health-boosting CBD bit of the plant. Elsewhere, there are savoury 'fancies' (from raw quiche with spinach 'cream' and pickled fig, through to jackfruit and pickled chilli tacos) and sweet bits, the star of which is an edible replica of a dessert apple filled with zingy, palate-cleansing apple compote. This is all washed down with hemp tea and a tea-infused cocktail. Great stuff, naturally.
Price? £42 per person, for a minimum of two guests.
Dietary needs? It's all dairy, refined sugar and additive free, but for gluten-free alternatives, specify when booking.
Times? Fri-Sun, 3.30pm-5pm.
On the hunt for more British gems?
From hearty pies to complex seasonal cooking, British cuisine has never been so widely lauded – and here's why