Heads up! We're working hard to be accurate – but these are unusual times, so please always check before heading out.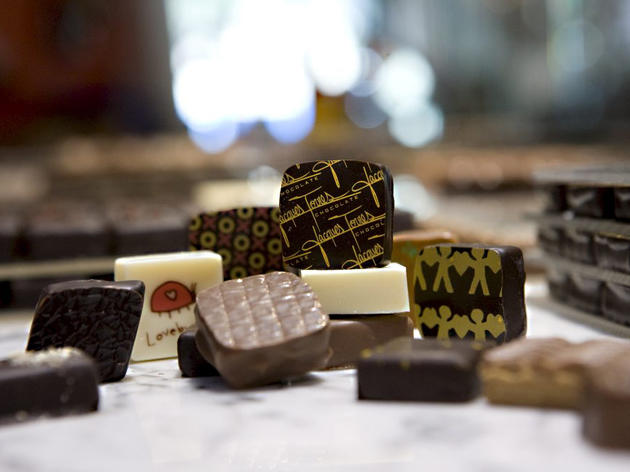 London's best chocolate shops
Rich, robust and deliciously decadent – London's chocolate shop scene has never been better.
July 2019: We've added Le Chocolat Alain Ducasse, an exclusive choc boutique run in tandem with Le Café Alain Ducasse. Find them both under the arches on Coal Drops Yard, near King's Cross station.
We're a city of chocolate connoisseurs – and London's got the shops to sate even the fussiest devourers of the good stuff. From purist-pleasing, super-dark chocolates and cream-filled white varieties, to highly artful creations and soul-warming hot chocs for frosty winter days, London's chocolatiers absolutely raise the bar when it comes to cacao. Scroll down for our list of the city's best.
London's best chocolate shops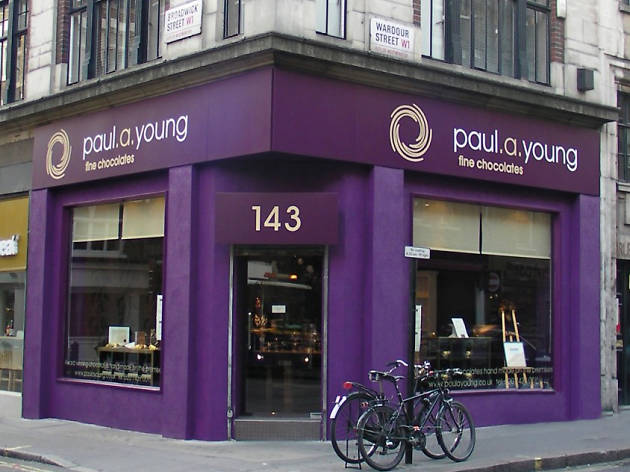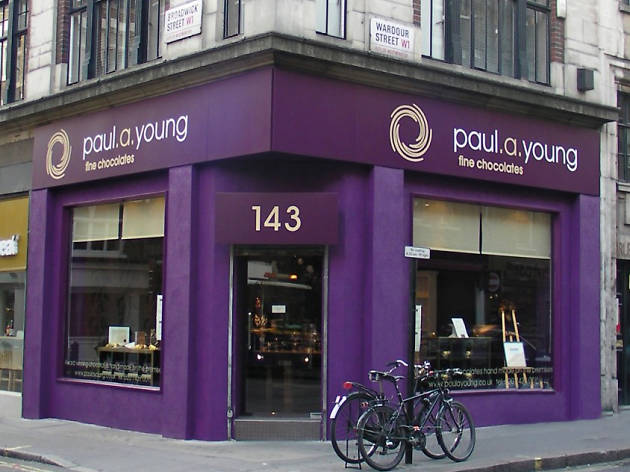 Paul A Young Fine Chocolates
A class act with an exquisite sense of taste, invention and discernment, Paul A Young is a former head pastry chef who shuffles ingredients like a croupier with a deck of cards. Black pudding truffle with ginger biscuit and beer? No problem. Marmite-flavoured Madagascan chocolate? He's done it. Sea-salt caramel? Of course, a gold medal winner at the International Chocolate Awards. As a sideline, Paul also sells a range of luscious ice creams courtesy of East London's gelato wizards Hackney Gelato, who produce three flavours using the same top-notch ingredients that go into his famous truffles – although you can only find these in his gorgeous boutiques on Camden Passage and The Royal Exchange. Other highlights include regular brownie-making masterclasses and tasting workshops.
143 Wardour St, W1F 8WA. 7437 0011. Tube: Tottenham Court Rd
If you fancy your chocolate in the form of a copper Buddha, a theatrical mask or even a pair of shiny baroque stilettos (wrapped in a shoe box), this is the place to come. Founded in 1999, and formerly known as Theobroma Cacao, Philip Neal's teeny Chiswick shop offers some intriguing additive-free luxury treats – salted walnut truffles, pink strawberry hearts, chocolate chilli sticks, bourbon vanilla mice, hand-painted harlequin Easter eggs and much more besides. There's also a terrific selection of macarons, fruit tarts, truffle cakes, eclairs, hand-made pastries and pretty desserts, plus a great choice for almond aficionados too (don't miss the blackcurrant-flavoured squares). But for sheer hands-on indulgence, you can't beat the big baskets of roughly cut dark and milk chocolate that dominate the shop.
43 Turnham Green Terrace, W4 1RG. 8987 3183. Tube: Turnham Green
Dubbed 'the Picasso of pastry' by Vogue and voted the fourth most influential Frenchman in the world by Vanity Fair, patisserie chef/chocolatier extraordinaire Pierre Hermé now has a foot in Covent Garden – in the shape of this chic boutique on Monmouth Street. Trays of his world-famous multicoloured macarons immediately catch the eye, notably the iconic Isaphan version, named after a variety of damask rose and made with lychee purée, sévarôme rose essence and dried raspberries (aromas that echo the gewürztraminer grape of Hermé's native Alsace). Otherwise, chocoholics should home in on the 'pure origine' bars, truffles, bonbons and creations such as the '2000 feuille' with praline and hazelnuts – not forgetting a line-up of luscious desserts, exotic pound cakes and ice creams. There's an offshoot on Lowndes Street, Belgravia and a concession on the ground floor of Selfridges.
38 Monmouth St, WC2H 9EP. 7240 8653. Tube: Covent Garden
Belgian chocolatier Pierre Marcolini has shops from Kuwait to Tokyo, and his London outlet glows as pristine white as the gloves used by staff to pick out his neatly arranged chocolates. Fancy eclairs with perfect choux pastry, inspired centres and haute-couture toppings get star billing (try the mojito version filled with lime, white rum and minty custardy cream), but this is far from your average chocolate shop – there's also a macaron carousel, a tasting area and a sweetie bar. Go when you feel like splashing the cash, or pick just one delicacy and savour the complex flavours – perhaps a merveilleux desire (dark chocolate shell with meringue, a crème fraîche 'insert' and vanilla mascarpone), a square of mille-feuille des rois or an insanely glossy chocolate tart. You can also find Marcolini's wares in Selfridges and Harrods.
37 Marylebone High St, W1U 4QE. 7486 7196. Tube: Baker St
Richard Green
He penned 'Charlie and The Chocolate Factory', so it's probably no surprise that Roald Dahl was a huge fan of Prestat's beautifully presented chocolate truffles. With posh flavours such as champagne, yuzu saké and Earl Grey on offer (all in elegant, brightly coloured packaging), it's hard to believe that this snazzy range comes from one of England's oldest chocolatiers. The brand has been around for more than a century, but the current owners are bang on-trend when it comes to promoting the health advantages of chocolate. Prestat's Ruby bars, truffles and thins, for example, are processed gently to maximise antioxidant content and nutrients. Although the company's chocs are a staple of high-class delis and fancy food halls, nothing beats a trip to their bijou boutique in St James's genteel Princes Arcade.
14 Princes Arcade, SW1Y 6DS. 8961 8555. Tube: Piccadilly Circus
Bustling Said is related to the oldest chocolate factory in Rome (circa 1923) and mamma mia, do they make a mean hot chocolate: super-thick and rich in cocoa solids, with molten choc ladled all over the cup. You can see the sweet stuff bubbling away in little cauldrons behind the glass counter. Rather than packaging its wares in the clinical boxing, Said stacks its chocs under cloches, on glass stands and in assorted jars, although the counter is also dotted with colourful own-label 'gran cru' bars. For pure indulgence, grab a Nutella pizza or salted caramel tart with your hot chocolate and sit down to admire the interior, which includes an entire wall decorated with shiny metal chocolate moulds. There's an offshoot on the corner of Rathbone Place in Fitzrovia.
41 Broadwick St, W1F 9QL. 7437 1584. Tube: Oxford Circus
Founder Chantal Coady is revered as a pioneer of fine chocolate in the UK and she is still ahead of the game – look for the top-drawer organic bars made by the Grenada Chocolate Company as well as Rococo's own artisan versions: the rose flavour is heavenly and it's also worth seeking out her 'library collection' of bars inspired by Roald Dahl's books. There are gorgeous hand-painted novelties too, from goldfish and 'choc crocs' (chocolate crocodiles) to hazelnut praline 'potatoes' (served with crystallised mint leaves), crates of salted caramel 'seagull eggs' and decorative Easter treats. You can also go hands-on by trying one of their personalised chocolate 'experiences'. There are further outlets in Chelsea, Marylebone, Covent Garden and Notting Hill.
5 Motcomb Street, SW1X 8JU. 7245 0993. Tube: Knightsbridge
Still craving something sweet? Find London's best ice cream
The scoop on the capital's best places for ice creams, sorbets and gelati.