Restaurants opening soon in London
Keep up to date with the latest restaurants, cafés and gastropubs opening soon in London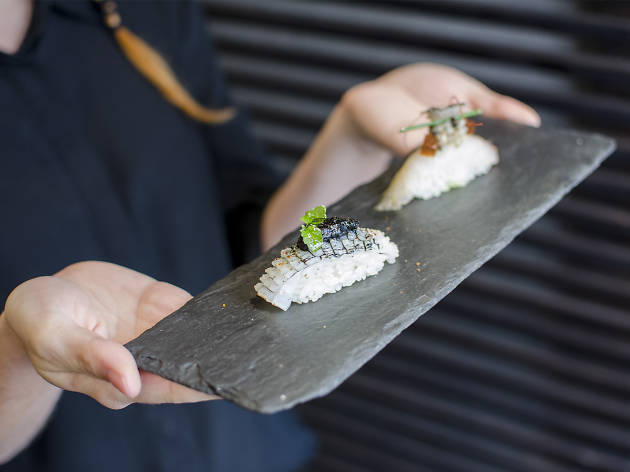 Time Out's food and drink editors have rounded up their pick of the latest cafés, gastropubs and restaurants opening soon in London. These talked-about eateries are set to arrive in the capital in the coming weeks and months. Opening dates change frequently – often at the last minute – so always ring first to confirm.
RECOMMENDED: Latest London restaurant reviews
Restaurants opening soon in London
Ella Canta
A restaurant from Mexican chef Martha Ortiz at the InterContinental Park Lane.
Opening: Spring 2017
The Ivy City Garden
The first Ivy venue in the Square Mile, with an all-day menu and a garden for al fresco dining.
Opening: Wednesday June 7
Bang Bang Oriental
A pan-Asian food court, promising to bring the energy of as Asian street food market to North London.
Opening: Monday June 26
Calcutta Street
A Brixton branch of the Bengali restaurant, promising a mixture of street food and main dishes.
Opening: June 2017
Jean Georges at the Connaught
A restaurant at The Connaught from Jean-Georges Vongerichten. There are British classics such as fish and chips and afternoon tea on the menu, alongside global and Asian-influenced dishes.
Opening: June 2017
Made of Dough
The first permanent restaurant from this pizza street food vendor.
Opening: June 2017
Magpie
A second restaurant from the team behind Pidgin in Hackney, featuring a dim sum trolley.
Opening: June 2017
Nobu at Nobu Hotel
The famous Japanese celeb spot gets a twin, over in the anticipated Nobu Hotel, no less.
Opening: June 2017
Shikumen
A branch of this dim sum restaurant opens in Dorsett City Hotel in Aldgate.
Opening: June 2017
Salt and Pickle
A deli and bistro serving all things preserved, salted, pickled and cured.
Opening: June 2017
Show more
Read Time Out's latest restaurant reviews
Find the latest restaurant reviews from Time Out's hungry Food & Drink team.
Read more
Sponsored listing
Hanger SW6
There's a crusade happening just around the corner from Fulham Broadway: to reintroduce the masses to an almost forgotten cut of beef, the flank, or 'hanger' steak. No other cut is available at Hanger and it's the main focus of the menu, treated with almost religious reverence. Decor is equally single-minded: unfussy and minimal. Starters and desserts are distractions, really – salt beef croquettes and charred piquillo peppers were perfectly nice if not breathtaking; later, a pecan pie came in the same category. Pre-epiphany, sides appeared before the mains and excellent triple-cooked chips had almost gone by the time the meat arrived. The spiced mac and cheese had a kick but needed a stronger cheese for the base sauce. And so to Hanger's icon. They recommend serving it medium-rare, but we were assured medium is also fine and it was. I went large and received an enormous 12-inch strip, the meat sliced into thick juicy slabs. It was melt-in-the-mouth tender. Absolute heaven. I was an immediate convert. The burger – barely minced chunks of supremely good steak precariously held together by blue cheese and caramelised onions – was also 'de-flipping-licious' according to my companion. Then, when our plates were empty, we considered the sheer value for money, shook our heads in amazement and gave thanks. Here endeth the lesson. Amen.
Venue says: "Try our Surf and Turf Tuesday deal! Share our UK hanger, picanha asada, sea bream ceviche, rare breed sirloin, cod cheek tempura and more!"