Heads up! We're working hard to be accurate – but these are unusual times, so please always check before heading out.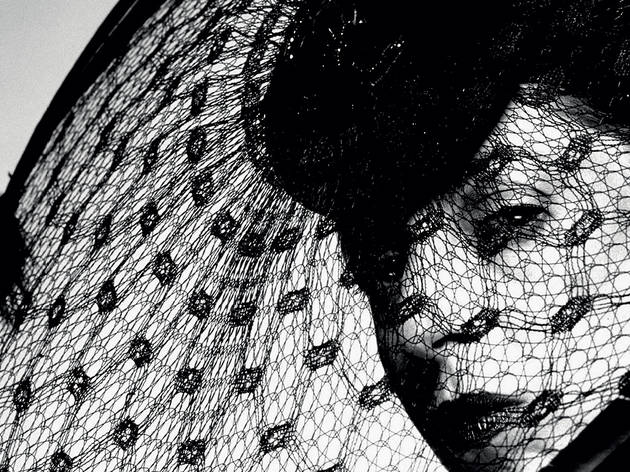 The real Isabella Blow
Hat-collecting fashion editor Isabella Blow was a London style icon. Her sister Julia Delves Broughton tells what it was like growing up with Issy
So elusive has she been over the years, in fact, that when I arrive at her offices – at auction house
Christie's HQ
in King Street – to meet her, I don't know who I'm looking for. A minuscule figure glides down the grand staircase. Petite, with a sheet of golden hair, wearing a designer LBD and neat patent wedges, she is the epitome of understated chic; the antithesis of her famously exuberant older sister, Isabella, bar the bird-like frame.
'I don't like the cameras,' says Julia in cut-glass English, as we settle in chairman Viscount Linley's capacious office. 'I don't know how Issy did it really. If I was with her and I saw a camera I'd think: Oh my God!'
But with two new books out this month – including a Thames & Hudson tome, 'Isabella Blow' by Martina Rink, to which Julia contributed, and 'Blow by Blow' by Isabella's widower Detmar Blow – as well as a film in the making, the spotlight is once again on big sis.
Avoiding the tabloids or gossip columns, Julia has opted for Time Out partly because she remembers fondly the time Isabella starred on the cover in February 1998. Their younger sister Lavinia still has a poster of that Time Out cover on her wall.
It's three and a half years since Isabella took her life with Paraquat weedkiller at Hilles, the arts and crafts home in Gloucestershire that she shared with her husband Detmar Blow. Her death jolted the fashion world, with the industry elite joining close family and friends for her epic funeral at Gloucester Cathedral. Going back to happier times, I wonder if Isabella's passion for clothes started at a young age? 'I saw an old friend of my parents the other day and she said, "Oh, you and Issy were both always dressing up and changing your clothes." So I guess it did,' explains Julia. 'We had a dressing-up box and I have a photograph of Issy in a hat, aged about two. We were all quite girly. Issy's attitude to clothes was certainly different from mine. I don't go into McQueen and think: "Oh my God, that's an amazing, sculptural piece of fashion – I want to look like a contemporary installation today." I go in and think: "Is this going to make me look hot?" I think Issy had this very interesting approach to fashion from a very early age. It was all about art.'
Earlier this year Isabella's entire wardrobe was scheduled for auction at Christie's, to pay off her estate. It included more than 50 hats by Treacy and numerous couture outfits, including some by London's greatest designers – such as her old friend and major discovery, the late Alexander McQueen, plus Giles Deacon and John Galliano (including the Galliano 'poodle' coat she wore for the Time Out cover). The sale was due to take place this month but her old friend Daphne Guinness, the heiress and a former Time Out cover star herself, stepped in and bought the entire collection in a private sale for an undisclosed figure. This meant Isabella's collection would be kept in its entirety. How did Julia feel about that? 'Amazing. We love Daphne. Issy and I have known Daphne a long, long time. Our grandmother Vera was engaged to her great grandfather. Daphne is adorable as a person.' As yet, there is no word on what will be done with the pieces, but Isabella would no doubt have approved of them being kept together.
Isabella was born in 1958 to the aristocrat Sir Evelyn Delves Broughton and Helen Shore, a middle-class barrister. Julia was born in 1961, their brother John a year later and sister Lavinia in 1965. Tragically, John choked and died aged two, leaving the three sisters.
The girls grew up in Doddington House on a vast estate in Cheshire, with a 700-year history. Their upbringing was anything but conventional, combining glamour and scandal in equal measures. Their grandfather was Sir Henry Delves Broughton (aka Jock), a larger-than-life globetrotter famous for his wild parties and extravagant spending, but perhaps best known for being tried (and acquitted) for murder, a tale dramatised in 1987 film 'White Mischief'. In 1942, shortly after the trial, he took his own life, overdosing at the Adelphi Hotel in Liverpool. Who influenced Isabella early on? 'She adored our grandmother [Jock's first wife, Vera, who is listed in 'Who's Who' as a 'cannibal'],' remembers Julia. 'She was a very adventurous, very brave person. She was the first white woman to go to Papua New Guinea, and she had a zoo at home. So I think Issy really, really looked up to her. Being younger than Issy, I just thought she was this very severe, dominating, intimidating kind of woman.'
Although not brought up here, London played an important role in their development. 'We had a flat in Cadogan Square and as a treat we would come up to London. It was hugely exciting. Daddy would take us to
Harrods
and we'd go to the pet department and they had exotic animals. It was something we did and it was something we did with Daddy. We worshipped him.'
Their father, Sir Evelyn Delves Broughton, died in 1993, leaving just £5,000 to each of the girls but several million to his third wife Rona. A bitter pill to swallow, not least because the three daughters adored their father and were accustomed to a more lavish lifestyle than most. Isabella became an expert at finding creative ways to feed her fashion habit.
Everyone has seen pictures of Isabella Blow, dressed up in incredible outfits, with her signature slick of red lipstick, but what was she like as a child? Perhaps the most shocking word Julia uses to describe her sister is 'normal'. Really?
'She always had a love of people and she always had a love of beautiful things and otherwise she was quite normal. We used to do lots of "Swallows and Amazons"-type country things – you know, playing in woods, building houses, rowing on the lake, picnicking, picking daffodils which we'd then sell on the side of the road and get into quite a lot of trouble. Issy very much had that side to her. And I don't think you necessarily saw it unless you knew her. She was also very down to earth.' But Isabella did always love the fantastical. Did her theatricality start early on? 'She did always quite like to be a star. She loved attention,' remembers Julia with affection. 'She was very much an older sister. We had a strict pecking order. Lavinia was always the baby, Issy was always the eldest and I was always the middle and that never changes even when you grow up. Me and Baby relied on her for our entertainment. She would always be doing things to make us laugh, so we really looked up to her. She always made you see things in Technicolor.'
Julia, a director at Christie's for the past 14 years, has had a more conventional life – embedded in the art world which Isabella loved to infiltrate from time to time, thriving on visits to the auction house to look at the art collections. 'I was very traditional and Sloanie… but you are always bound by a cord, especially if your parents get divorced [Sir Eveyln and Helen parted when the girls were teenagers]. If anyone attacked any of us, ranks closed very quickly.'
I ask Julia if there were any common misconceptions about Isabella. 'What probably didn't come across in her public image was how sensible and pragmatic she could be. I mean, if you had a problem, you'd imagine she'd say: "Oh, darling, go and buy a new hat." But absolutely not. She had this incredibly pragmatic approach when called on to do so. Sometimes you'd think: Oh my God, where did that wisdom come from? If she had been flaky and superficial, she wouldn't have been able to help the designers she did. She was very nurturing.'
How does Julia best like to remember her older sister? 'For her wit and her compassion,' she smiles. A flick through Thames & Hudson's new book, with its dozens of heartfelt letters from some of Isabella's closest friends and associates – including American Vogue's Anna Wintour and many of her discoveries such as model Sophie Dahl and designer Hussein Chalayan – is testament to this. But it's a quote from Julia that sums up the loss most succinctly: 'Isabella lived life as a piece of theatre, a performance in which she insisted she took the lead role… Without her, life is like a stage without a star.'
Find London's best fashion