Robbie Williams interview: 'I don't want to follow in any designer's footsteps'
His Farrell label is inspired by his grandad – but does the popstar do any designing? We talk to Robbie Williams and his head of design Ben Dickens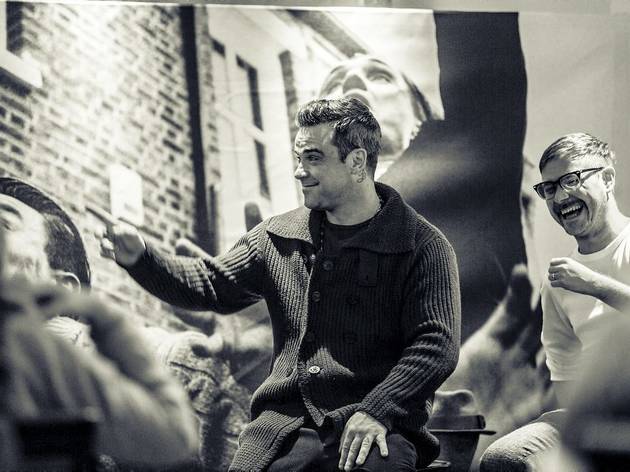 Robbie, be honest – do you really sit at a drawing board? How collaborative is the process?
Robbie: 'Ben and I meet in London and LA to go through it all, from my initial inspirations through to how that materialises to final product. He's a really talented guy, and I'm lucky he's here to facilitate all my ideas for the brand.'
Ben: 'We discuss ideas and concepts: books, films, characters, heroes, magazines and of course vintage shopping. From there I'll go away, and 'make it happen'. Much like when Rob works with writers or producers to create great music, we do the same with clothes.'
Ben, how has your experience at Burberry trained you for the job?
Ben: 'Working with Christopher [Bailey] and the team gave me a great insight into the runnings of a global luxury brand. To create clothing of quality and heritage is instinctive, and also something you learn along the way.'

Do you hold any other designers up as a model?
Robbie: 'I don't want to follow in any designer's footsteps, really, I think being us and doing that well is the most important thing to focus on.'

What's your favourite product in the range?
Ben: 'The camel Demob coat. It instills a real sense of authority. Rob says it's like a suit of armour.'
Robbie: 'The cropped Dispatch coat. It's a custom variation on a British military dispatch rider coat that Ben and I found and both loved. All of its details are like the real thing to keep you secure, speeding off on your Enfield.'

Do you wear the products? Or do you design this stuff for your fans to get a piece of your style?
Robbie: 'I love to wear Farrell: be a bit weird if I didn't. And it's great if fans see me in the gear and want it. It's not front-of-mind when we put the range together, though.'

Why choose Covent Garden?
Ben: 'It's a great area to be, with a village-type atmosphere, and lots to offer a contemporary male shopper. It definitely feels that the whole Covent Garden area is having a renaissance.'

The store is right next to the Vintage Showroom – does vintage inspire the range?
Ben: 'Very much so, from old military greatcoats to iconic British raincoats. There's much to be learned from the past, from a time when things were built to last, with craft and traditional skills.'

Why is the store so low on 'Robbie' imagery?
Ben: 'Rob is the owner, creative force and ambassador of the brand. But we're building a long-term business, to stand on its own two feet and merits. Rob plays an Alfred Hitchock-like role in the campaign assets – a cameo.'
Read our review of Robbie Williams' new shop
If you ever fancy a laugh, take a walk down Carnaby Street and have a look at Liam Gallagher, gooning down from a massive height in the narcissistic windows of his label Pretty Green's flagship store. Celebrities can turn their hand to product design if they fancy, but if they want to be taken seriously as retailers then trading on their own image is not the way to go about it.
Read more
Read more
More shopping interviews
The irreverent designer tells of his love for Suri Cruise, Batman and high-tops
Read more
The singer and fashion icon shares her enthusiasm for London's shops and jersey knit dresses
Read more
Vintage is a yes but the high street a no for the actress and model's wardrobe
Read more
Show more
See more Talking Shop interviews
Sponsored listing
Mad World Fancy Dress and Costume Hire
This vast dungeon (well, it's in a basement) of a fancy dress store offers a stellar personal service. Staff will help you navigate some 35,000 costumes, from a sleek ant to a fuzzy Orvill duck, and then assist in piecing together a unique outfit for sale or hire. Mad World is a great stop for period costumes, character fancy dress (they have everyone from Ron Burgandy to Rainbow's Bungle) and seasonal events such as halloween. Their get-ups are so on point that TV and movie production companies use them, too.  They also stock balloons and costume accessories, such as wigs, swords and more, and there's another Mad World store in Charing Cross.