Amazing autumn day trips from London
You can get a real taste of autumn on a day trip from London, so head out of the city for gothic chapels, abandoned sea forts, roaring fires and haunted villages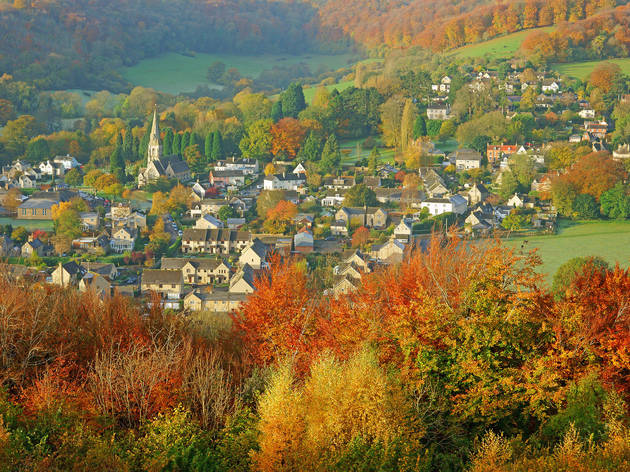 It might have been a long time coming, but the summer is now well and truly over. There's a crispness to the air, the leaves are slowly turning gold and we're finding ourselves rooting through our wardrobes for last year's coats and scarves.
And much as we love London, there's nothing quite like welcoming the new season by getting out of the city to soak up some fresh, non-polluted air. Whether you're after country pubs and roaring fires or hilly hikes and muddy boots, here are 13 autumnal spots that make for easy, hassle-free day trips from London.
RECOMMENDED: The best day trips from London
Autumnal day trips from London
1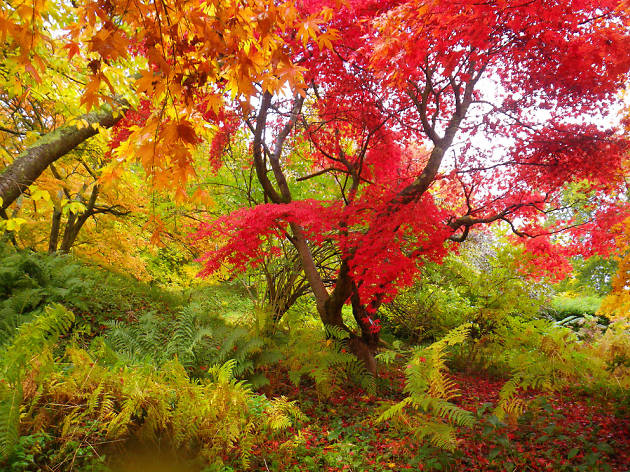 © Leiminide
The rich golden hues of leaves that are about to give up on life are what autumn's all about. Surrey's Winkworth Arboretum is home to around 1,000 different shrubs and trees, so when the weather turns their foliage becomes a glorious spread of colour. See whether you can make your cheeks as rosy as the maple leaves as you explore the lake, boathouse and wetlands. If you need fuel up for your walk, head to The Stag on the River near Godalming, a sixteenth-century mill-turned-gastropub with a seasonal menu.
Get there: 45 minutes by train from London Waterloo to Godalming; around one hour 30 minutes by car.


2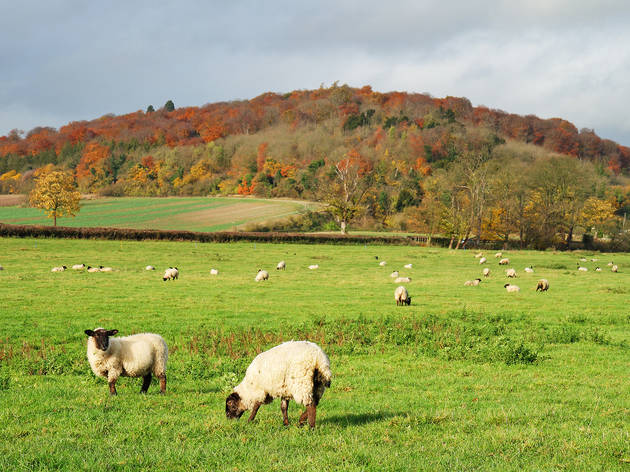 The hills perfect for wildlife spotting
Unless you're counting Hackney City Farm, your local urban fox or those mice in your kitchen, the wildlife scene in London is pretty barren. Get your fill in the very nearby Chiltern Hills, an area of woodland and open grassland where countless animals happily dwell. From hundreds of species of birds, to deer that could be straight out of Richmond Park, it's as rich with life as the commuter belt can get. Hop off the train at Amersham and jump on the Chiltern Heritage or Chiltern Link trail for a day in the great outdoors.
Get there: 35 minutes by train from London Marylebone to Amersham; around one hour 30 minutes by car.
Canterbury is one historic city – a short train journey and you'll feel as though you've stepped back in time. A Unesco World Heritage Site, the cathedral has been there since the Middle Ages and the medieval centre is surrounded by Roman walls. It's also filled with timber-framed houses and cobbled streets, ideal for wandering along on a bright autumn day. See the leaves turning gold and orange in the Westgate Gardens, or stop for a leisurely lunch at The Old Weavers' House, a quaint restaurant overlooking the River Stour.
Get there: One hour and 30 minutes by train from London Victoria; around two hours by car.
'Tis the season to pick apples, according to country folk. Garsons Farm, in Surrey, is a 155-acre, PYO (Pick Your Own) haven where you can do just that. The Thomsons family have managed the farm since 1871 and used to supply Borough Market, but now we have to go to them. No complaints here, though, as it makes for a perfect autumnal day out. Once you've been let loose on the apple trees, take your harvest to the exit tills to 'weigh and pay', then smugly glide back to the capital with your basketful. Baking apple crumble and/or apple pie is essential, post-day trip.
Get there: 30 minutes by train to Esher from London Waterloo, then a bus; around one hour by car.
The quaint Suffolk village of Lavenham is where they filmed the Godric's Hollow scenes in the Harry Potter films, which gives you a sense of how magical this place is. Home to wealthy wool merchants in Tudor times, it's still perfectly preserved, picturesque and stuffed full of half-timbered medieval houses. There are plenty of dreamy buildings to ogle, but make a beeline for the Grade I-listed, fourteenth-century De Vere House, which played Harry's fictional birthplace (and is currently on the market for a mere £950,000, if you fancy a little shopping while you're there.)
Get there: One hour and 20 minutes by train from London Liverpool St to Sudbury, then a 30-minute bus journey; around two hours 30 minutes by car.
An Area of Outstanding Natural Beauty that covers nearly 800 square miles, the Cotswolds has a fair bit going for it, like those creamy, honey-coloured stone buildings, picture-perfect villages and rolling green hills for starters. It's perfect for an autumn day out of London, thanks to its pubs, roaring open fires and colourful country walks. Serious hikers can find challenging long distance paths, but you'll find no judgement here if you'd rather stick to pavements in pretty villages or just amble between pubs like The Black Bear Inn and The Swan.
Get there: One hour 40 minutes by train from London Paddington to Moreton-in-Marsh; around two hour 30 minutes by car.
7
© Steve Cadman
Built as estuary defences during WWII, the Maunsell forts have – except for a brief side career as a pirate radio station in the 1960s – been standing derelict ever since. But thanks to the charity Project Redsand, boat journeys from Rochester or Queenborough can get you up close and personal with these eerie abandoned structures.

Get there: 35 minutes by train from St Pancras to Rochester; around one hour 15 minutes by car.
8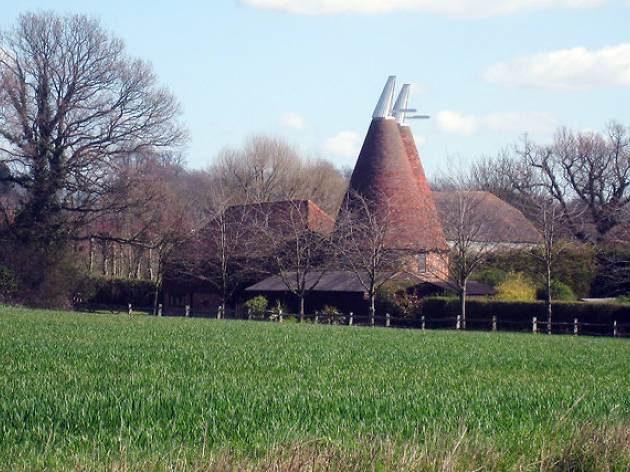 The spookiest village in England
Like something out of 'The Blair Witch Project', or perhaps more 'Jonathan Creek', Pluckley in Kent is the setting of so many supernatural stories that itís widely regarded as England's most haunted village. Its 12 reported ghosts include a highwayman, a monk, a Tudor lady and (God have mercy on our souls) a woman who sells watercress. If you fail to spot any spooks, those who can remember 'The Darling Buds of May' can look out for some of the locations from '90s TV series instead.

Get there: One hour by train from London Charing Cross or London St Pancras International; around one hour 45 minutes by car.


9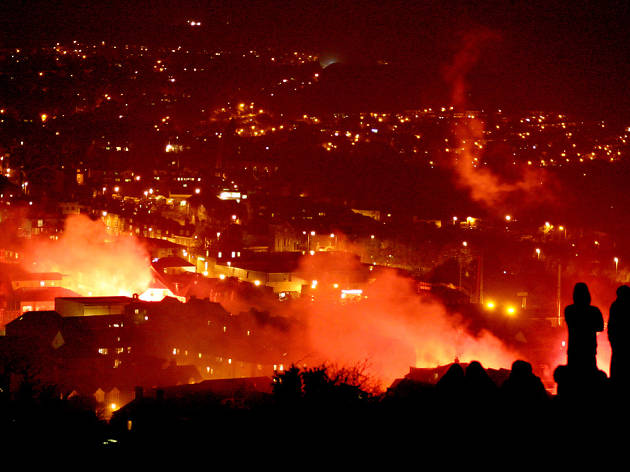 © Dominic Alves
The humongous bonfire party
On one night a year (November 5, unsurprisingly), the typically peaceful Sussex town of Lewes turns into a kind of mad medieval Mardi Gras, in what is the largest Bonfire Night celebration in the UK. The burning crosses, controversial Guys and numerous marching bands all add up to a rowdy, fiery, townwide spectacle like nothing you'd expect in modern-day England.

Get there: One hour by train from London Victoria to Lewes; around two hours by car.


10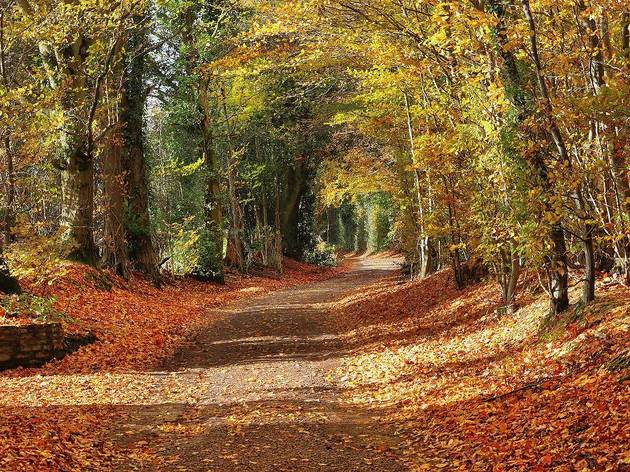 The quaint Thameside town
Once home to painter Stanley Spencer and 'Wind in the Willows' author Kenneth Grahame, Cookham is a sweet little village that sits on the Thames. It's worlds away from the South Bank, though, with antique stores, narrow streets and a strong community spirit. Make a trip to The Jolly Farmer pub the focus of your visit. It's run by villagers for the village, and it serves up really rather good, rustic fare. Think pies followed by crumble and custard. The perfect autumnal antidote to life in London.
Getting there: 50 minutes by train from London Paddington; around one hour 30 minutes by car.
11
Tony Tree
Charleston House near Lewes was where Virginia Woolf's sister, the painter and interior designer Vanessa Bell, and her art critic husband Clive Bell lived. Now, it's a Bloomsbury group property, museum and gallery – an ideal destination for a rainy day. Take a tour around the beautifully designed space, have a peek at sculptures and artworks in the garden or settle down in the Threshing Barn Cafe for homemade soup and wedges of Sussex plum cake. The National Trust-owned Monk's House, Virginia and Leonard Woolf's seventeenth-century country retreat, is just a few miles down the road if you want to extend your autumnal adventure.
Getting there: One hour on the train from London Victoria to Lewes, then a taxi; around two hours 30 minutes by car.
12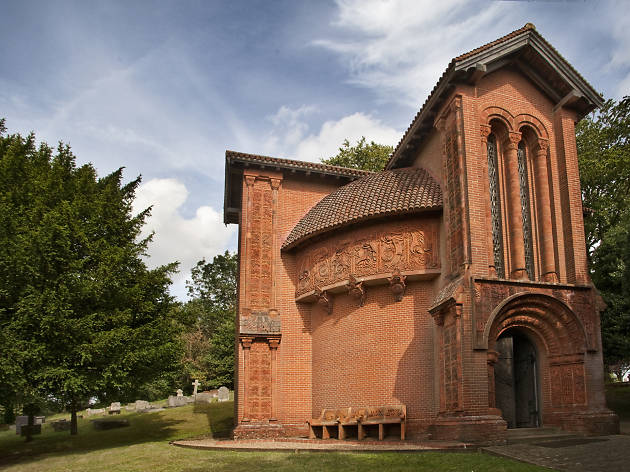 There's some wonderful art to be seen beyond the M25, and George Frederic Watts's purpose-built museum in Surrey is solid, charming proof of it. The Watts Gallery houses a permanent collection of more than 100 works by the symbolist painter himself as well as temporary exhibitions. Just down the road sits a beautiful gothic revival chapel created by Mary Watts, Watt's wife, that's well worth the short walk, and if you're feeling energetic you can continue along the North Downs Ridge all the way to Godalming. If you're in need of a pub stop try The Withies Inn, a wood-panelled boozer that dates back to the sixteenth century.
Get there: 35 minutes by train to Guildford from Waterloo, then bus or taxi; around one hour 15 minutes by car
13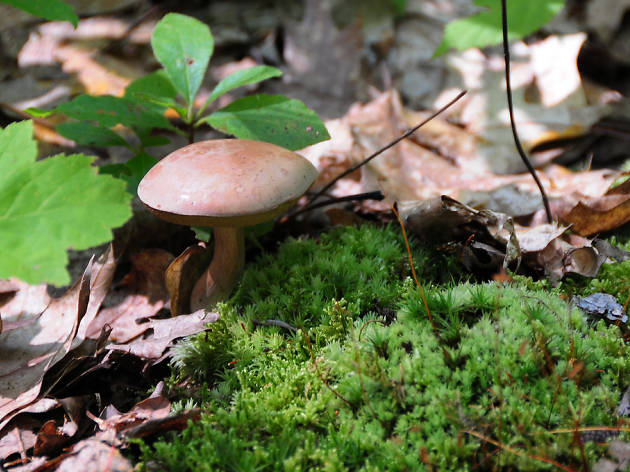 © Jess Pac
Don't worry: wild mushroom foraging needn't be a terrifying life-or-death lottery. Not if you join a foraging walk with an expert, who'll help you to find and identify dozens of species on a route through the New Forest, with the rarer and poisonous ones left untouched. Check out Wild Food or Forage London for foraging sessions. Get booking (they sell out far in advance) and cooking!

Get there: One hour and 40 minutes by train from London Waterloo to Brockenhurst; around two hours by car.
Staying in London this autumn?
Grab a scarf and some sturdy leaf-crunching shoes, it's time to embrace autumn in London
Snap up exclusive discounts in London
Time Out's handpicked deals — hurry, they won't be around for long...