Halloween in London
Forget tricks – treat yourself this Halloween with our pick of the best parties, events and spooky things to do in London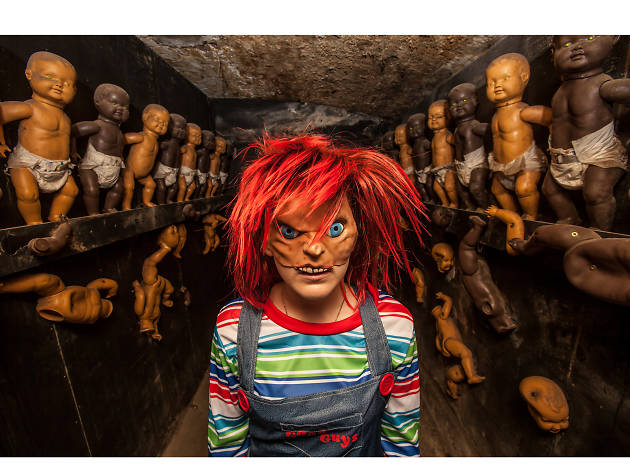 Next year, Halloween falls on Wednesday October 31 2018 and the city will be bursting with great events to sink your fangs into. Get ready to carve creepy pumpkins, guzzle bat-flavoured sweets and turn your bed sheets into ghosts, Halloween 2018 is gonna be a shocker. And, for those of a gentler disposition, check out our favourite events in October and other things to do in London this autumn, whilst the rest of us run around the city chasing ghosts.
*We'll be updating this page with events for Halloween 2018 as they are announced.*
Sponsored listing
Bars and pubs
Recommended
The Eagle
Away from the absolute chaos that greets you outside Ladbroke Grove tube and up the nearby hill sits The Eagle. It's bright and airy in summer, dark and cosy in winter – a perfect local if ever there was one. Hippo Inns has invested heavily in this establishment, with big and plentiful windows lending a natural light, dark wood floors, comfy seats by a fireplace and an island bar topped with two big, bold tanks (the traditional, 'bright' kind), holding the brewery's Raw lager, which will drip condensation on you, should you happen to stand in the wrong place. The fact that the tanks are replenished every three or four days tells you that whatever they're doing, they're doing it right. Pints, in general, come in on the wrong side of a fiver, not that it seems to bother punters much. The staff, as with the majority of the clientele, are young, vibrant and chatty. There's a slight Bavarian twist to the menu, with pork knuckle and German sausage among the unexpected items. While a burger came up pretty rare and greasy on my visit, the chicken schnitzel with fried duck egg and baby gem salad was superb. And to (literally) top it all, there's another huge area with a bar upstairs; on a weekend afternoon you should pull up a seat by a window and survey all life before you. The eagle has landed.