Blandings
Sun Jan 13, 6.30-7pm, BBC1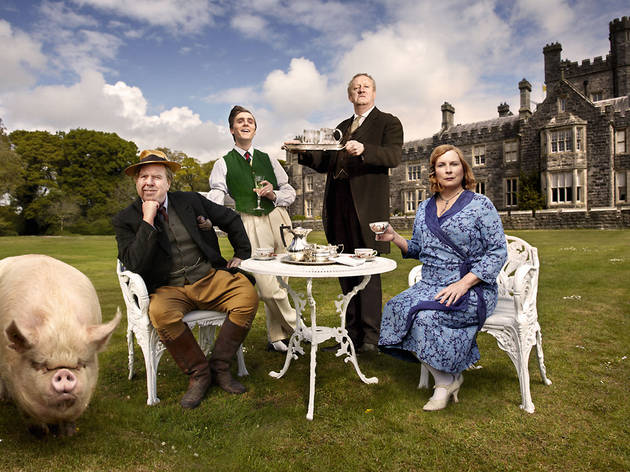 Series one, episode one
PG Wodehouse feels like one of the less frequently adapted British literary totems. On one hand, it's surprising, given that his light, deft comedy seems perfect for TV formats. But set against that is Wodehouse's remarkable facility for language – it takes an intrepid writer to attempt to do him justice, and quite a cast too. This, the first TV Wodehouse since Fry and Laurie's '90s adventures, is underpinned by Timothy Spall's gleeful potrayal of the amiable but befuddled Lord Emsworth, and promises tales of various misadventures involving underfattened pigs, unsuitable suitors and ineffectual fops. It's minor fare but the jauntily affectionate silliness might just get you in the end. Anyone disenchanted by the will-this-do? cynicism of the the 'Downton' Christmas special could do worse than give this a go.
Sponsored listing
Molé Taco Bar
On the backstreets of Marylebone you tend to find chain restaurants, age-old institutions and little else. So this modern indie taco station on a side road round that way is as welcome as a lake in the Mexican desert. And holy molé, the staff are nice, sharing recommendations from the menu of Mexican standards. Unsurprisingly, this mostly comprised tacos. They're good, though – if not, at £8 for two, the cheapest – with soft shells made from scratch on site, heartily loaded with toppings. The most successful of the variations we tried was the cochinita pibil, with tender pulled pork and pink pickled onions. Baja fish tacos featured nicely battered pollock and an enjoyably sharp slaw that cut through it all. The soft- shell crab option was a little ill-conceived, with prickly battered legs jutting rudely out from the tortilla wrapping. Nevertheless, all were neatly presented, with zigzags of salsa and coriander leaves prettily scattered. The interior is a bit wild, with modern graffiti murals – but grab a seat on the curb in the summer and pretend you're in Mexico City.
Venue says: "New exciting two-for-one promotion on tacos and cocktails, available 4-7pm Monday to Friday only!"
You might also like