Heads up! We're working hard to be accurate – but these are unusual times, so please always check before heading out.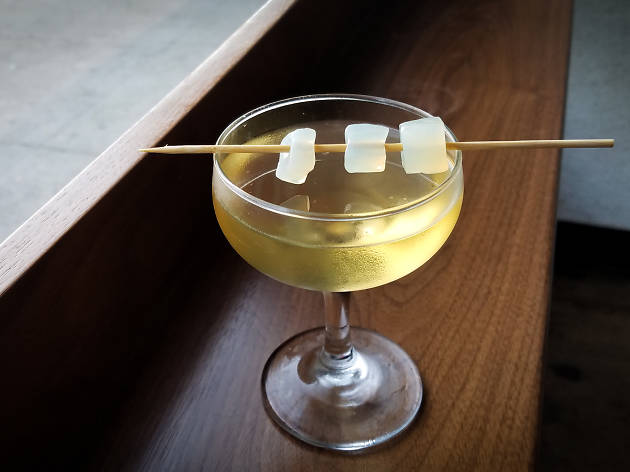 The winners of the 2018 Time Out Los Angeles Bar Awards
Raise a glass to the watering holes that make L.A. buzz—here are your winners of the 2018 Time Out Los Angeles Bar Awards
L.A.'s bar scene is as creative and thriving as the city itself. You'll find some of the world's best cocktails across the sprawling terrain, not to mention interior design so smooth, it almost steals the scene from the drink in your hand. To help you navigate it all, each year we assemble a who's-who panel of experts and insiders to pick the tried-and-true stalwarts, young guns and top teams as well as all their creations. Our 2018 winners run the gamut, from Instagram-worthy, be-your-own-bartender opportunities to classic cocktails in a century-old bowling alley to apothecary-inspired drinks on one of L.A.'s best hidden patios. So, consider this your guide to every occasion. Cheers.
RECOMMENDED: Full guide to Time Out L.A.'s Bar Awards
2018 Bar Awards Winners
Accomplice
Why we love it:
Take equal parts neighborhood bar, a staff with swagger, Taiwanese soul food and a cocktail menu that somehow makes even the most de rigueur drinks exciting, and you've got a Mar Vista gem that's also the city's best. The vibe is unpretentious, and the drinks are unadulterated fun: Pan-Asian ingredients sneak their way into the fundamentals, like a carrot-tinged spritzer made with sparkling sake (in lieu of prosecco) or a whiskey sour brightened by ginger and sesame—all the better to enjoy with the bao and dumplings made right next door at sibling restaurant Little Fatty. No matter how much you love your 'hood, you'll consider a move to Mar Vista every time you drop by for a quaff.
Why the panel loves it:
"I think [bar director] Gaby Mlynarczyk's drinks are incredibly innovative; she is cultivating a great bar team, and in an unusual neighborhood." –Yael Vengroff
Runners-Up: Big Bar, NoMad, The Normandie Club, Pacific Seas
The Spare Room
Why we love it:
It's easy to get caught up in the mayhem of Hollywood Boulevard. But if you dodge the multiple Spider-Men posing for pics outside of the Grauman's Chinese Theatre, you'll be rewarded with spirits so startlingly refined and a setting that's so Old Hollywood, it's as though you've traveled back in time. That's not to say that the Hollywood Roosevelt's tucked-away bar and gaming parlor—complete with its own old-timey bowling alley—isn't modern. The bar's drinks scream "party," with a focus on punch bowls and tiki-inspired spins topped with fresh fruit and purple orchids. Unwavering since its 2011 launch, the Spare Room has quickly become one of the top hidden bars of the city—or anywhere.
Why the panel loves it:
"The perfect mix of hip L.A. style and clientele with classic old Hollywood Roosevelt charm, all smack dab in the belly of the beast." –Nicolas O'Connor
Runners-Up: Jones, Musso and Frank Grill, Seven Grand, The Varnish
Bar Covell
Why we love it:
This wine den seems traditional—tea lights, cheese boards, a draft list on the chalkboard—but ask for a menu and things take a turn. Despite offering a staggering list of 150 wines by the glass, you're not going to find a written list to help you sort through it. Instead, owners Dustin Lancaster and Matthew Kaner devised a way to make wine recommendations based on a few simple questions about your preferences and maybe an adjective or two (think: "fruity," "clean," "funky"). Then, your drink-slinger is off, pouring samples and drawing in the most serious of customers until they crack a smile and get something that's just to their liking.
Why the panel loves it:
"Always a great, balanced selection, with something for everyone and a passionate staff." –Morgan McLachlan
Runners-Up: A.O.C., Bar Bandini, Esters Wine Shop & Bar, Mignon
The NoMad Giannini Bar
Why we love it:
When the hospitality juggernaut landed in L.A. in January, it had to live up to its world-class New York City counterpart. To our amazement, it did. We're thinking the awesomeness has something to do with the rigorously trained team, a massive yet expertly curated 40-drink menu and, oh yeah, one of the sexiest, moodiest interiors in all of Downtown. Local, seasonal ingredients and house-made yogurt, tinctures and tonics brighten rare liquors for drinks so good you'll have to convince yourself to try something new each visit. (Even if they are around $20 a pop, they're worth the splurge.)
Why the panel loves it:
"Impressive in both size and scope, it has a lot to offer its guests." –Marcos Menendez
Runners-Up: Bibo Ergo Sum, Broken Shaker, Employees Only, Lono
The Ponte
Why we love it:
Any Italian restaurant can offer limoncello, but few make it in-house. Such is the beauty of the Ponte's bar team: They craft the classic Italian liqueur from yuzu, lemons and whatever else they can find at the nearby farmers' market. When they're not going the extra mile for ingredients, they're behind the bar, dedicated to Italian classics—making most with imported specialty labels (naturally) and giving you the rundown on their lengthy amari list. Salute!
Why the panel loves it:
"There's a tie to something Italian in almost every drink, without being silly or too nail-on-the-head. The program is not an exercise in reinventing the cocktail wheel, but rather in presenting elegant and cohesive offerings." –Devon Tarby
Runners-Up: The Hearth and Hound, Otium, Providence, Redbird
The Normandie Club
Why we love it:
Sometimes you want to go where everybody knows your name, but the cordial crew at Normandie Club will do you one better: After only a few visits, they'll probably remember your name and your usual. The drinks are beautifully built at Hotel Normandie's justly lauded bar, but it's the Carrie Rand Heller–led team that makes this spot a shaken, stirred and straight-up temple to hospitality and versatility. You could order from the brief list of classics-inspired cocktails, but don't let the bartenders' skill go to waste: Give them a few parameters, then let them run wild. They love a challenge.
Why the panel loves it:
"The Normandie Club basically has the desert island bar team. First-line hospitality from fun and talented people." –Morgan McLachlan
Runners-Up: Big Bar, Harvard & Stone, The Spare Room, The Walker Inn
Apothéke
Why we love it:
You know what they say: It's what's on the inside that counts. This New York transplant made its home on the edge of Chinatown in an unassuming brick building that belies its interior. Steeped in a lavish ambiance, this hideaway sports elegant velvet settees and ottomans, tufted custom wallpaper and modernized apothecary touches, like light fixtures made from tonic-filled boiling flasks. On the white-fenced patio, topiaries, chic lawn chairs, woven rugs and a scene-stealing curved, marble bar turn Apothéke into L.A.'s coolest garden party—all in the middle of a warehouse district.
Why the panel loves it:
"Style for days, exquisitely decorated and with a great outdoor patio." –Gaby Mlynarczyk
Runners-Up: 71Above, Bibo Ergo Sum, The NoMad, Broken Shaker
Cold Hollow at Bibo Ergo Sum
Why we love it:
Imagine the best caramel apple of your life: crisp, honeyed fruit under layers of decadent caramelized sugar. Now imagine it in liquid form, so refreshing and cold there's frost clinging to its elegant Nick-and-Nora glass. Raising it to your lips and taste a blend of Amontillado and Oloroso sherries, Pierre Ferrand cognac and Plantation O.F.T.D. Overproof Rum singing through a house-made salted-caramel apple cordial. No state-fair treat, this is one of L.A.'s most balanced drinks: tart, rich, smooth, nostalgic. Good luck ordering just one.
Why the panel loves it:
"A delicious combination of three of my favorite ingredients: sherry, salt and cognac. Keep them coming!" –Gaby Mlynarczyk
Runners-Up: Yo LA Tengo at Everson Royce Bar, Mezcali Me Banana at Melrose Umbrella Co., Sazerac at The Normandie Club, Russian Tea G&T at Rudolph's Bar & Tea
Cola at the Walker Inn
Why we love it:
We like to think of the Walker Inn team as the city's best mad scientists—they even have their own hidden cocktail lab that's full of equipment that swirls, clarifies and makes molecular magic for your drinking pleasure. With the Cola cocktail, they let you play inventor, for a picture-perfect moment. Three vials arrive next to a glass of bubbly Crystal Soda—as it is, cute enough for a photo—but then you concoct the drink to your own liking, adding droplets of warm vanilla tincture, a citrus blend and spice. (We suggest making a GIF of the picture-perfect moment.)
Why the panel loves it:
"The Walker Inn's Cola is the definition of artistically hitting the marks in concept, form, and content." –Morgan McLachlan
Runners-Up: Pearl Diver at Accomplice, Banana Wintour at Big Bar, Cocktail Explosion at The NoMad, Donga Punch at Pacific Seas
Cari Hah, Bar Manager of Big Bar
Morgan McLachlan, Head Distiller of The Spirit Guild
Austin Melrose, Co-owner of Melrose Umbrella Co.
Marcos Menendez, Managing Partner of Room 31
Gaby Mlynarczyk, Bar Director of Accomplice
Cedd Moses, Founder and CEO of 213 Hospitality
Nick O'Connor, Head Mixologist of Apothéke LA
Ashela Richardson, William Grant & Sons Distillers Ltd. Ambassador
Leo Robitschek, Bar Director and Food & Beverage Managing Partner of NoMad
Christiaan Rollich, Head Barman of the Lucques Group
Mark Stoddard, William Grant & Sons Distillers Ltd. Ambassador
Devon Tarby, Partner and Creative Director of Proprietors LLC
Brandyn Tepper, Co-founder of Cocktail Academy
Yael Vengroff, Bar Director of The Spare Room
Ryan Wainwright, Director of Bar Programs at Faith & Flower