Where to eat Christmas dinner in L.A.
These restaurants are offering Christmas dinner packed with holiday cheer and zero cleanup. Sign us up!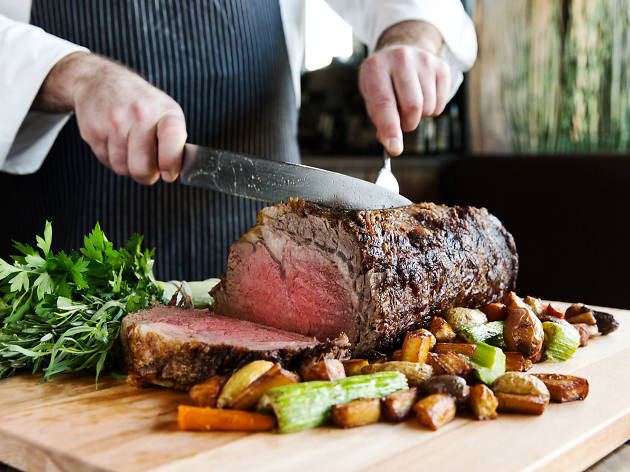 Between decorating your Christmas tree, wrapping piles of gifts and taking your family around to the best attractions in L.A., there's hardly enough time to plan for a Christmas dinner. That's where some of L.A.'s best restaurants come in. Skip the at-home turkey basting and dine out instead, where you can pile your plate without worrying about cleanup. Here are our picks for L.A.'s best Christmas dinner options. Cheers!
RECOMMENDED: Check out our entire guide to Christmas in Los Angeles
What: The prix-fixe menu is served family style and includes chestnut bisque, oysters, roasted duck turkey and unlimited Nicolas Feuillatte Champagne. This dinner will be available on both Christmas Eve and Christmas Day.

Price: $135

Reserve: 310-975-2736
Book now
Read more
What: The bistro will be serving a three-course, prix fixe dinner for Christmas Eve. Choose between four different dishes for each course from items like crispy duck leg confit, lamb chops, risotto and plenty of tasty desserts.

Price: $95 per adult, $45 per child (12 and under), with wine pairings for an additional $30
Reserve:
310-271-9910
Read more
What: Enjoy an Italian Christmas dinner with a four-course meal at Culina that includes mushroom carpaccio, squid ink rigatoni or a roasted fillet of cod, and a Tronchetto di Natale with chocolate gelato and caramelized pistachio or a mascarpone cannoli with white chocolate snow and espresso gelato.

Price: $95

Reserve: 310-860-4000
Book now
Read more
What: Head to Hermosa Beach for a four-course meal featuring wood-grilled octopus, scallops, short rib empanadas and churros.

Price: $55, add a supplemental oyster platter for $15/person

Reserve: 310-379-1829
Book now
Read more
What: On both Christmas Eve and Christmas Day, this French newcomer is offering a three-course menu featuring house-made duck foie gras, scallop carpaccio, filet mignon with white mushrooms and Buche de Noel.

Price: $75

Reserve: 213-217-4445
Book now
Read more
What: On Christmas Eve and Christmas Day, a five-course dinner will be offered featuring a sunchoke bisque with truffle butter, pappardelle pasta with lobster and burrata, veal loin with braised chard and black truffle, and peppermint cheesecake.

Price: $145, with wine pairings for an additional $75

Reserve: 310-265-2701
Read more
What: Every Plan Check location will be offering a prix-fixe dinner menu of Mexican-inspired dishes like mini beef cheek tamales, mole rojo, chicken enchiladas, Mexican red rice and cinnamon buñuelos.

Price: $20

Reserve: 323-591-0094

Read more
What: Saddle Peak Lodge's four-course tasting menu includes a warm seafood salad, Christmas ham, roasted turkey and a molten chocolate cake with candy cane ice cream.

Price: $95, with wine pairings for an additional $45

Reserve: 818-222-3888

Book now
Read more
What: The family-style meal begins with snacks like rye crackers with duck liver, followed by glazed ham, grilled pineapple, buttermilk biscuits with hot honey and a spice cake with poached pear and rum raisin ice cream.

Price: $65

Reserve: 323-822-3131
Check prices
Read more
What: The prix-fixe menu is served family style and includes chestnut bisque, oysters, roasted duck turkey and unlimited Nicolas Feuillatte Champagne. This dinner will be available on both Christmas Eve and Christmas Day.

Price: $135

Reserve: 310-975-2736


Book now
Read more
What: Roasted leg of lamb, salmon, turkey, roasted winter veggies, sage bread and blueberry ricotta cheesecake are just a few of the items at the Front Yard's Christmas Day buffet dinner.

Price: $45 per adult, $21 per child (12 and under)

Reserve: 818-255-7290
Read more
What: On Christmas Eve and Christmas Day, a five-course dinner will be offered featuring a sunchoke bisque with truffle butter, pappardelle pasta with lobster and burrata, veal loin with braised chard and black truffle, and peppermint cheesecake.

Price: $145, with wine pairings for an additional $75

Reserve: 310-265-2701
Read more
What: On both Christmas Eve and Christmas Day, this French newcomer is offering a three-course menu featuring house-made duck foie gras, scallop carpaccio, filet mignon with white mushrooms and Buche de Noel.

Price: $75

Reserve: 213-217-4445
Book now
Read more
What: Along with special à la carte items offered on Christmas Eve and Christmas Day, the Pikey will be offering a Christmas Day dinner that includes ham or goose breast with chestnut bread sauce, sausage stuffed onion, roasted potatoes, chestnuts and stuffed cabbage.

Price: $40 for Christmas Day dinner, prices vary for à la carte items

Reserve: 323-850-5400
Book now
Read more
What: A four-course meal awaits starting off with a brown butter gnocchi, roasted beet and citrus salad, herb crusted prime rib and dark chocolate Buche de Noel or apple tart tartin. Guests will also receive a surprise gift from the chef.

Price: $60 per adult, $20 per child (12 and under)

Reserve: 310-307-7004
Read more
What: Enjoy various dishes from the huge Christmas menu with options like roasted goose, Gorgonzola and walnut ravioli and mac and cheese. The brie and cranberry relish crostini and mixed salad will be served family style, along with an endless amount of house-made white cheddar and thyme biscuits.

Price: $54 per adult, $25 per child (4-12)

Reserve: 714-845-4776


Read more