The 24 best Instagram spots in L.A.
Need fodder for your feed? Look no further than these, the best Instagram spots in L.A.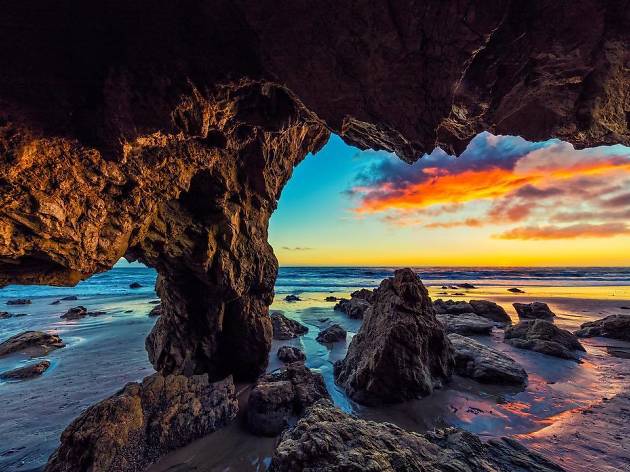 Before you lap up that ice cream cone, start sipping that cup of coffee or wrap up that hike, you of course need to take a photo for Instagram. We're only half-joking; sure, you should primarily do something because it brings you joy, but if documenting it brings in a few extra likes, well, who are we to argue. So get snapping, Angelenos, with these accounts to follow and standout spots ripe for Instagram.
#NATURE
The Bridge to Nowhere
Psst: You'll want a sturdy pair of shoes and a dry pair of socks to navigate the river crossings during this 10-mile round-trip hike to behold a lonesome bridge north of Azusa.
Sandstone Peak
Palm Trees
El Matador State Beach
Chinese Garden at the Huntington Library
#EATS
Latte art at Carrera Cafe
Psst: Forget hearts and leaves: This Melrose café can print any photo or pattern onto latte foam via the Coffee Ripples app and heat up your social media feed.
Double-Double at In-N-Out Burger
Fresh produce at the Hollywood Farmers' Market
Sorrel pesto rice bowl at Sqirl
Coconut acai bowl from Amazebowls
#CITY
Micheltorena Stairs
Psst: Artist Corinne Carrey gave a little love to L.A. with her heart-shaped oral arrangements along the 101 freeway, as well as on this chromatically painted public staircase in Silver Lake.
L.A. from above
Interior of the Bradbury Building
"Urban Light" at LACMA
#SIGNS
Santa Monica Pier entrance
Psst: This is the most photogenic end of Route 66 (#sorrynotsorry, Chicago).
Diver on top of the Museum of Neon Art
Neon signs at Grand Central Market
The old United Artists Theatre marquee
"But First, Coffee" sign at Alfred Coffee Silverlake
View this post on Instagram
#HUMBLEBRAG
A box seat at the Hollywood Bowl
Psst: Can't score a prime seat? L.A.'s most beautiful amphitheater doubles as a public park when there's no show going on.
"Infinity Mirrored Room" at the Broad
The tiled floor at République
Club 33 at Disneyland
Fried chicken sandwich at Howlin' Ray's
An Instagram-friendly guide to L.A.