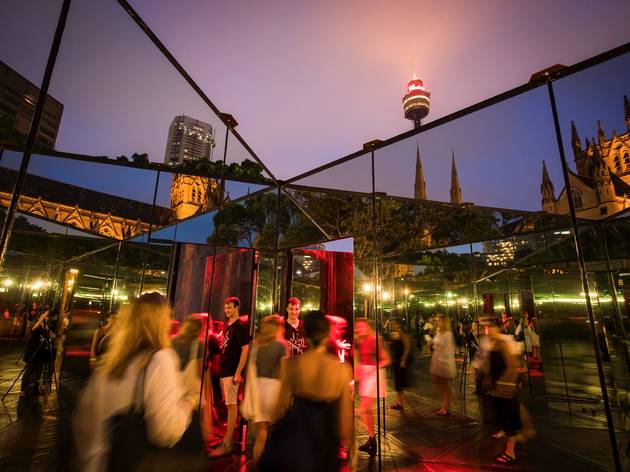 Alter your perception with this disorienting walk-through installation
Update: The Melbourne Festival season for House of Mirrors has been extended to Sunday November 19, and is open daily from 10am-10pm.
Melbourne artists Christian Wagstaff and Keith Courtney created this befuddling labyrinth for Dark Mofo 2016 – and since then, it's popped up in Sydney, Adelaide and event Bendigo. Finally, Melburnians have the chance to encounter House of Mirrors outside the Arts Centre Melbourne as part of Melbourne Festival.
The installation is designed in such a way that visitors can often see others in the maze, but not themselves (and vice versa). Several steps in, it becomes impossible to maintain a sense of direction – and that's when the confusion begins to set in.
Here's what Time Out Sydney had to say when they visited House of Mirrors at Sydney Festival 2017:
"Navigating this maze of mirrors and optical illusions is especially fun after dark... and the experience is ever more disorienting if you've had a few cocktails beforehand. We were told it's possible to complete the maze in 60 seconds – but where's the fun in that? Our tips are to spend a bit of time playing with the illusions, then to stumble around until you creep yourself or your companions out, before finding your way back out again. In our experience, you haven't truly survived the House of Mirrors until you've jumped out of your skin – spooked by your own reflection."
Check out our Melbourne Festival 2017 highlights hit list, and our Melbourne Festival Feasts guide.