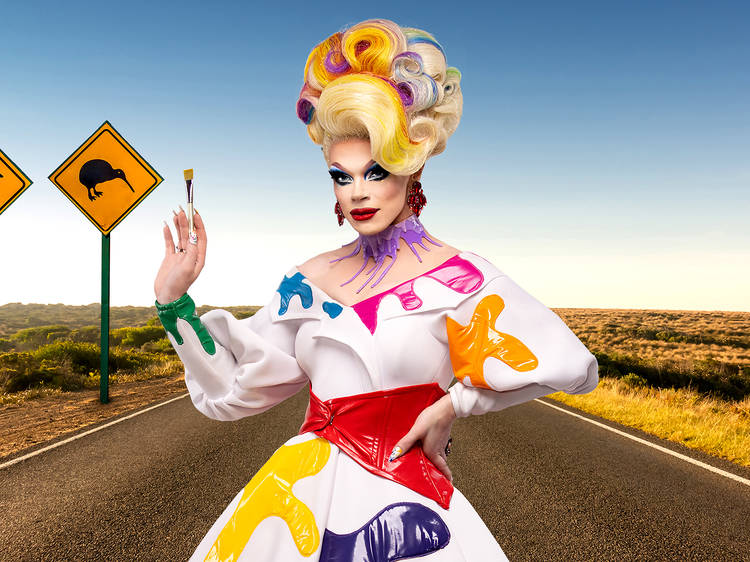 Photograph: Supplied/Stan
Art Simone
With a decade in heels under her belt, this superstar Melbourne drag queen is known for racking up the likes with her amazing makeup illusions and dominating any stage she steps on with equal parts comedy and glamour. She has appeared all over Australian media, notably in that AAMI TV advertisement that had us all quoting "Hold on to your boa, babe!" Last year, when Drag Race Down Under was still a twinkle in Ru's eye, she starred in the online series Highway to Heel from the same production company behind the Drag Race franchise.
How did you get into drag?
I came up through the makeup world, then I kind of fell into drag. I was really into horror movies and zombies and Rocky Horror and vampires – and then I found out it was a bit more fun to chuck on some lipstick and an eyelash and some glitter.
What is the most fierce thing you've done in drag?
Honestly, the most exciting thing that I ever get to do is whenever I get to bring drag into the mainstream. Whenever my head gets to pop up in people's televisions or on their radio, that extra bit of visibility is always the most exciting thing. [For example] I was in the AAMI insurance campaign for Broken Heel Festival on television for many years, I was on The Bachelor, I was the cover girl for Bonds, and I launched a palette with Benefit Cosmetics last Mardi Gras.
What are you excited for people to see on RuPaul's Drag Race Down Under?
I'm really excited that people are gonna see me! I'm also excited for them to meet Rhy Nicholson. I think the world is going to fall in love with Rhys as our guest judge – he's incredible, funny, entertaining and very supportive.
Who are the local queens you think people should be watching?
Definitely check out Philmah Bocks, one of the festival directors of Broken Heel. Maude Boat, if you've ever seen a foam wig or foam headpiece, she invented them. Paris is probably the biggest Melbourne legend in terms of drag, she is just the one, the only, the icon.
Where do you think people should be going to see drag?
Of course the Broken Heel Festival [Art is a glambassador for the regional drag event], that's a bucket list occasion right there! I also work really closely with a venue called Piano Bar, which is actually a franchise of venues now, and we bring drag to regional places around Victoria and Australia – like Ballarat, Bendigo, Colac and Geelong.

What's your Insta handle? @rtist_