White Night Melbourne 2018 Instagram guide
For 12 hours, Melbourne will light up with projections, music and art. But where will you nab the perfect Instagram pic?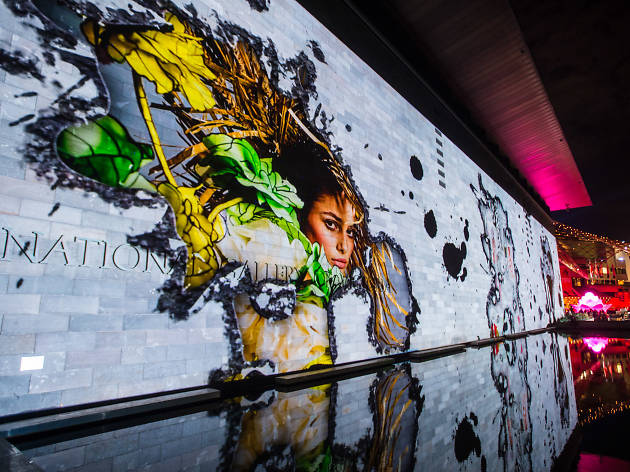 White Night is now six years old, and the massive all-night arts party isn't showing any sign of shrinking. This year's event (Saturday February 17, 7pm-7am) will feature live performance throughout the whole city and the large-scale projection and light works for which White Night is best known. But where will you find the perfect backdrop for a selfie, and where are the must-see and must-snap artworks? Phones at the ready: here's out hit list.
And remember, if there's not enough art on the streets of Melbourne and you want to take things at a slightly slower pace, some major exhibitions are open throughout the night. Arts Centre Melbourne's recently opened Australian Music Vault and the NGV Triennial are both open 7pm to 7am. Del Kathryn Barton: The Highway is a Disco and Louise Paramor: Palace of the Republic are open at the NGV's Ian Potter Centre until 11pm.
The Instagram hit list
Where: Federation Square
When: 7pm-7am
If you've seen video of this work when it was installed in Los Angeles, you'll probably agree with us that it's pretty close to actual magic. The 150-metre sculpture, made up of silver ribbon that shimmers as it waves in the wind, will soar over Federation Square all night. It's the work of LA-based artist Patrick Shearn.
Where: Carlton Gardens Central Boulevard
When: 7pm-7am
Melbourne artist Christopher Langton has created this menagerie of larger-than-life inflatable toys and cartoon animals standing guard in the gardens. They're absolutely adorable, but there may be a slightly more sinister side to the work. Or perhaps not – it's all in what you make of it.
Where: State Library Victoria
When: 7pm-7am
The State Library is always a key White Night location, and its beautiful La Trobe reading room is usually given a magnificent makeover for the event. This year is no exception, with projections inspired by the library's books taking over the space.
Where: Little Bourke Street
When: 7pm-7am
It's been a hot summer, but Little Bourke Street will be getting a fair bit cooler with this winter wonderland designed by the White Night team. Expect snow machines, wintery installations and lighting. 'Snow Lane' is on Little Bourke, between Swanston and Elizabeth streets.
Where: Manchester Lane
When: 7pm-7am
Australian artist Debra Goldsmith has created six grand chandeliers to hang in Manchester Lane. But look a little closer and you'll discover that each has been crafted from discarded plastic bottles and wire.
Where: St Paul's Cathedral, Swanston Street
When: 7pm-7am
If you need sanctuary from the crowds or a spiritual experience – or just an excuse to take a selfie in a church – pay a visit to the 'Altar to the Future'. The colourful, kaleidoscopic light work by Victoria University's Skunk Control is open at St Paul's Cathedral all night.
7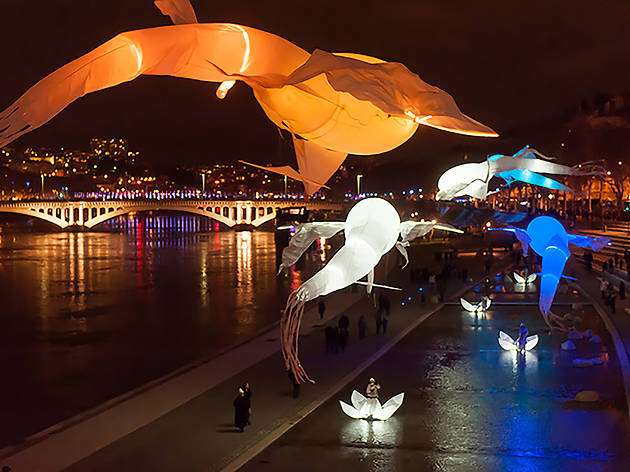 Photograph: Supplied
Where: Southgate
When: 7pm-7am
French artist Christophe Martine's illuminated bird-like figures will be flying through the air at various locations up and down the Yarra River.
Where: Alexandra Gardens
When: 7pm-7am
Have a Close Encounter with this eight-metre inflatable astronaut by Felipe Reynolds. The space trooper will appear to be emerging from the ground.
Where: Alexandra Gardens
When: 7pm-7am
Take a journey through the galaxy with this large-scale work by Namaste Europa. Created using imaging from NASA, it represents all the planets in our solar system with massive illuminated spheres.
Where: Queen Victoria Gardens
When: 7pm-7am
These Very Good Doggos will take over their own corner of Queen Victoria Gardens all night. Best of all, you're allowed to interact with these neon creations by Melbourne artist Carla O'Brien.
Need more White Night tips?
There are ways to maximise your art time and minimise queueing.