Bartender of the Year: Time Out Melbourne Bar Awards
Halls is not just a bartender – he's a full-time advocate, educator and preacher too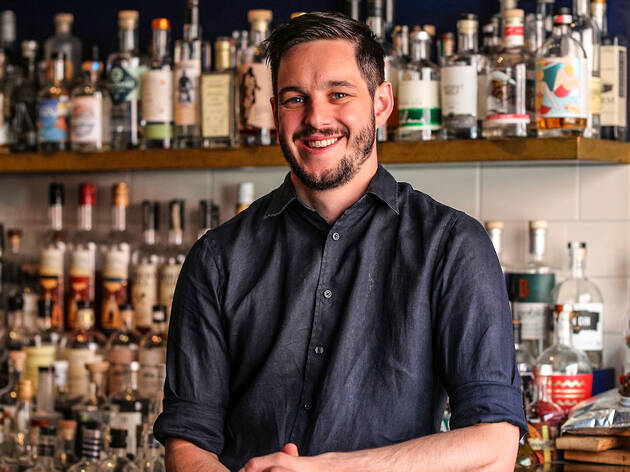 Bad Frankie isn't the kind of bar that exists merely to facilitate a pint after work, though staff are more than happy to offer those. Rather, the cosy spot off Smith Street is a centre for learning, one that works to spread the gospel of Australian spirits. Known for only stocking local spirits, Seb Costello and his team have scoured our wide brown land for everyone from the smallest of small-batch makers to big names like Four Pillars and Sullivan's Cove. But how do you get your regular Jane to take a chance on a Tasmanian single malt or an absinthe from Milawa they've never heard of? That's where a bartender like Lewis Halls comes in – he understands that before you can get people out of their comfort zone, first they have to be comfortable. On any given night, you'll see him pulling up a chair, ready to launch into the backstory of a newly sourced gin or bringing out rare finds for customers to take a whiff of. Breezy intimacy and natural warmth wins regulars, but what gets them to put the fate of their next drink in his hands is a steady building of trust. "It's one of bartending's highest pleasures to show someone something new for the first time," Halls says. "I love when you watch a guest take their first sip and a see a look of surprised pleasure across their face." With six years at Black Pearl under his belt, Halls' ability to run a tight ship, mix a fantastic cocktail and hoover up expertise was a given. But at Bad Frankie he has truly come into his own.

We also love...
Josh Hodges, Mr West
He'll make you a delicious cocktail and is always ready to nerd out about wine, but he never makes you feel like a neophyte, even if you are one.
Hayden Lambert, Above Board
With aeons of experience working in storied bars both home and abroad, he now leads his own bar, making cut-above cocktails that are full of personality.
Darren Leaney, Capitano
With the precision and technique from his years in fine dining, he's giving Carlton's good-times pizza-and-wine spot a killer edge.
Matt Linklater, Black Pearl
Sydney's loss is our gain as this bartender with a vision leads the Pearl's new crew to even bigger and better things.
See all the winners from the Bar Awards
From Bar of the Year to Best Bartender, here's who took home the gongs at the 2019 Time Out Melbourne Bar Awards.