Smith Street bar crawl
Smith Street has changed for good – which is good news for all drinkers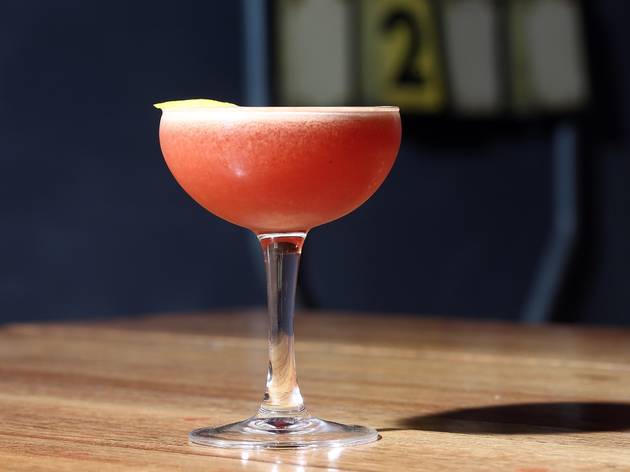 Smith Street's bar scene is nothing to sniff at. Within a two kilometer strip, you can go to multiple pubs, see a gig at Yah Yah's, sip on a prohibition-era cocktail or try over 50 taps of craft beer in one venue. Once you've sipped your way down the street, discover all the top-notch restaurants that Smith has to offer or extend your drinking journey to the rest of Fitzroy.
Bars on Smith Street
Peruse the 54 craft beer taps, decide between pizza and ramen for dinner, and make your way to Woody's Attic dive bar upstairs for pool and picklebacks at Forester's Beer Hall. They stay open till 4am on the weekends, and those pizze keep on coming till 2. What's not to love about deliciously refreshing sour beer available until dawn?
Read more
Housing one of the best bandrooms in Collingwood, the Gaso is a solid night out if you're looking for some fresh tunes by Melbourne's up-and-coming musicians. The front bar is a cozy space for a pub meal and some craft brews (score a seat by the fire in winter) and Gas-Light Izakaya upstairs is a good alternative to the usual pub fare.
Read more
Since its dramatic overhaul in mid-2009, the maritime-themed Grace Darling has become one of the most consistently busy pubs on Smith Street. What was once a sad little place with the ambience of an outer-suburbs RSL is now a crowd-pleasing Collingwood haunt with a band room, rock trivia and killer happy hour specials.
Read more
Lot 347's modest bank of taps stick to the now fairly familiar stuff from Little Creatures (white, dark and their Pipsqueak cider), Mountain Goat IPA, and Moon Dog's Love Tap double lager. The bottle list adds reliable gear from Two Birds and Holgate to the mix. But what the bar really has going for it is the room. It's sleek, dark partitions section the venue off into multiple pockets – foursomes get low tables, drinking crews get high ones, couples and singles can people-watch from the window stools or retreat to a lounge area.
Read more
Late-night venues are hard to find these days, but Collingwood's new edition to Smith Street is one to add to the list. Mr Scruff's is the complete antithesis to any other bar in the area: it's not a bandroom, there's no reference to the prohibition and it doesn't specialise in any particular spirit. It's just a solid bar where you can leave your judgement at the door and drink until the early morning to a killer hip-hop, neo-soul and R&B soundtrack.
Read more
When it comes to providing the fun, Mr Wow's can do no wrong. The most party-ready of the Thank You, Come Again stable, this Smith Street retreat draws the hordes for hotly contested ping-pong, pool and bocce matches. This isn't the place to go for a wanky, pages-long cocktail list or 20 beers on tap. Instead, gather a group for jugs of rum-sloshed cocktails, bottles of Pikes Pilsner or Red Duck Amber Ale, or a wallet-friendly glass of wine from the short, sharp list.
Read more
Cocktail bar The Noble Experiment (TNE) is named after the prohibition era, with a lot of nods back to New York. TNE thinks of their drinks as pre-prohibition, but we like to think of them as old trends coming new again. Beverages come both tricked up and traditional depending on the path you like to walk on the proverbial road.
Read more
Enjoy oysters and tapas, and perhaps an aperitif or two, at this Fitzroy restaurant right in the heart of Collingwood. With $1 oysters on happy hour, small plates to accompany your cocktails, and beautiful views over Smith Street, this bar is a perfect date spot.
Read more
Few of us would remember the old arcades of the '80s and '90s, in the days before Dance Dance Revolution and karaoke games. According to the team behind Mr Wow's Emporium, however, there's a resurgence of the arcade in the USA except this time they're setting up shop in bars. Enter Pixel Alley. Those familiar with old-school arcade classics can expect tipsy rounds of Daytona, Street Fighter II, Pac-Man and Buck Hunter. Rounds of beer while you wait your turn at the games are encouraged – a pot or pint of the Bastard Son Pale Ale will also come with a game token.
Read more
Also in the area...
Melbourne is a city that really knows how to do pubs. From beer halls with more than 50 craft beer taps to cozy locals with a great fireplace, there's a pub for every occasion.
Read more