Turn off a side-street in Alphington, and drive past the last houses on the street. Keep going past the bowls club, until all you can see in the distance are housing developments and factories. When the road comes to a dead end, stop and look to your right. Standing alone, surrounded by empty plots, is one small weatherboard cottage. Its front garden is nothing but dirt, and its windows are boarded up. Instinct tells you not to enter, but if you persist, you'll find something truly remarkable: a decaying home, frozen in time.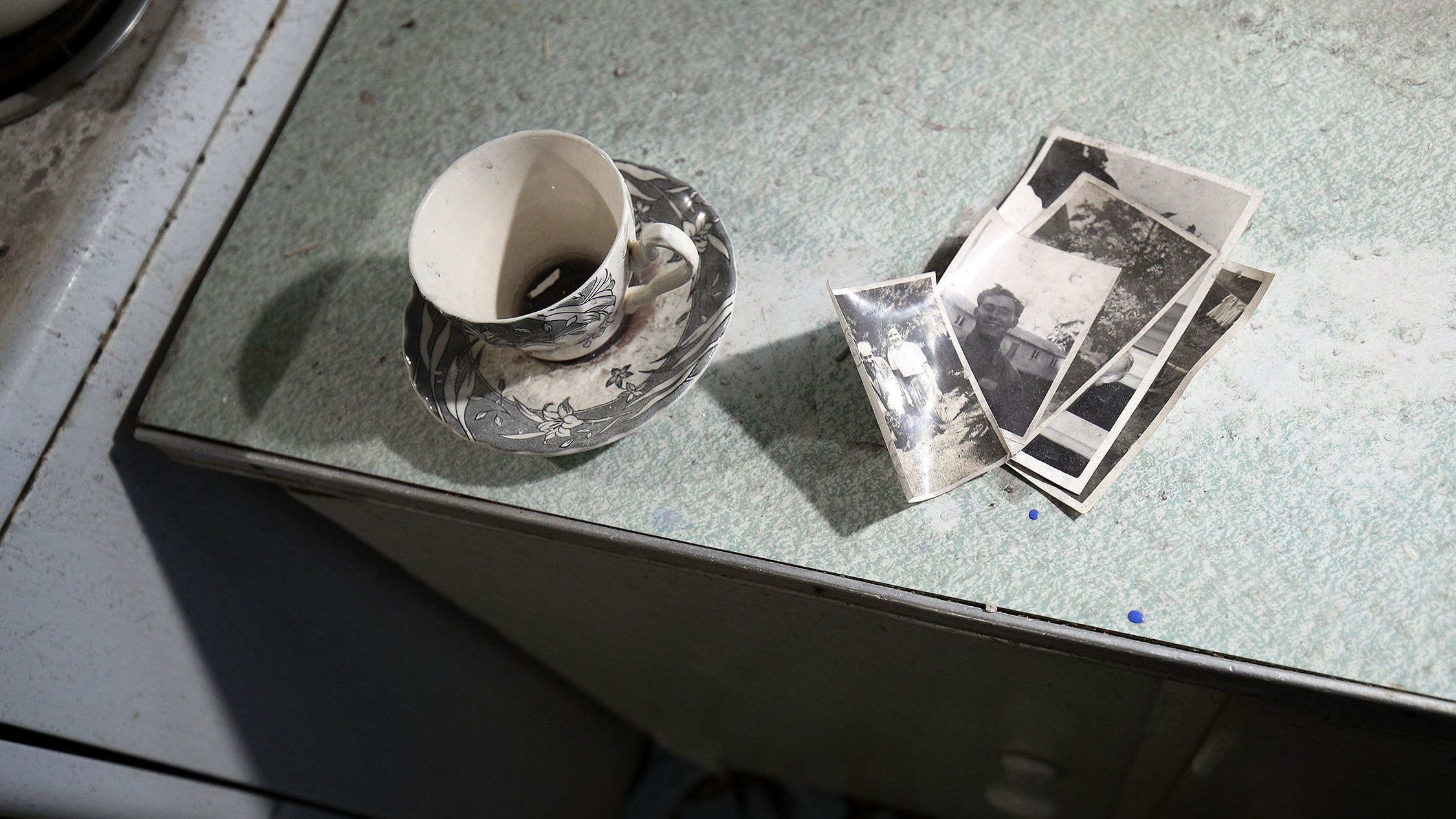 The Omega Project – which opens tomorrow (Sat Jul 22) – is the latest work by much-loved Melbourne street artist Rone (AKA Tyrone Wright). He is best known for his signature 'Jane Doe' portraits; large-scale painted murals of the faces of beautiful women, who he photographs in his studio. In last year's Empty exhibition, he displayed photos of the murals that he had previously painted onto derelict buildings. This time, he's taken things one step further. "I've been painting abandoned houses for a while now… but [after Empty] I thought, I wish I could bring people into these spaces," he says.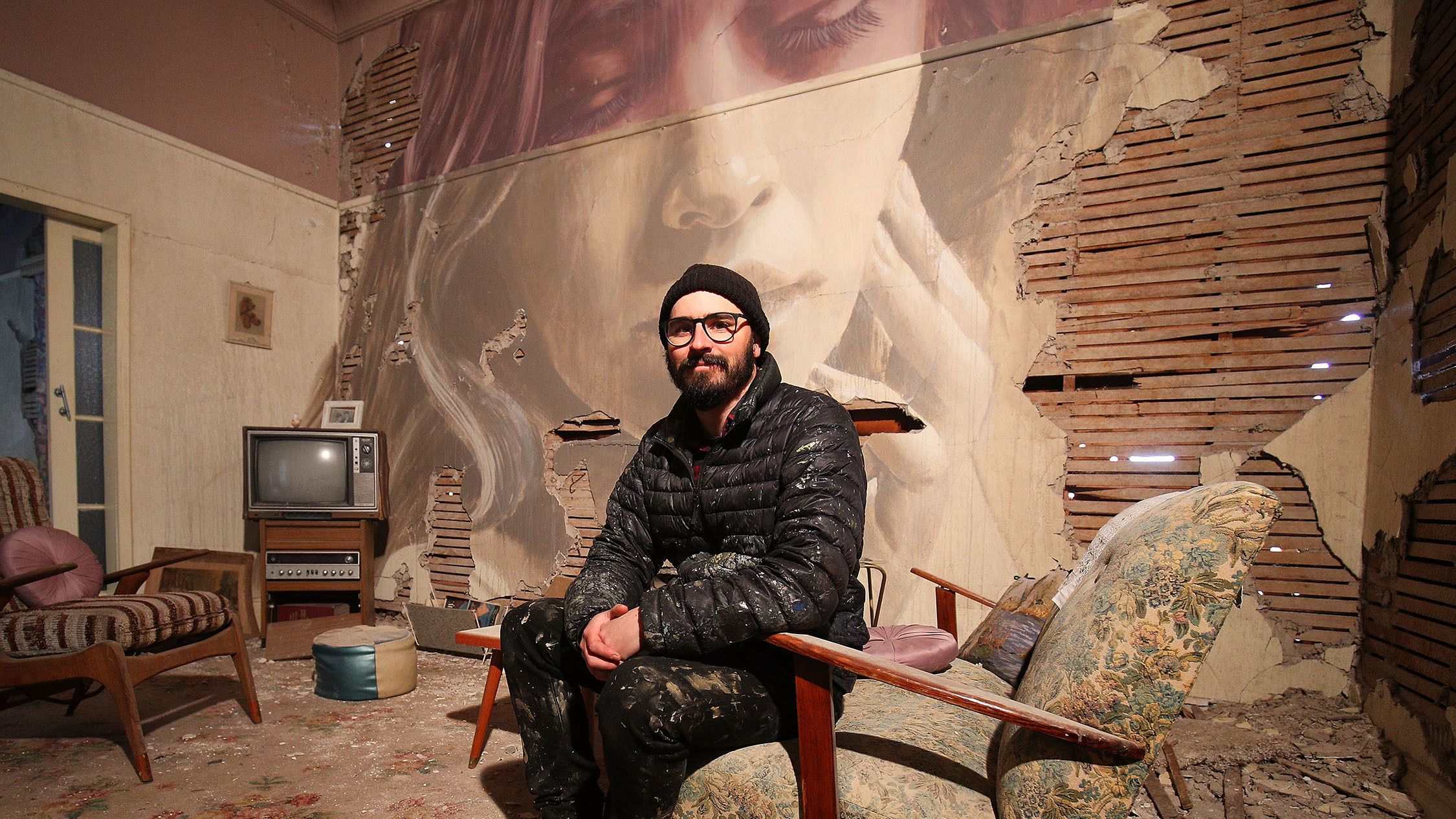 Stepping into The Omega Project feels like discovering a family home that was suddenly abandoned half a century ago. Plates sit on coffee tables with knives and forks askew. Old photographs and paintings line the walls. A tangerine-coloured pressure cooker sits on the kitchen bench.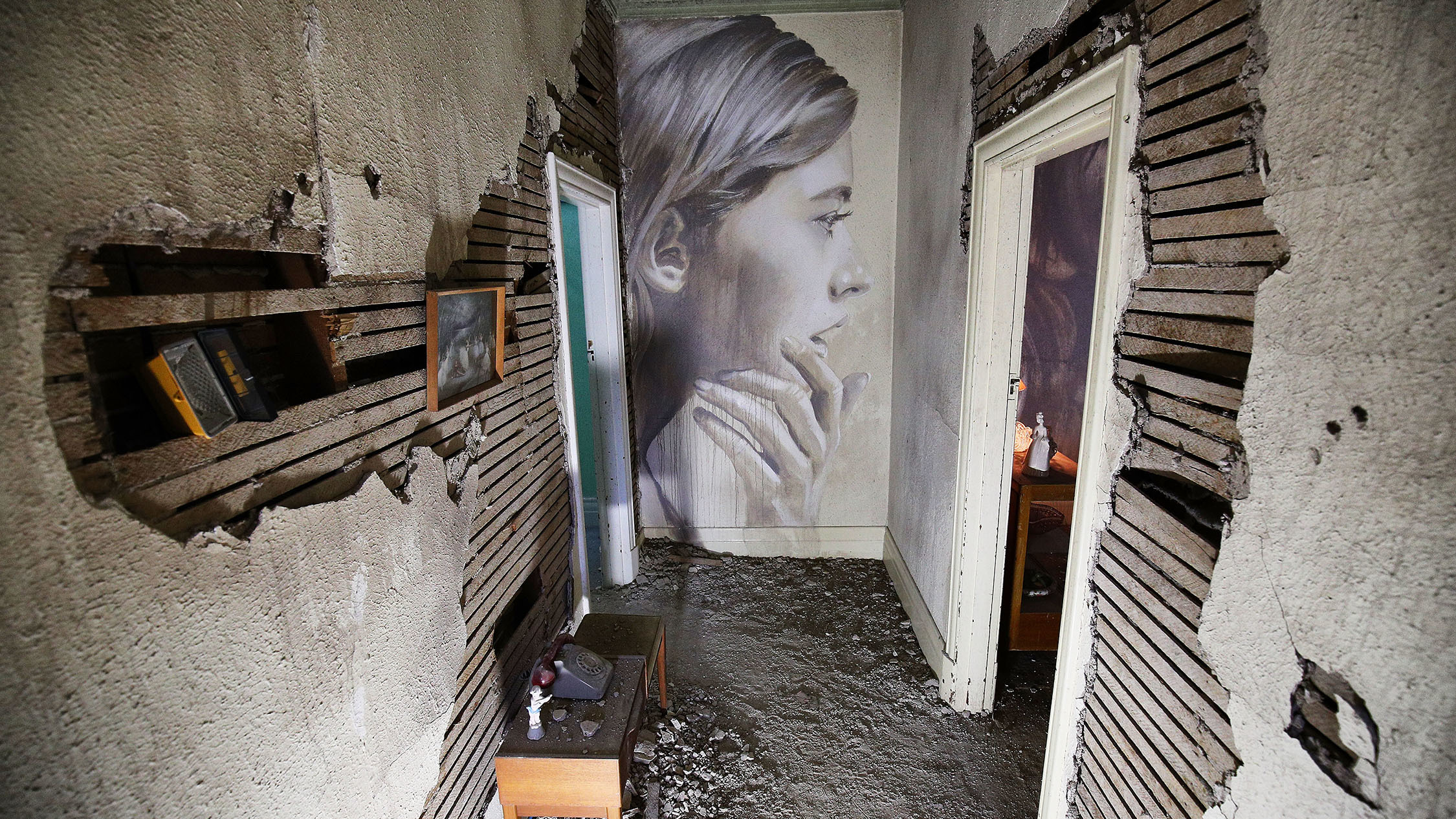 "Each room has a slight theme… I don't know what the full story is, but there are hints," says Rone, who worked with interior stylist Carly Spooner to source hundreds of props. "In this room with all the leaves, I looked at the carpet for inspiration – it had an autumn feeling. It sort of feels like an old man's room, who maybe once was married, and is now a single man. Or maybe she's in another room."
"There's the dining room with the hole in it… this is the special dining room, the one where the kids aren't allowed, with all the shit that collects dust. This is the 'straight to the pool room' room, and ironically also the one that's the most fucked up."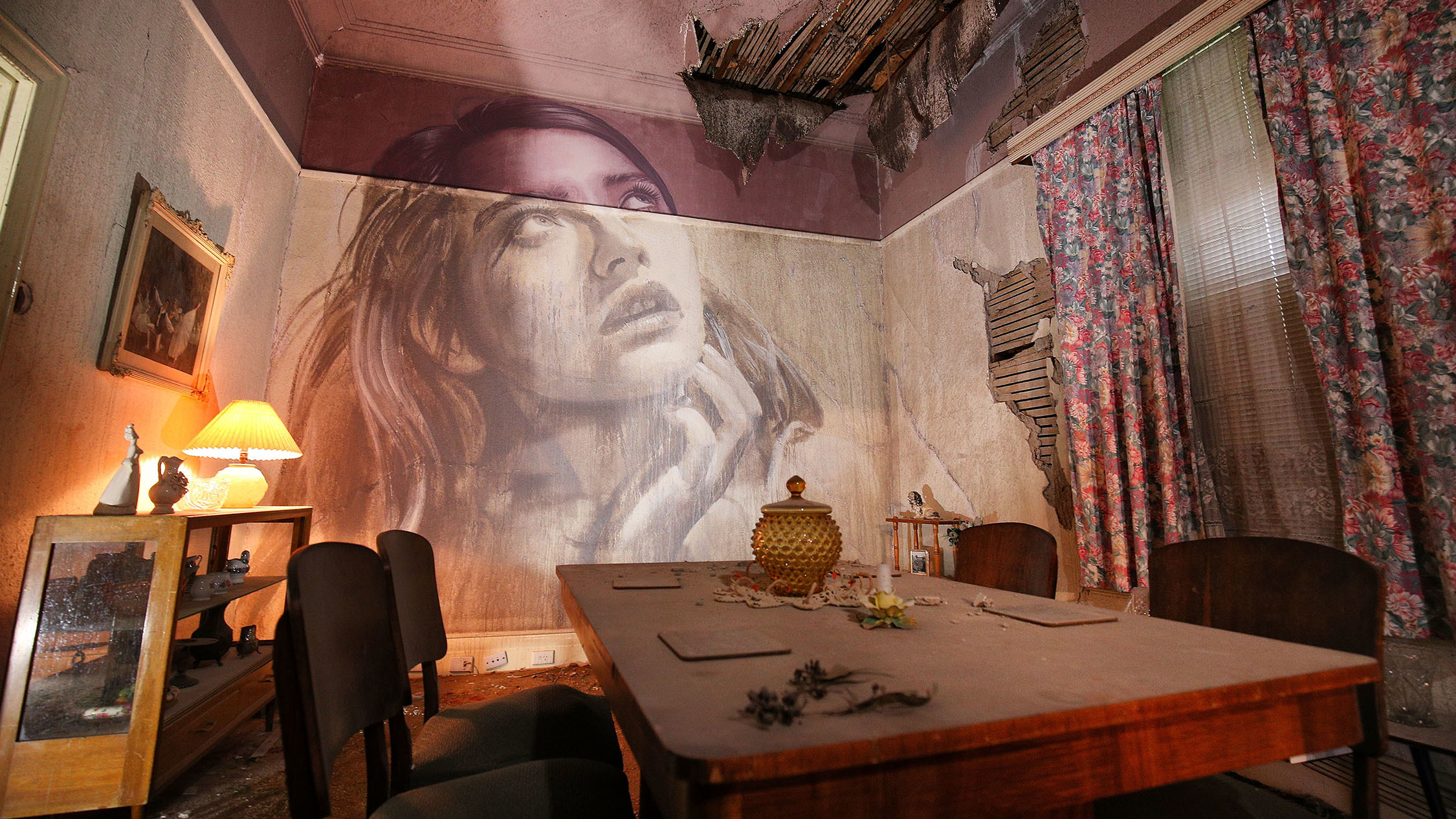 And then there are the murals, which exist in stark opposition to the derelict setting. "That's a lot of what my work is about: the contrast of beauty and decay," he says. "I think it highlights their beauty even more when they're so fragile. It forces you to appreciate something, like this house, when you know it's in its last moment. I guess that's what this whole thing is about: enjoy it while it lasts. Things are beautiful because they're limited and fragile."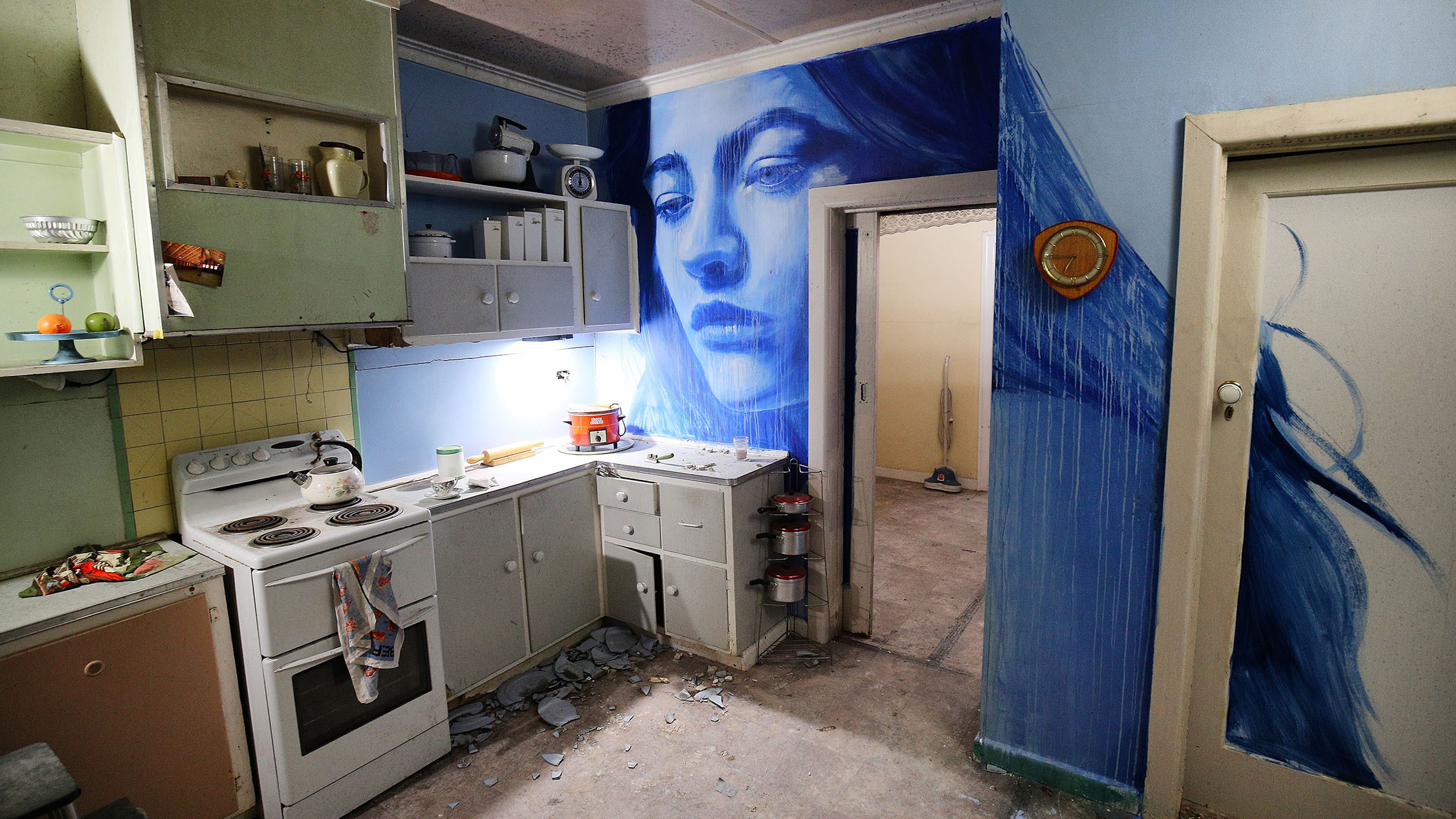 After the week-long exhibition of The Omega Project, it's likely that this house will be torn down. As modern housing developments take its place, Rone hopes that his work will serve as a reminder of an era of Australiana that is slowly disappearing. "When you see the house like this, you start to appreciate it for the beautiful thing it was. This is what we've lost, the change in the landscape of Australia, inside our modern homes. This is all going and we won't see it anymore."
Rone will be selling photographs of the project on his website, and they'll also be on display at the bowls club across the road from the house.
The Omega Project 28 Parkview Rd, Alphington 3078. Noon-5pm. Free. Jul 22-30.