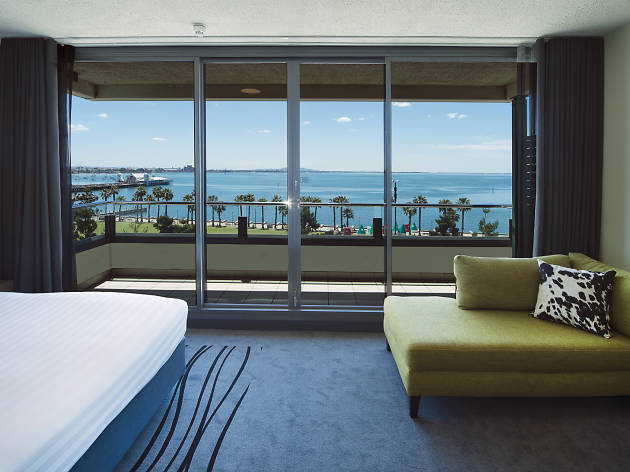 1/3
Photograph: Supplied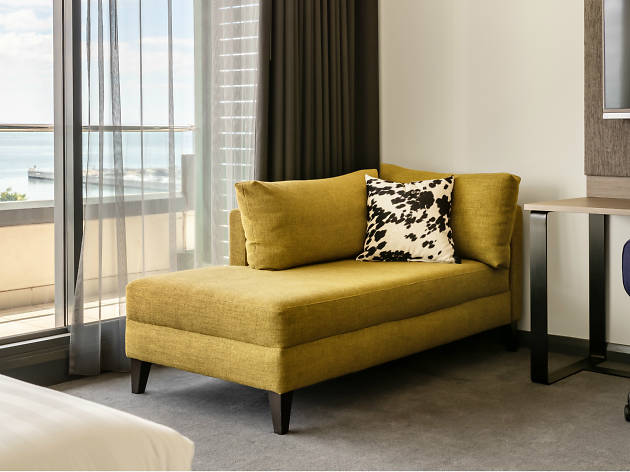 2/3
Photograph: Supplied
3/3
Photograph: Supplied
Time Out says
Geelong's waterfront playground has finally got somewhere appropriately luxe to stay
Upmarket hotel accommodation in Geelong has been fiercely sought after for some time. While the ex-industrial town has a bounty of motels and a handful of aparthotels, there hasn't been much around for those treating themselves to a stay in Geelong. You know, people looking for somewhere with just a little something extra.
After two and a half years and $3.5 million, Novotel Geelong is ready to fill the gap in Geelong's swanky hotel hole. With that kind of dosh you can do a lot, including in Novotel's case update all 109 rooms and their bathrooms. The revamp means a beachy, almost resort-like feel. It might not be the Gold Coast, but it's got the same easy-breezy seaside aesthetic, amplified by a colour scheme of blues, greens and golds that reflects the surrounding seaside.
Regarding pillowtalk: the bed and pillows we had the pleasure of reposing on leaned to the soft side of the Rockwell scale. The cotton cloud experience is completed by the supplied cotton bathrobes and slippers – perfect for lounging in after a long day of swimming, possibly with a glass from one of the region's wineries.
The redone water closets are modern and sleek, with rain showers (which are sometimes slapped into every hotel worth three stars and above) that make perfect sense. When you've spent a long day jumping in and out of the ocean, you want nothing more than a downpour of fresh, cool water.
Located right on the waterfront, Novotel Geelong is within cooee of the city's drinking and dining precinct (and about one kilometre from five-star fine diner Igni) as well as Geelong Gallery. Plus if you're really tuckered out after a long day by the ocean, Novotel's in-house restaurant Waterfront delivers a diverse menu with a focus on healthy eating (and the buffet breakfast has an omelette station, bless).
Details