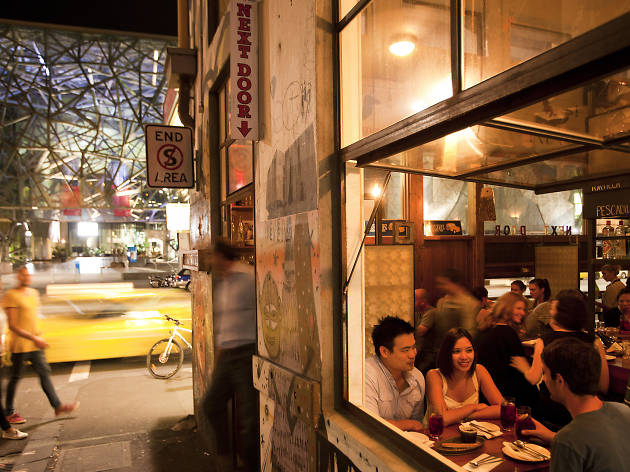 Melbourne's restaurants and bars have closed – here's what that means for you
Posted: Wednesday March 25 2020, 10:06am
UPDATE 25/03/2020: Overnight the Australian government has released updated bans on venues. Please see updates below.
The Australian government's response to the Covid-19 pandemic is getting serious, as we anticipated. Prime minister Scott Morrison announced last night a closure to "non-essential" businesses across the country. This morning, Daniel Andrews doubled down on that sentiment in a press conference, noting a number of Victorian venues will be shut from midday today. If you're wondering how that affects you while you're physically distancing at home, here's what you need to know.
Essential services are still open
There is no need to go panic buy food from supermarkets or rush to Bunnings for those DIY projects you want to get done at home. Both of these venues are remaining open.
So what exactly is open?
Supermarkets, shopping centres, banks, pharmacies, petrol stations, convenience stores, delivery and freight services, childcare centres, bottle shops and hairdressers (now limited to 30-minute consultations only). Public transport is still running. Weddings are limited to five people and a celebrant. Funerals are limited to a maximum of ten people. Personal training and boot camps are limited to ten people.
And what is now closed?
Bars and pubs, clubs, cinemas, nightclubs, gyms, indoor sporting venues, entertainment venues, casinos and places of worship. Schools are now shut. Cafés and restaurants are restricted to takeaway only.
As of March 25, additional closures include amusement parks and arcades, indoor and outdoor play centres, community and recreation centres (including health clubs, fitness centres, yoga, barre, spin facilities, saunas, wellness centres and public swimming pools), galleries, museums, national institutions (including historic sites), libraries and community centres, auction houses, real estate auctions and open house inspections, in-store beauty therapy (tanning, waxing, nail salons, tattoo parlours, spa and massage parlours) and food courts (restricted to takeaway only).
Tourist venues like the Twelve Apostles, 1,000 Steps/Kokoda Memorial Walk, Dandenong Ranges Botanic Garden, Mackenzie Falls and Werribee Mansion (excluding the hotel) are now closed. These venues join the National Gallery of Victoria, Melbourne Museum, the State Library of Victoria and more Melbourne venues that have shut because of the Covid-19 outbreak.
What does this mean for restaurants and bars?
This is a huge blow to our previously thriving food and drink scene, there's no denying that. Venues are currently crying out for help from the federal government (you can sign this petition to show your support) but in the meantime, lots of venues are closing. We will be updating you with a live list of venues that are now pivoting to takeaway menus so stay tuned and read this.
What's with the police task force and is this 1984?
Victorian premier Daniel Andrews also announced that a special taskforce of 500 police officers will be out around the state. They will be doing spot checks on returning travellers who are currently in mandatory 14-day isolation periods, as well as enforcing bans on venues that remain open, or gatherings that go ahead, despite a national call to stay indoors (similar to people rocking up to Bondi Beach this past weekend).
How long will this last?
Premier Andrews has said these Victorian restrictions will be in place until at least midnight on April 13. Andrews said it was "highly likely" that they will be extended beyond that.
We know this is tough and our hearts go out to all those venues that are struggling right now. Please get in touch with me if you have anything you'd like to see covered on Time Out/In right now or need help getting the word out about your venue. We will try our best to help out.
Share the story