BYO restaurants in Melbourne
Time Out trawls the streets of Melbourne to find restaurants that let you bring your own, no matter your budget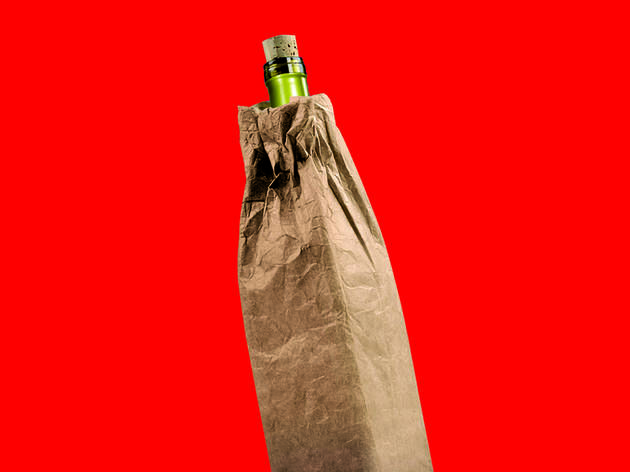 Got a nice bottle of wine you want to crack open at dinner? Skip the restaurant mark-up and settle on the many eateries around town that allow diners to bring their own bottle, whether you're feeling like vino or beer. If you're looking for a nightcap after dinner, check out our CBD bar crawl. Alternatively, if you want wine to be the star of the show next time you're out, head to one of the best wine bars in Melbourne.
1
This old school Italian restaurant is all about the classics. Eggplant parmigiana, marinara, calamari salad – and they even do a Hawaiian pizza too. Some scoff at pineapple on pizza but we say haters gonna hate.

BYO: Free, wine only
Read more
2
This is Greek food at it's home-style best and even though there is no menu, don't let it put you off. There are always a couple of Greek grandmas (yes, the food really is just like back home) in the restaurant to give you some guidance.

BYO: Free for beer and wine
Read more
4
Set sail for this high-energy neighbourhood hot spot. It blows most seedy fish and chippers out of the water. Char grilled calamari is the pick: thick yet tender twists, marinated in citrus and herbs and blackened attractively on the grill. Be virtuous and have it on nutty brown rice with a punchy Greek salad on the side.

BYO: Free, wine only
Read more
1
Don your loosest pants and get ready for dumpling madness. First you'll want an outrageous number of soup-filled dumplings, all wobbly with their satiny thin skins. Then you'll need some of the soft, gelatinous, red-braised pork and a big dose of green beans sautéed with fried pork mince.
BYO: $4.50 per person, wine only, City Dumpling Bar only
Read more
2
This South Yarra treasure is the place where the chilli is hot and the Sichuan pepper is tinglingly, numbingly fresh. And while none of the food is what you'd call dainty, it's certainly way up there with the best Sichuan we've ever had the pleasure of burning our mouths on. It's cheap, too.
BYO: $2 per person
Read more
3
The Supper Inn has been providing Melbourne revellers with cheap and delicious Chinese food at all hours for the past 20 years. Not much has changed over the years, and for that, we'll always remain loyal and head straight to the Supper Inn when we've got the late night munchies.
BYO: $3 per person for beer and wine
Read more
5
This Fitzroy institution is still going strong after two decades of deceptively simple Afghani food. Highlights include a qorma slow-cooked with chunks of tender eggplant, lightly spiced meat samosas with homemade yoghurt; and a smooth, delicately flavoured yellow dhal.
BYO: $3.50 per person
Read more
6
They serve roti here in all its forms – savoury, with pools of curry sauce and a lentil mix, or as a sweet sugar-coated cone with fresh banana slices and a melting blob of ice cream. Plus they stuff them with minced pork, cabbage and egg (murtabak).
BYO: $2 per person for wine and beer
Read more
7
This 60s-style shopfront was converted into a southern Italian pizza house with courtyard. Here they top their thin and crispy pizzas with choice ingredients such air cured meats (proscuitto/bresaola), fancy cheese (taleggio/ricotta/pecorino) and truffle oil.
BYO: $4 per person, wine only
Read more
8
Specialising in slow-cooked meats, the guys behind Big Boy BBQ serve up massive platters of wings, ribs, pulled pork, beef pastrami and lamb shoulder. You can also get a sandwich piled with your smoked meat of choice, cheese, pickles and Big Boy's signature sauces.
BYO: $1 per person for beer and wine
Read more
10
Porgie and Mr Jones café is open for breakfast, brunch and lunch seven days, and on Friday and Saturday nights they open up shop on evenings as well. Set dinner menus are $55 per person for two courses or $70 for three – and that includes BYO.

BYO: Free on Friday and Saturday nights
Read more
11
Although the Hyderabad Inn specialises in Northern and Southern Indian cuisine, it also has a handful of Indo-Chinese dishes as well. It is fully licensed but if it's wine you want we say bring some from home.
BYO: Wine only $3.90 per bottle
Read more
12
What we have here is an Indian restaurant where you know whatever you order will be delicious (there can never be too many). The tandoori chicken is rumoured to be one of Melbourne's best and with one dollar corkage (we rounded up) what's not to like?
BYO: 99c per person, wine only
Read more
1
Just off Lygon Street is DOC – a pizza bar that means business. Thin crispy bases make the perfect partner for the simple core Italian ingredients – buffalo mozzarella, fior di latte, and Italian smallgoods. Wash it down with a Campari or Italian beer, and finish up with a dessert pizza.

BYO: $8.50 per bottle
Read more
2
Camy Shanghai Dumpling and Noodle Restaurant, often abbreviated to The Shanghai Dumpling House, has been a part of the Chinatown culinary scene since, well, forever. Line up on Tattersalls Lane, wait for a table, and then get amongst the all-you-can-eat menu.

BYO: $6 per bottle of wine, $1 per beer
Read more
5
Preserve Kitchen may be small but its owners run a tight ship with professional staff and contemporary cuisine. There are only about 30 seats inside, but you can also dine in the cute courtyard out the back.

BYO: $5 per person drinking, wine only
Read more
6
Malaysian and Chinese fare is their bread and butter, plus they do yum cha daily with a staggering 60 different dim sim. The menu won't break the bank and it's vegetarian and gluten free friendly so bring all your dietary restricted friends.
BYO: $8 per person, wine only. Not available all day Monday or Tuesday lunch.
Read more
1
It's no secret that Greville Street's Ladro dishes out some of the tastiest pizzas in Prahran. The selection manages to be creative and diverse without engaging in any banana-bacon shenanigans. Get the 'Badabing' with pork sausage, chilli and oregano; it's the perfect beer companion.
BYO: $15 per bottle except Monday when it's $5, which is donated to charity
Read more
2
David Zhou's more casual Chinese restaurant is a pristine white wash room where your placemat is the menu, and regional-style share dishes are what's hot. Braised eggplant with garlic, chilli and black vinegar; a bowl of chilled, hard-boiled quail eggs, steeped in oolong tea with fragrant wolf berries, and little flash fried school prawns are all winners.
BYO: $10 per bottle, wine only. All days except Saturday
Read more
4
Turin-born chef Paolo Masciopinto has come on board (via Stokehouse and Grossi Florentino) to give this North Melbourne olde Italian a brand new bad. If you can't hit the five-course degustation make sure you don't go past perfect buttery scampi and the delicate duck tortellini with a little duck liver parfait on the side.
BYO: $15 per bottle, Tuesday to Thursday
Read more
5
The chef here offers a seasonal rotating menu of Italian favourites made from Victoria's finest local produce. They have an impressive cellar, but also encourage BYO. Hell, they can even tailor menus to match your wines if you are a serious oenophile. BYO corkage is $10 per bottle.
Book now
Read more
For a post-dinner nightcap...
Consider this list a scavenger hunt of Melbourne's most interesting tucked away bars, and remember where they are for next time.
Read more