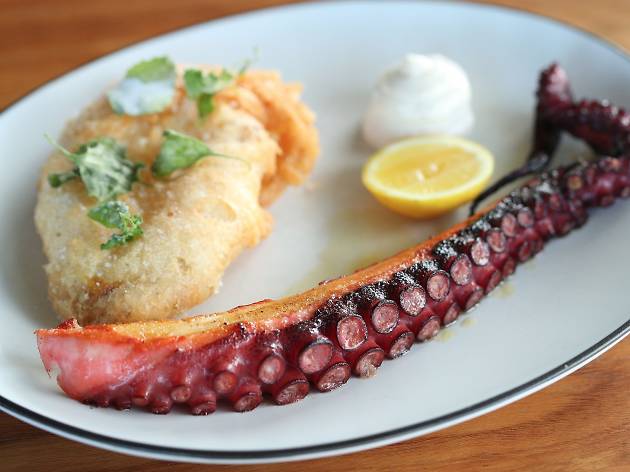 1/11
Photograph: Graham Denholm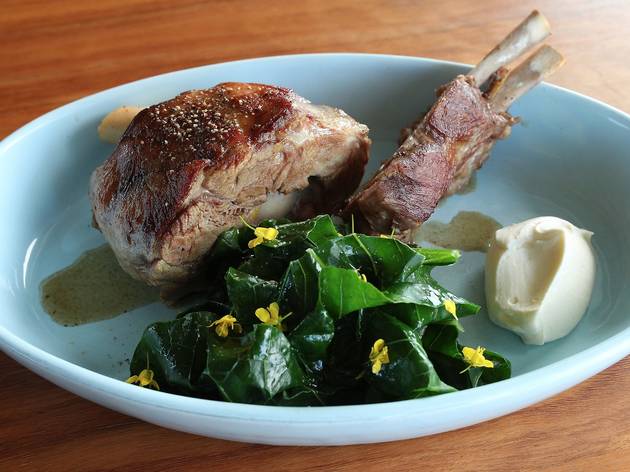 2/11
Photograph: Graham Denholm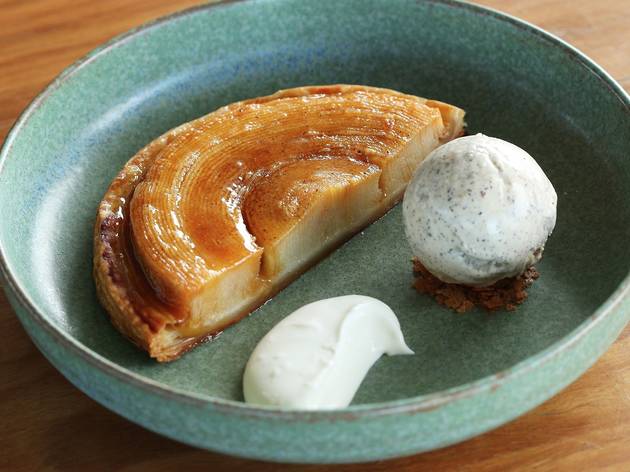 3/11
Photograph: Graham Denholm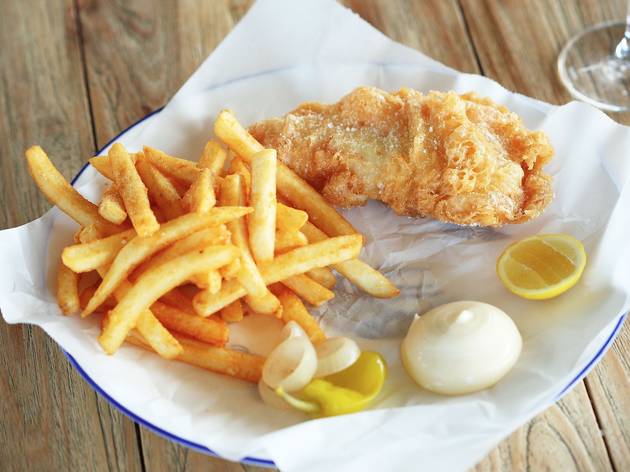 4/11
Photograph: Graham Denholm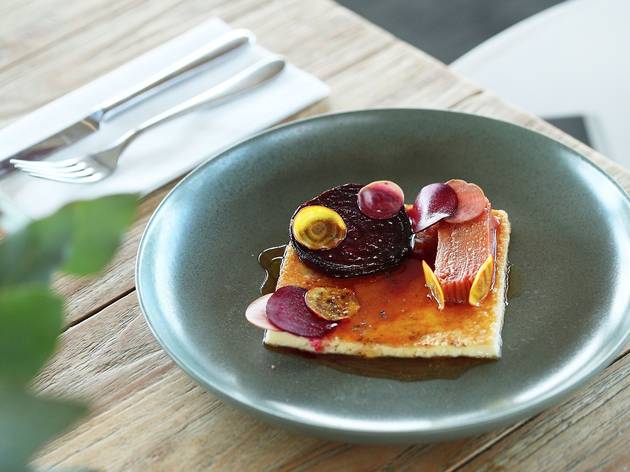 5/11
Photograph: Graham Denholm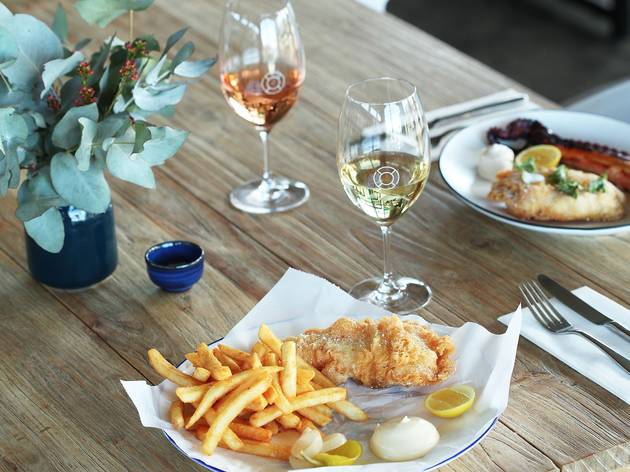 6/11
Photograph: Graham Denholm
7/11
Photograph: Graham Denholm
8/11
Photograph: Graham Denholm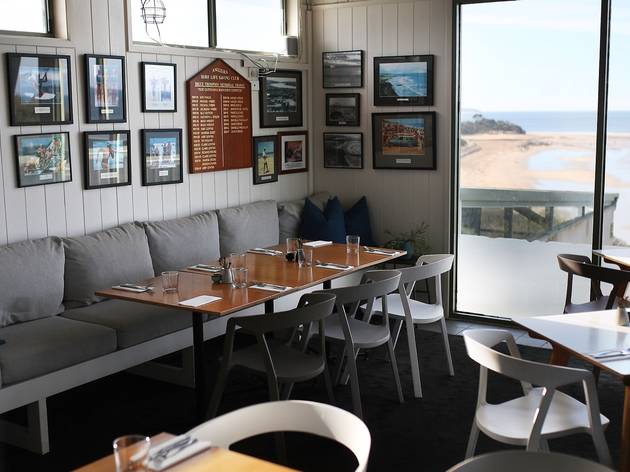 9/11
Photograph: Graham Denholm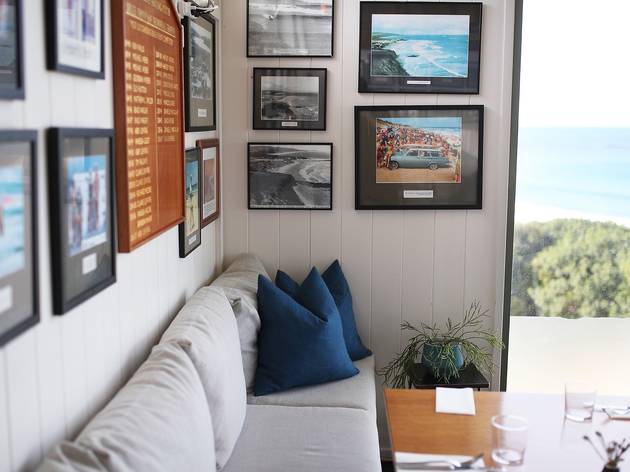 10/11
Photograph: Graham Denholm
11/11
Photograph: Graham Denholm
Time Out says
Great seafood by the ocean… a fantasy comes to life at Captain Moonlite
Fish and chips by the beach? One of life's simple pleasures has quadrupled down on its potential for greatness with Captain Moonlite, a kitchen takeover at the Anglesea Surf Lifesaving Club from two industry stars (Matt Germanchis, ex-Pei Modern and MoVida on the pans; Gemma Gange, ex-Stokehouse and many more). If you want that sand between your toes experience, simply head down the weather-bleached staircase onto Anglesea's beach, but the smart money is on staying in the clubrooms where scene-setting memorabilia of budgie smugglers past mingles nicely with Cape Cod-style plush grey banquettes and a blazing wood fire keeping things snug in the off-season.
Captain Moonlite is that unicorn of dining in a land girt by sea: a seafood-focused restaurant with views of the waves that doesn't actually suck. Quite the opposite. If this place was in central Melbourne it would be heaving. Instead it's right on the Great Ocean Road, giving it a red pin on any aquaculture lover's Google Maps.
Hit the seafood and hit it hard. A rustling cluster of fried school prawns arrives dressed in mysterious and addictive barbecue seasoning. Heads, legs, curly and crunchy bits, down they all go with a lick of aioli. A single, smoky octopus tentacle, sous vided then charred in the kamado barbecue, is splayed across a plate like Kylie Minogue in the 'Slow' video clip with a fat, fluffy potato cake for company. Dusted in salt and vinegar powder, it brings to mind Tassie's Agrarian Kitchen (no greater compliment hath any reviewer).
Those fish and chips are another best-in-show blue ribbon winner. It's rockling, this time around, fried and steamed in great whorls of delicious non-oily batter with fat English-style chips that keep up their end of the bargain. If your heart lies more on the Mediterranean, head for the cuttlefish. Too often relegated to calamari and squid's poor cousin, these thin, tender slices are colour-licked around the edges and hit a Spanish note with fat white beans, peas and tiny cubes of ham in a winter-friendly broth.
The wine list keeps pace. An all-Victorian selection keeping its eye on nearby regions and giving small producers a good run without scaring off the surf club regulars via price.
A seafood-only focus would be an albatross (irregular catches, the whiskey-drinking whims of salty old sea captains) so Germanchis has wisely added more land-based shade to the menu's seaside sun. It caters for that rusted-on steak lover who lurks within every Australian family and throws in Greek-style slow-cooked lamb with smoked yoghurt for good measure. A toasty slab of pan-fried saganaki topped with beetroot in a sticky burnt honey syrup also speaks of those ocean-loving Greeks; extra points to the waitress with her advice to eat it instantly. It's rare to see such a young floor team so well drilled in the waiterly arts.
Dessert? Try apple tart, caramelised to the far side of Donatella Versace and served with a burnt butter ice-cream so toasty in flavour it's like iced confection wrapped in a blanket.
It's heartening to see those Anglesea surf folks trying a new tack with their beloved clubrooms. Hopefully word will spread along Victoria's coastline that frozen chicken parmas do not have to be part of seaside dining, and that basa is a semi-edible travesty. Maybe – just maybe – this Captain will inspire other salty old dogs to try new tricks.
Details
Address:
100 Great Ocean Road
Anglesea
Melbourne
3230

Contact:
Opening hours:
Winter Thu 5-10pm; Fri-Sun 8am-10pm; Mon 8am-4pm; Summer Daily 8am-late
Best selling Time Out Offers