CBD lunch guide: Outdoor eats
All that's between you and the sky is a midday plate of something something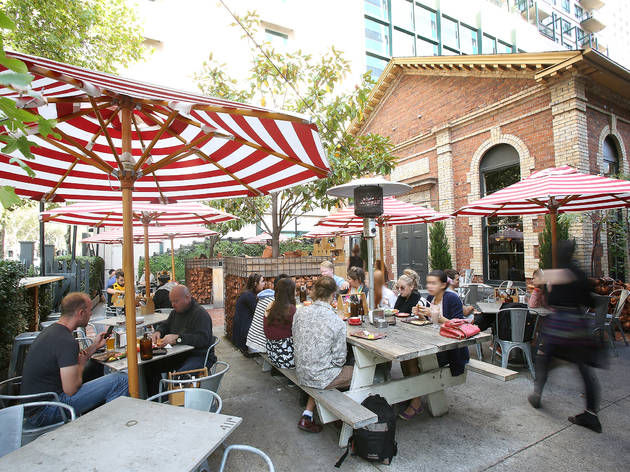 Somedays, eating inside just won't cut it. On those sunny Melbourne days, soak in some vitamin D at these outdoor eateries. If you're not in the CBD, check out our guide to Melbourne's best lunches, or make it easy with our round-up of Melbourne's best burgers.
Al fresco lunches in Melbourne
The downtown outlet of Melbourne tapas institution MoVida is brighter and more open than its uptown parent, sporting big windows and a patio for alfresco lunching. They do all the things MoVida is good at – seafood, cured meats and plenty of good Spanish wine, beer and sherry.
If you're after something a bit more casual, across the way from MoVida Aqui you'll find Paco's Tacos serving up fresh, authentic Mexican with a healthy side of cold beer and tequila. There's plenty of space on the picnic tables to soak up some vitamin D with your lunch.
Outside Cellar Bar, little round tables, umbrellas and wicker chairs make the best place in the city for eating in the thick of Bourke St. The cheap, hearty and simple Italian fair and friendly old-school service is everything good about Melbourne hospitality.
More of Melbourne's best meals
Here's to sandwiches, champagne and Sunday roasts. Lunch, we salute you and all of your delicious possibilities.