Melbourne's favourite local late-night snacks
Just because you're up in the small hours, doesn't mean your snack options should be restricted to the few usual suspects.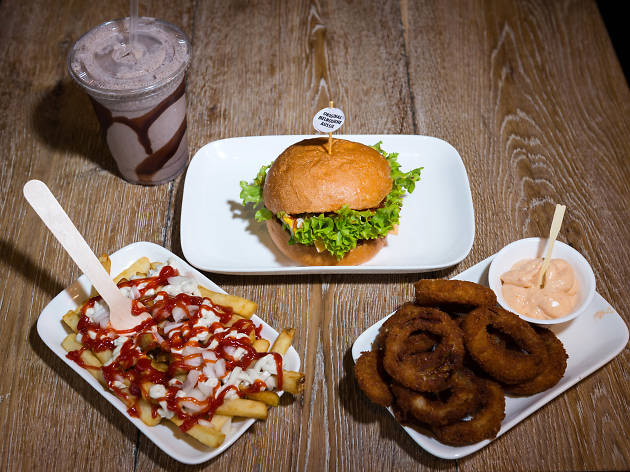 Lord of the Fries' success in not-so-secretly get the meat-loving masses to embrace their vegan and vegetarian menu is commendable if not awe-inspiring. They've done this by strategically opening late at key locations, namely Flinders Street Station, Brunswick Street, Chapel Street, and Swanston Street, where they can draw in late night revellers with burgers, hot dogs, and loaded chips that hit the comfort food cravings in the wee hours. But while there's no denying the loyalty of their vegetarian and vegan clientele (for whom choices for a late-night feed are slim at 3am), Lord of the Fries' success lies in knowing how to straddle the line between staying true to their vego fans while luring carnivores who wouldn't have poked at a soy patty with a stick with tasty late night food.
If you're one of the many for whom the only real late-night snack choice is a burger, then you're in luck: the brioche bun-encased patties that earned the Footscray burger joint 8bit a cult following are now available in the CBD. Your best options include the 'Golden Axe' fried chicken burger, the original '8bit with Cheese', the towering 'Double Dragon' or a tasty crumbed mushroom number.
What do you do when you're closer to dawn than midnight and you feel like onion rings and chilli cheese fries? Go to Le Bon Ton. The bar and beer garden rages on long after the restaurant is shut, and they have a tidy takeaway menu for those who'd rather grab a brisket or a pulled pork sandwich and venture on into the night.
The sister restaurant to Chinatown's HuTong dishes out delicate dumplings, live-giving hot pots and spicy Szechuan-style meat dishes late into the night. You're paying a bit more here than your other late-night eateries, but for Chinese fare done this well, it's well worth it.
If a hearty feed is what you're after, then get yourself to this sub shop in Windsor and prepare for a feast. American-style sandwiches are the go here, and for $10 you could be smashing a braised beef, smoky sauce and red cabbage sub or a serve of poutine (that's fries with gravy and cheese curds). You can even call ahead for pick-ups.
If the chuckle-inducing name isn't enough to draw you to this Chapel Street hot dog joint at 4am on a Saturday night, then perhaps the thought of high quality pork sausage served with relish, sauerkraut and cheddar cheese will. Choose between the 12-inch 'Massive Wiener', the six-inch 'Average Joe' or the three-inch 'Little Pecker'; everyone's a winner here.
This Brunswick Street institution has been responsible for many a good time, so it's unsurprising that they also support good times without needing to carry cash. With more than 70 per cent of Bimbo's transactions being on card, there is no extra fee to use a card when stumping up for the $4 pizzas and beer this place is known for.