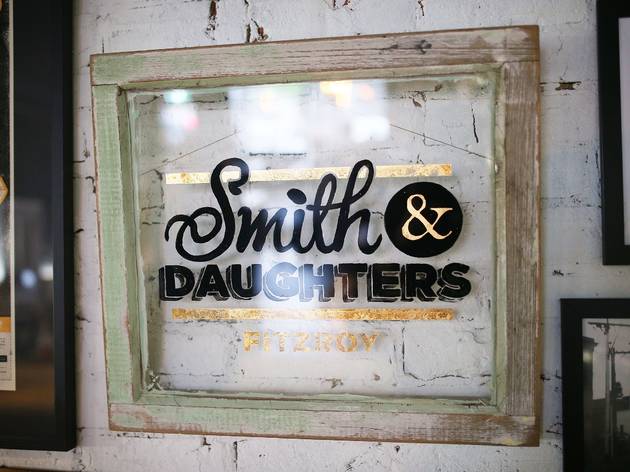 1/11
Photograph: Graham Denholm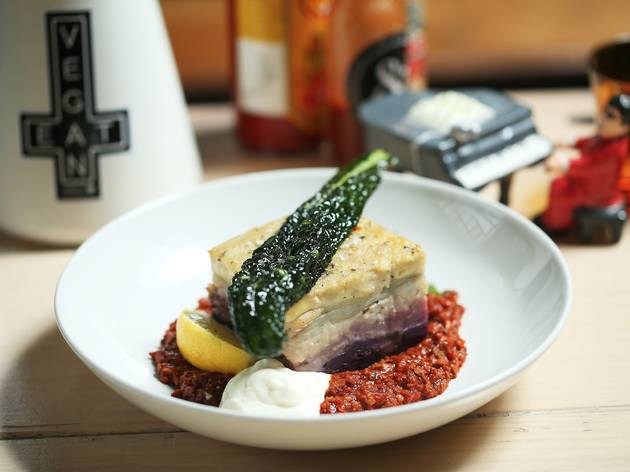 2/11
Photograph: Graham Denholm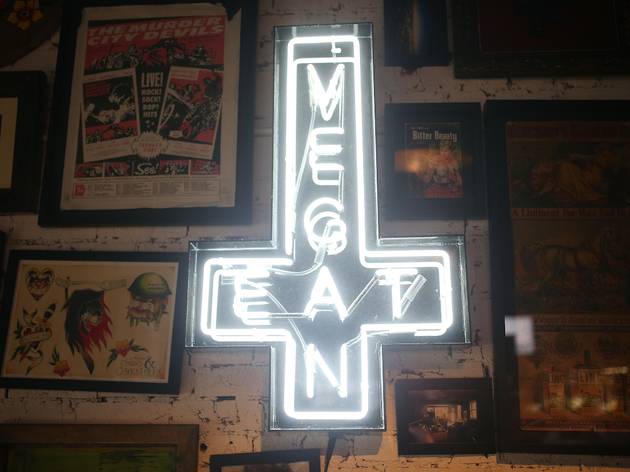 3/11
Photograph: Graham Denholm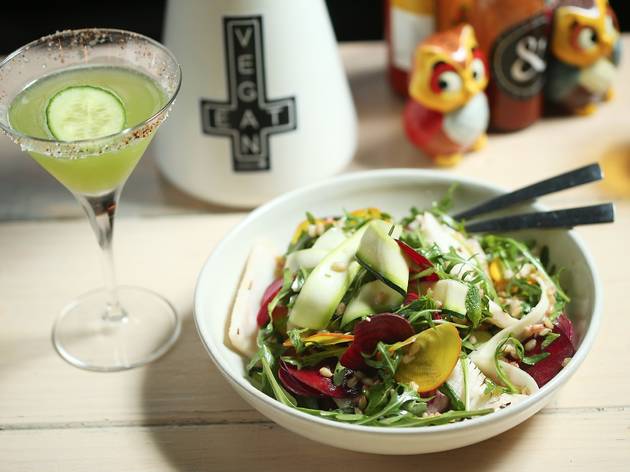 4/11
Photograph: Graham Denholm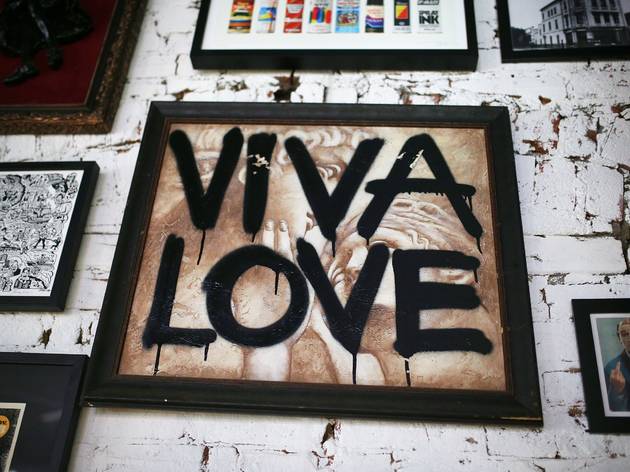 5/11
Photograph: Graham Denholm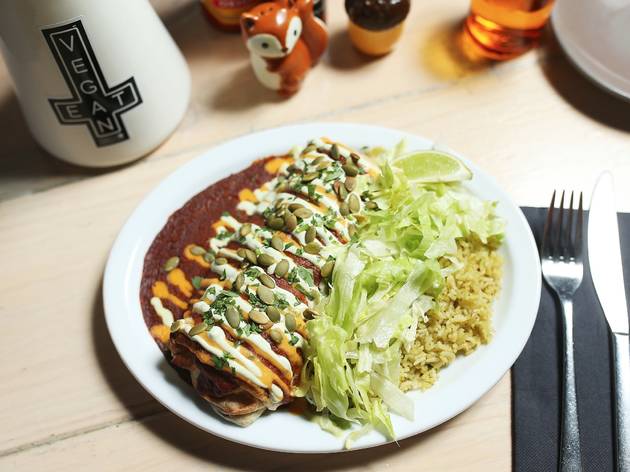 6/11
Photograph: Graham Denholm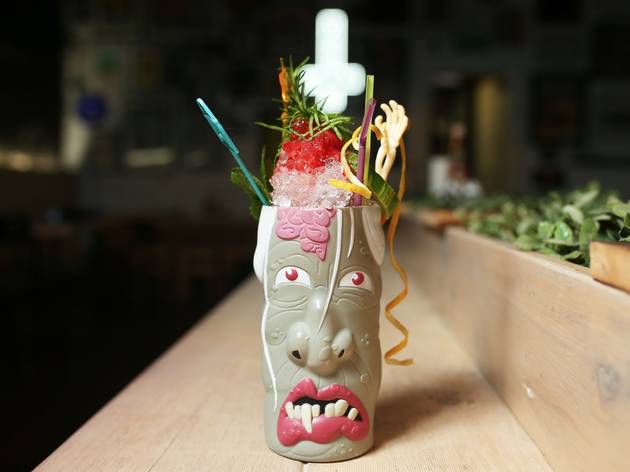 7/11
Photograph: Graham Denholm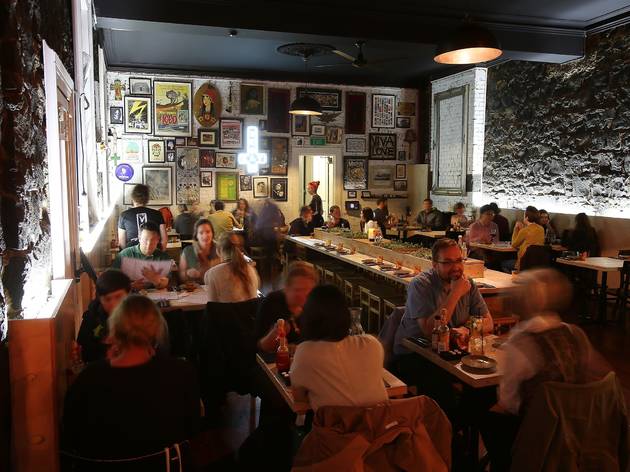 8/11
Photograph: Graham Denholm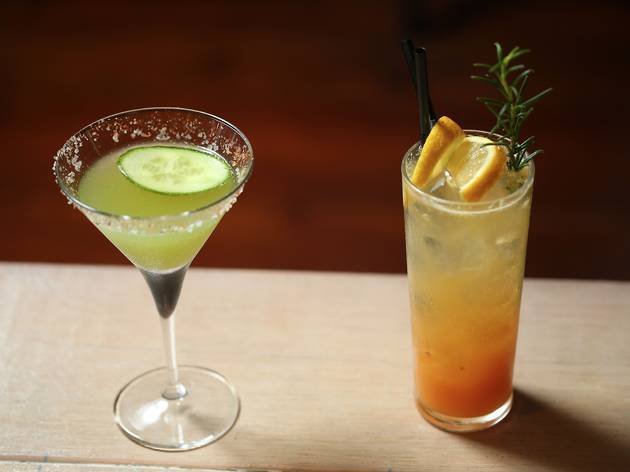 9/11
Photograph: Graham Denholm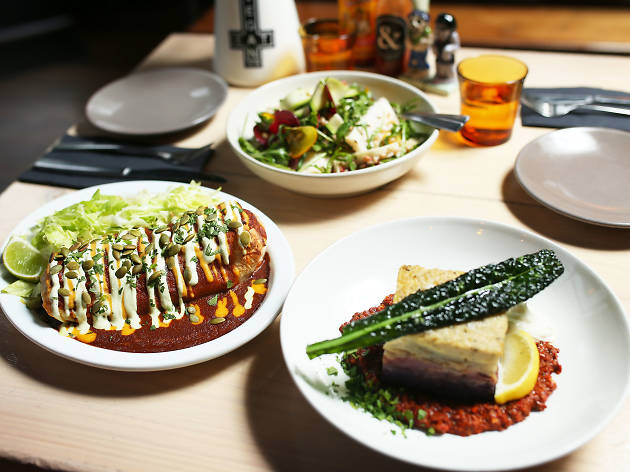 10/11
Graham Denholm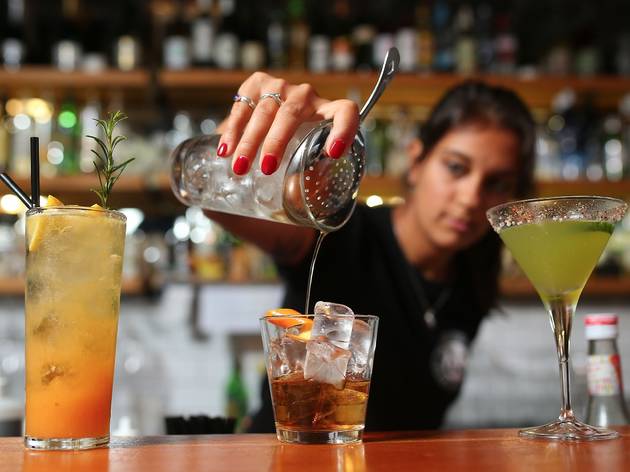 11/11
Photograph: Graham Denholm
The people have spoken and the people want – vegan Latino
It's Saturday night, 5.45pm and this Brunswick Street joint is already jumping. Noise levels are heading northwards thanks to a steady flow of jalapeño Margaritas and Mexico's Tecate beer – then someone peers at the menu with a puzzled look and asks the question these bluestone walls must have heard approximately ten thousand times: "Is it really vegan?" In short: yes, it's really vegan. Despite the menu blithely advertising dishes such as grilled calamari, Spanish meatballs and caviar – yes, caviar – it's all meat-, dairy- and egg-free. But not (and this is the thing that keeps Smith and Daughters so ridiculously buzzing) devoid of taste. Quite the opposite.
Look no further than the queso dip, a sort of triple-layered thing of spicy black beans, and cashew cheese (a smooth paste the orange colour of American burger cheese) and salsa, served with top-notch tortilla chips. It's just plain tasty, and therefore beyond the moral bounds of the whole self-denial vegan paradigm of barley stew and lentil soup. Mo Wyse and Shannon Martinez were onto a good thing when they opened Smith and Daughters two years ago (they've since added Smith and Deli, a vegan deli nearby selling things such as faux smoked salmon and Egg McMartinez, a vegan take on a certain fast food chain's breakfast muffin).
They spied a gap in the market for vegans who just want to have fun, enjoy some good tunes, drink some good drinks and generally behave like they're at a regular restaurant. So they pulled together a fitout that's a little bit Day of the Dead, corralled a quorum of heavily tattooed bartenders and waiters, and the rest is history. Martinez is a chef by trade; a meat eater with a soft spot for the V side and a real knack for mimicking meat products with soy, mushrooms, wheat protein or a plant root known as konjac. She and Wyse estimate only around 20 per cent of their customers are committed vegans, and it's certainly not a bad thing to be a tourist in this particular vegan world.
Part of their secret is skewing Spanish and Latin American, with all those helpful flavours of chipotle and various spices, an artillery of fresh herbs and vibrant things. Button mushrooms al ajillo in an I-can't-believe-itdoesn't-have-cream sauce spiked with Pedro Ximenez, paprika and garlic, are a starter any Iberian joint would be happy to claim. Scored swatches of texturally correct calamari have soaked up the char of the grill and the lime and garlic of marinade, and the salad's zesty rum and mint mojito vinaigrette is a winner. As for the chipotle chicken burger – the non-butter brioche passes muster, as does the slab of non-chicken chook, marinated in achiote (an earthy, peppery spice), chipotle and orange, and the non-egg lime aioli.
Even a dabbler in the meat-free arts would have to be happy. The carnitas burrito is eerily... well, you'd probably say life-like, if it wasn't inappropriate in a vegan context. The "pulled pork" (probably some kind of gluten derivative), even the yellow cheese oozing incredibly cheesily inside… it's almost too much. The only off thing about the experience is the rush for the cashier when the waiters start clearing out the first sitting at 7.30pm. Hashtag awkward. But maybe it's a lesson to all concerned to grab a later booking and party till late. One thing's for sure: you won't hate yourself in the morning.
Venue name:
Smith & Daughters
Contact:
Address:
175 Brunswick St
Fitzroy
3065

Opening hours:
Tue-Fri 6pm-1am; Sat 10am-1am; Sun 10am-11pm