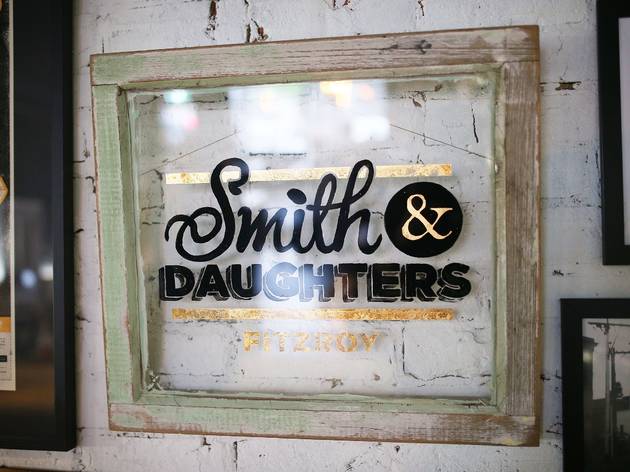 1/11
Photograph: Graham Denholm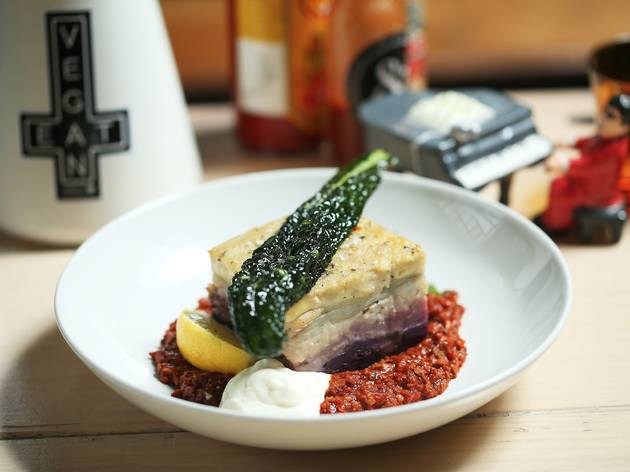 2/11
Photograph: Graham Denholm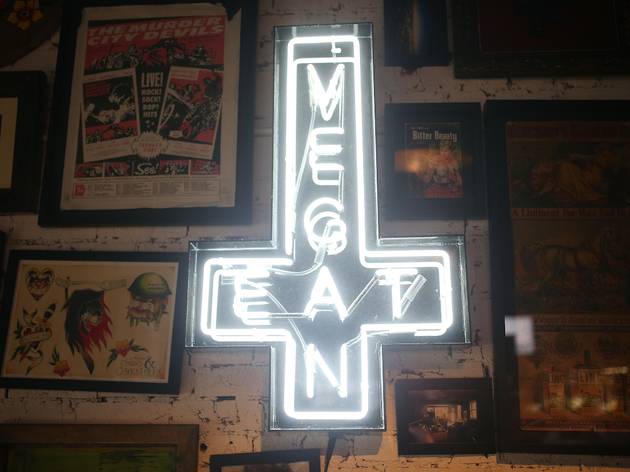 3/11
Photograph: Graham Denholm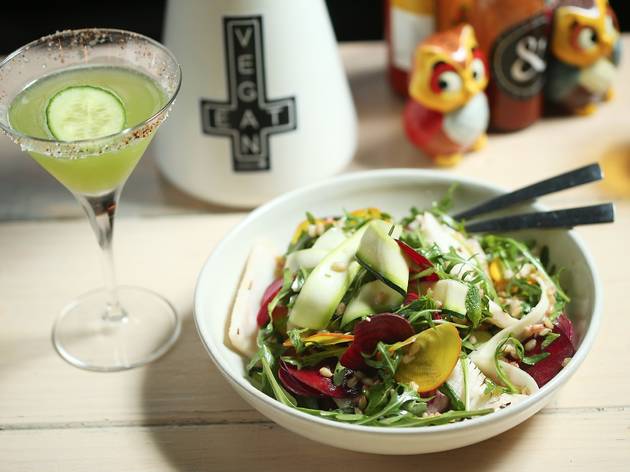 4/11
Photograph: Graham Denholm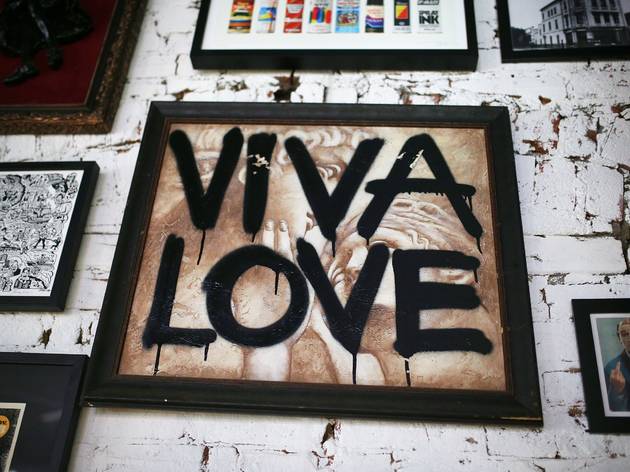 5/11
Photograph: Graham Denholm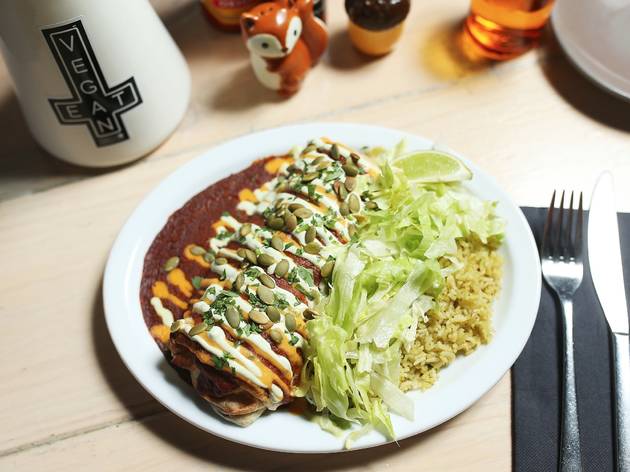 6/11
Photograph: Graham Denholm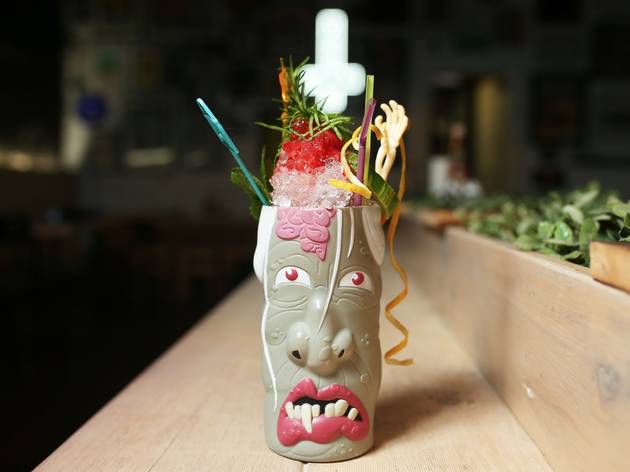 7/11
Photograph: Graham Denholm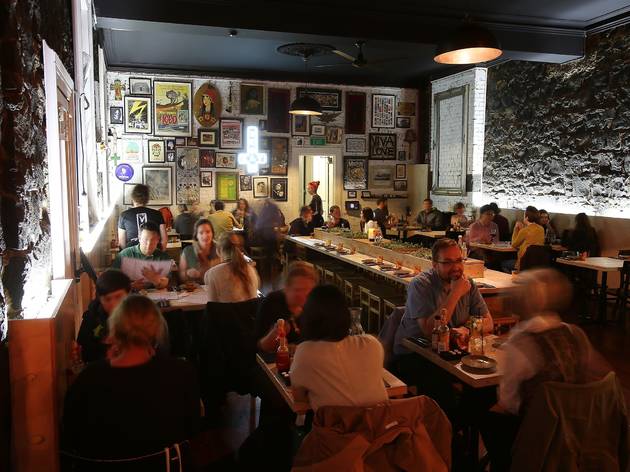 8/11
Photograph: Graham Denholm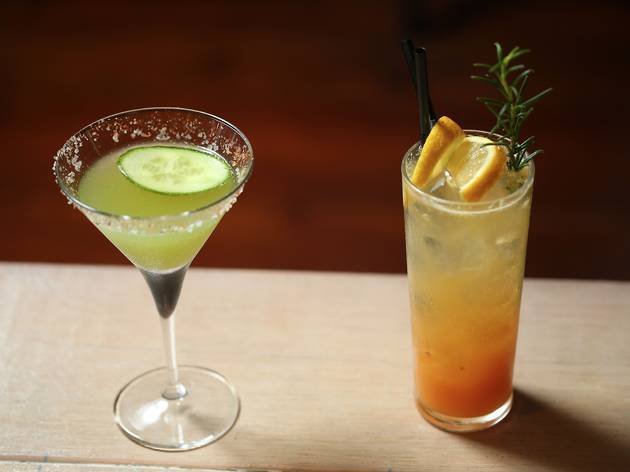 9/11
Photograph: Graham Denholm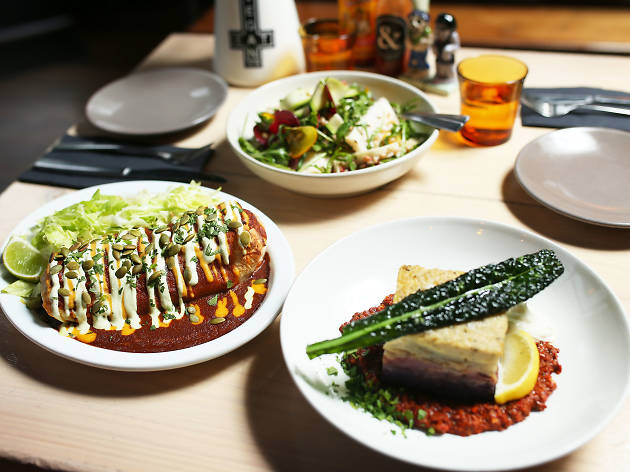 10/11
Graham Denholm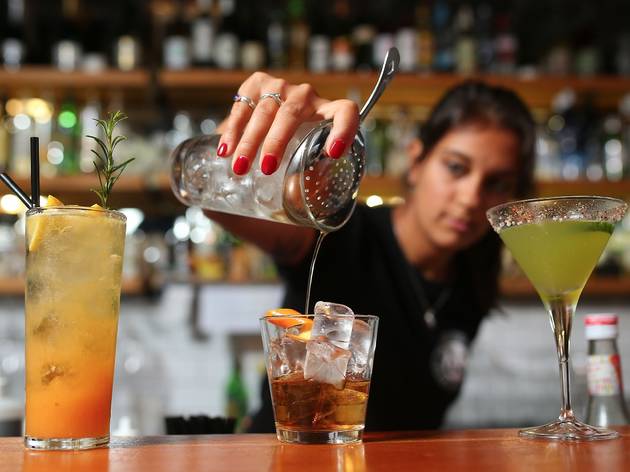 11/11
Photograph: Graham Denholm
Veganism just got less preachy, more peachy
You can book, and make sure you do. Owners Mo Wyse and chef Shannon Martinez are pushing Spanish/Latin American vegan eats and horchata highballs at this new punk of a Fitzroy diner – which makes Smith and Daughters one hot meatless tamale.
It's been packed from the start, for good reason. This is vegan food, 2014. The crew are a sweet young rockabilly bunch – all tatts and black beards or bangs – and they're more interested in slinging you frosty Tecates than delivering health sermons. On Thursdays from 10pm, they play the Smiths all night, cranked up loud, and unless you're paying serious attention, you'd be hard pushed to pick the menu as vegan at all.
Behold: bar snacks that aren't just legumes or chips! A thick wedge of tortilla made on silken tofu capped off with lemon aioli is a perfect, golden eggless feint on Spain's deep-dish potato omelette. Meaty, absorbent strips of oyster mushrooms play the role of fish in Martinez' sharp, limey ceviche. The chilled mix, with white beans, tomato and red onion filling it out, comes with deep fried plantain pucks – those starchy banana relatives – for scoops. It's all acidic brightness with a good hit of crunch and chew.
The old mock meat debate is getting an airing. (For our money, judicious use of sub-in proteins to texture dishes is great. But why retro-engineer dishes designed for meat instead of building something new?) Thankfully, Martinez (not a vegetarian, for the record) uses them sparingly, and where she fakes, she fakes well. A spice-laden sleight of hand allows textured vegetable protein to masquerade as minced chorizo. It's a good tribute, especially loaded onto cubes of fried potato in a smoky tomato sauce.
We still prefer the bright salad of lemon-scented roasted heirloom carrots. The residual heat gently wilts a bed of dressed baby spinach all crunched up with fried bread. There's surprisingly little on the straight salad front. But copious amounts of mint-and-coriander packed salsas, avocado and bursts of fresh corn amp up fried mushroom and not-chorizo tacos.
The communal table sprouting live chillies makes a pretty centrepiece, but sit bar side where ice buckets of Dos Equis and Pacifico are on hand for frisk, thorough refreshment. Or how about a green smoothie crossed with a G and T? As invigorating as a cold shower with twice the vitamin 'Si!' All the cocktails follow suit. We're coming back for the shakeup of cognac, espresso and cinnamony rice drink horchata.
So sure, the whole place seems custom-designed to give every vegan/Fitzroy/taco hater the shits. The crew are all wearing tees with "Eat Vegan" inter crossed on the back. The same slogan is a fluorescent sign beaming out between the Dia De Los Muertos tat and umpteen Mexican beer posters on the bluestone wall. But they hold the judgment here, and so should you. Smith and Daughters is a well-realised restaurant, putting all emphasis on fun and none on fundamentalism. We want more.
Venue name:
Smith & Daughters
Contact:
Address:
175 Brunswick St
Fitzroy
3065

Opening hours:
Tue-Fri noon-1am; Sat 10am-1am; Sun 10am-11pm
You may be interested in: