Texakaya Burn City Pop-Up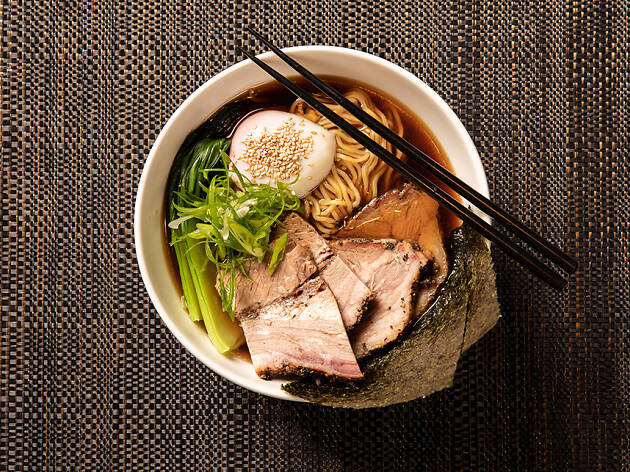 Time Out says
The Burn City pop-up is doing fusion ramen at the Grand Hyatt this winter
Now that the weather has well and truly turned on us, our winter white knight for the days when the wind-chill factor makes it feel Arctic, not Australian, is Burn City Smokers. The low'n'slow barbecue maestros have revived their inner city pop-up at Collins Kitchen. But this year they're doing things differently. They've brought their custom-built smoker to town, but what they're serving is a fun mash-up of Japanese and Southern barbecue – they're calling it Texakaya.
Most importantly, there's a ramen on the menu that features 14-hour Texas-style wagyu brisket in place of the typical char siu pork. They're also ladling big bowls of Carolina-style tonkotsu made with a 12-hour smoked pork broth and crunchy smoked pork belly pieces.
If you prefer plants, there's a mushroom ramen starring smoked king brown and shiitake mushrooms in a ginger and porcini mushroom broth. And you can bulk it out with a whole head of cauliflower, seasoned in miso and smoked for three hours to give it some earthy grunt.

Stepping away from the smoker, there are tasty bites on sticks in the classic yakitori tradition; a chicken schnitzel sandwich that's channelling some katsu vibes with Kewpie mayo; and smoked ribs. It's also worth giving time and stomach space to the dessert menu, which features taiyaki, soft serve, mochi of the day, cheesecake, pecan pie and a red velvet cake with buttermilk ice cream.
They pop-up runs throughout winter, but will shut up shop promptly at the end of August, so to make the most of it get in sharpish.
Details
Best selling Time Out Offers