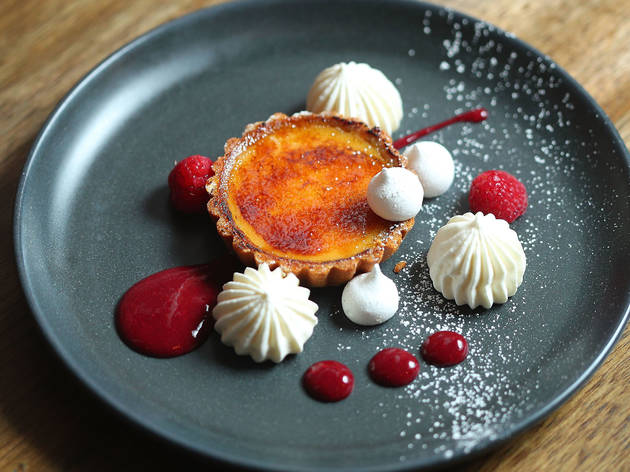 1/8
Photograph: Graham Denholm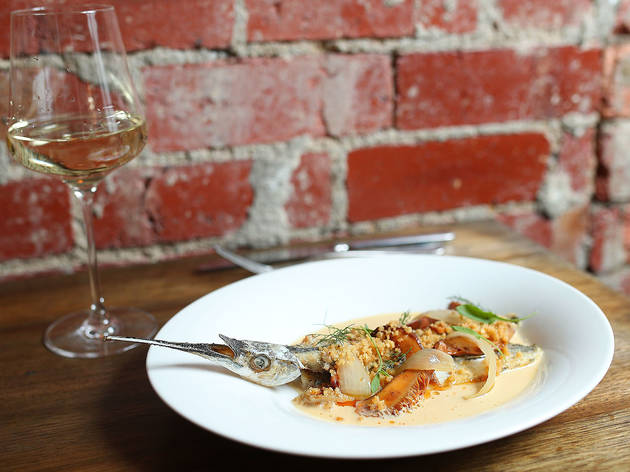 2/8
Photograph: Graham Denholm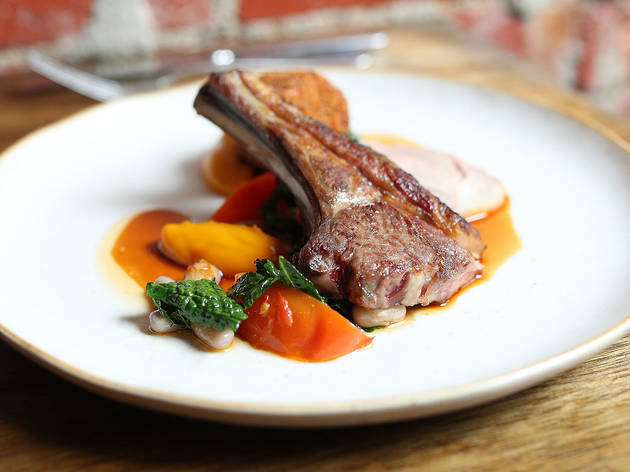 3/8
Photograph: Graham Denholm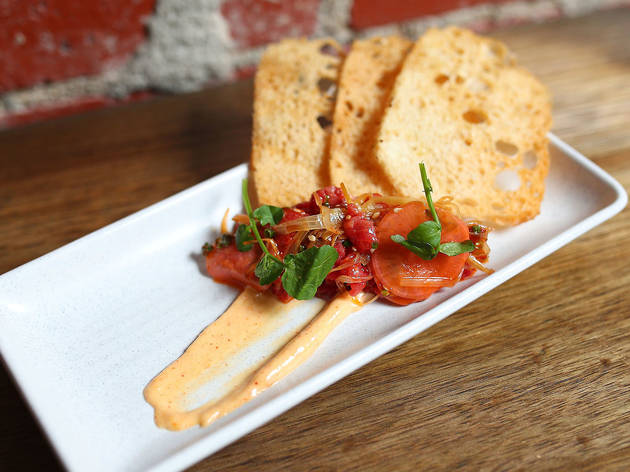 4/8
Photograph: Graham Denholm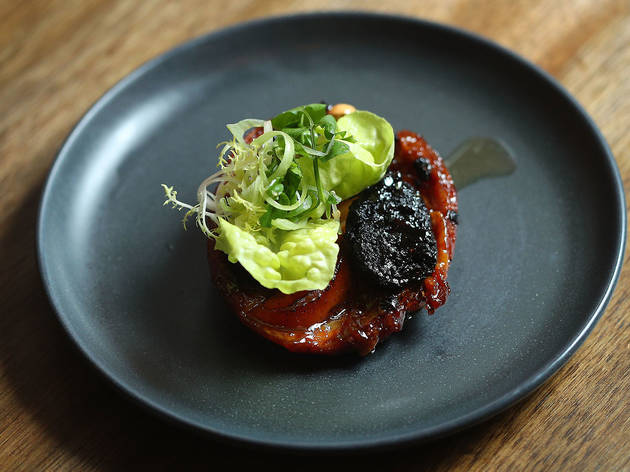 5/8
Photograph: Graham Denholm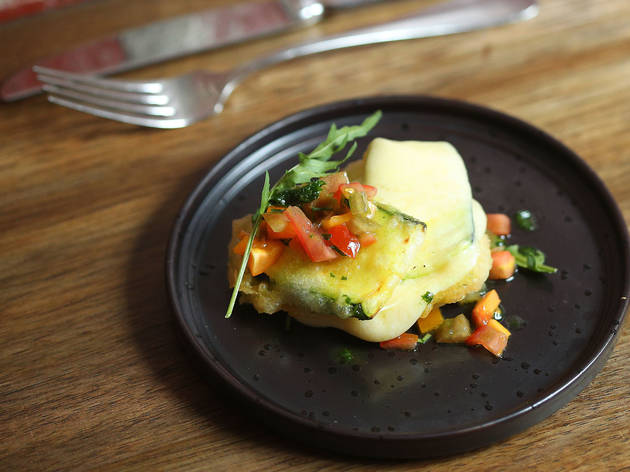 6/8
Photograph: Graham Denholm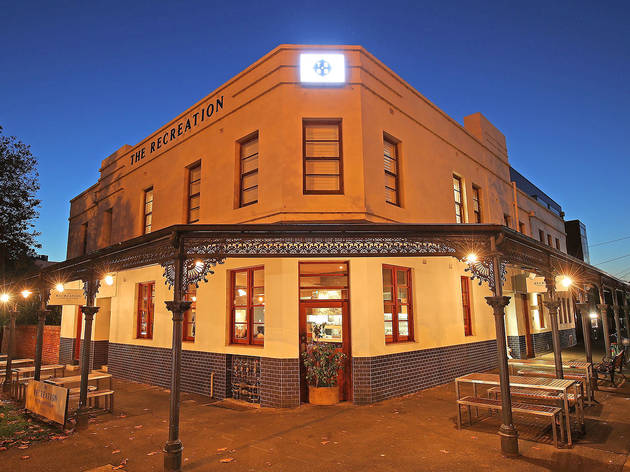 7/8
Photograph: Graham Denholm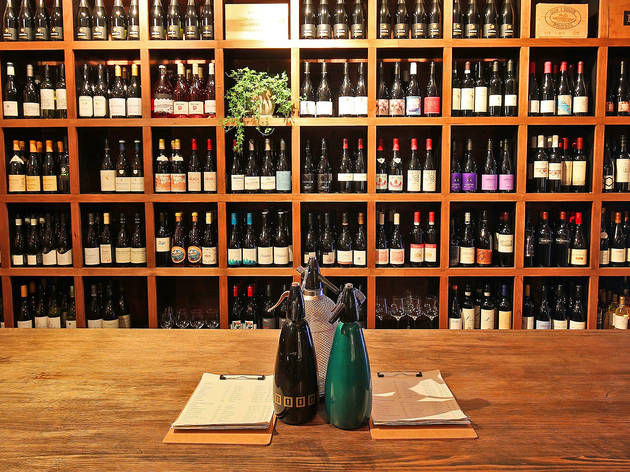 8/8
Photograph: Graham Denholm
Time Out says
Friendly warning! We're working hard to be accurate. But these are unusual times, so please check that venues remain open.
What happens when an industry supergroup gets together and triangulates its experience? You get a great corner not-pub in North Fitzroy
Every time a pub is developed into apartments, a fairy dies. Such is the story across inner Melbourne where old boozers are being developed to within an inch of their lives (next on the chopping block: the old Sarah Sands Hotel on Sydney Road, RIP).
At the Recreation Bistro, however, there's an alternative narrative being played out. The massive dining room, home to Sunday afternoon roasts and live bands, was carved off by developers, but the lovely front bar was left blessedly alone. It's been turned in subsequent years into various operations, all serving the dark arts of hospitality (Raymond Capaldi had it for a while as Marmalade & Soul, and more recently it was Charlie's restaurant).
The thing is, it still looks like a pub with its broad corner verandah, wrought-iron posts and red brick interior walls. In short, it means the latest crew to tackle this gorgeous but apparently troublesome spot near the Edinburgh Gardens are probably more on the money than their predecessors.
The Recreation Bistro is smart pub dining without the pub. Sure, you can pop by for a drink; sure, it has a modern-style bottle shop where you can drink a searching, global and local list either in the park (the candy-pink Stuart Proud rosé has been a popular feature on the dog oval this summer) or in situ for a mark-up. But pub, as in a classic prop-at-the-front-bar pub, a place for talking loudly about the twin cultural preoccupations of the footy and negative gearing? No.
It's the new baby of three industry lifers finally having a go of their own. Running the floor, Joe Durrant and Mark Protheroe reprising their general manager and sommelier roles from Grossi Florentino. In the kitchen, Steven Nelson, who flitted from Jacques Reymond to helm the junior Reymonds' Bistro Gitan for the past five years. Birds of a feather, flocking together.
They haven't gone off-piste with the sum total of their experience, either. It's been distilled straight and true into a place that speaks of their talents and experience. Fastidiously executed food with a touch of the X-factor – yet stuff the punters will intuitively understand – served with affable professionalism.
The black pudding and pear tart tatin on the starters list is a case in point, the fruit wickedly caramelised and the whole shattery package deftly straddling that sweet-savoury divide. Tempura zucchini (and what veg isn't improved in the fryer?) sandwiching melting taleggio and cut with the sweet acidity of a finely chopped heirloom tomato salad. The almost obligatory tartare takes the veal route, the rough-chopped meat busy with finely shredded leek, discs of pickled radish and the creeping heat of a classic saffron rouille spiked with wasabi and horseradish. It's an eminently worthy corruption of a classic.
There's a confidence about announcing grilled fish on a menu. Not the two most exciting words in the lexicon, but the payoff is this: a whole garfish with Champagne sauce, pine mushrooms and a fried walnut and bread 'crumble'. It's excellent. As is the roast lamb, which screams Sunday. And the lemon tart, which screams France.
The fitout itself speaks to the North Fitzrovian audience. It feels antique-y and European. If an amnesiac wandered by they wouldn't be able to say with any precision which of the past six or seven decades it inhabits. You could say it's timeless, really, thanks to owners who are young enough to be savvy and old enough to know that some things in life deserve protecting from the inexorable march of progress.
Time Out Awards
2017Drinks Service Award
View this year's Time Out Food Award winners
Details
Address:
162-170 Queens Pde
Fitzroy North
3068

Contact:
Opening hours:
Tue 5-10.30pm; Wed-Sat 11am-10.30pm; Sun 11am-4pm