Melbourne theatre, musical and dance reviews
Wondering which Melbourne shows to see? Check out the latest theatre, musical, opera and dance reviews from our critics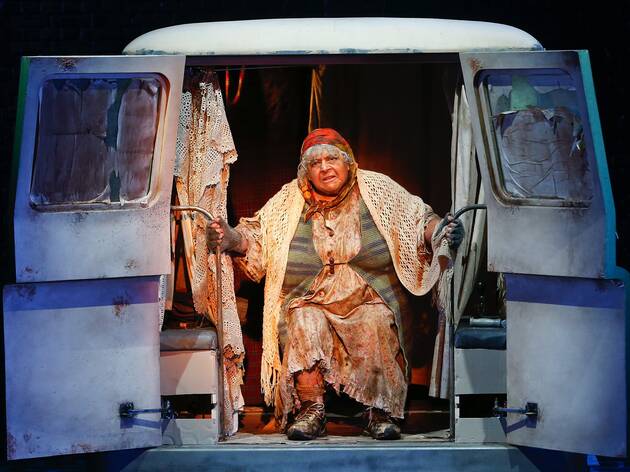 There's a lot happening across Melbourne's stages, so how do you know where to start? Thankfully our critics are always on hand to help with a recommendation.
Looking for something less dramatic? Check out the best art exhibitions in Melbourne this month.
4 stars: excellent and recommended
Theatre
Malthouse Theatre, Southbank
She enters from the auditorium, pregnant to bursting, two fags sticking out of her mouth, clutching some shopping bags and a blow-up donkey. She's come from London, and had hoped to be performing at Royal Albert Hall, but they were fully booked. Sydney Opera House was also unable to accommodate her. No room at the inn at the Melbourne Recital Centre (even the bloody Salon!) either. So she's rocked up at the Malthouse like a Madonna of the follow spot, to give birth to a cabaret act of messianic proportions. That's right, Meow Meow's back in town. Apocalypse Meow: Crisis is Born is a crazy dumpster fire of a show, part cabaret, part Christmas special, with a liberal sprinkling of variety-hour cheese; in other words, pure Meow Meow. She premiered the work at London's Southbank Centre all the way back in 2014, and while it has taken its time in getting to us, the show seems to have lost none of its anarchy. In fact, it feels strangely relevant. The pregnancy is less than immaculate – it turns out to be a belly full of inflatable farm animals – but it does provide us with a manger and a little Christmas cheer. It's a mood our hostess tries desperately to maintain, but every time she seems about to buck herself up, something goes wrong and she's plunging into the pits of despair. As she reminds us, Christmas can often feel precisely like this, a rollercoaster through hell. She initially tells us that some famous guests will be joining us for this yuletide extravaganza, but some
Theatre
Arts Centre Melbourne, Southbank
There has always been a stalking, uneasy relationship between science and art; mutual distrust and suspicion keep both camps in perpetual intractability. But they aren't as ideologically opposed as they seem. Both disciplines are preoccupied with a search for truths, for insights that can make our journey across this planet smoother, and both are crippled by what the late Harold Bloom termed the anxiety of influence. Nothing in art or science (or criticism, for that matter) is achieved in isolation. We are all standing on the shoulders of giants. Just who gets to be a giant and who gets forgotten, and why this should matter if indeed it does, is the subject of Anna Ziegler's play Photograph 51. At the centre of the piece is Rosalind Franklin, one of the key scientists whose work led to the discovery of the famous "double helix" structure of DNA, but who was denied a Nobel for reasons the playwright attempts to disentangle. Nicole Kidman triumphed in the role on the West End, and even though the part is too insular and understated to be considered a traditional showstopper, Nadine Garner does the same for MTC. Franklin was certainly a fascinating figure; a woman who achieved an enormous amount in a life tragically cut short by ovarian cancer, she nevertheless butted heads with her key research partner, and eventual co-winner of the Nobel, Maurice Wilkins (Paul Goddard). She was dogged and precise, which was central to her success as a chemist and X-ray crystallographer, but
Theatre, Drama
Princess Theatre, Melbourne
The first rule of Harry Potter and the Cursed Child is that you don't talk about Harry Potter and the Cursed Child. Safeguarding spoilers is an expected responsibility for anyone who attends the Potter-verse's first on-stage outing. There's even a hashtag: #KeepTheSecrets. But in truth (as far as theatre critique is concerned, at least), JK Rowling needn't have worried. This marathon, five-hour spectacle has a plot so dense and sprawling, so wonderfully, unashamedly elaborate, it would take many thousands of words more than any theatre review to even scratch the surface. While we may have been sworn to secrecy about Cursed Child's plot, we can reveal that the hype – and rarely has a piece of theatre ever generated such fever-pitched buzz – is entirely deserved. And not just because of the quality of the production. The masterminds behind the show – led by Rowling, playwright Jack Thorne and director John Tiffany – have not merely set out to put on a play, but rather craft a rich and detailed immersive experience. To this end, Melbourne's Princess Theatre has undergone a top to bottom $6.5 million makeover, transforming its interiors to match a Hogwartsian, Potterfied aesthetic. If this sounds like an unnecessary extravagance, it's probably an indication this play isn't for you. The success of Cursed Child, which has smashed box office records on Broadway and the West End, is powered by its unapologetic exclusivity. Those without any prior knowledge of Harry and co will be b
3 stars: recommended with reservations
Theatre, Musicals
The Comedy Theatre, Melbourne
When Stephen Sondheim's Assassins premiered in 1990, George Bush Sr was in power and the Gulf War was underway. Audiences during war time weren't really ready for a musical about the dark heart of the American dream, and it closed early. In 2004 it was remounted on Broadway and won four Tonys. Its time had come. Come from Away feels like the reverse: a musical that suits its time, is perhaps even flattered a little by it. It's of course impossible to predict, but it seems unlikely that this show will play quite so well in 15 years. Something about its message, its attitude and its structure relies heavily on the audience's willingness, even hunger, to receive it. We are living in dark times, and a show like this certainly hits the sweet spot. Does that necessarily make it a great show? Certainly, it tells a warm and reassuring tale about a community who rallies for people it doesn't know, and in that regard it is a necessary and timely one. On the morning of September 11, 2001 a total of 38 planes carrying 6,579 passengers were diverted to the remote airspace in Newfoundland, near the town of Gander. They didn't know why, nor even where they were, but they soon learnt just how kind and welcoming the locals could be. Gander (and neighbouring towns) took them all in, almost doubling the local population in a single day; they fed them, clothed them and housed them. They broke the news of the terrorist attacks in New York, and they gave them phones to contact loved ones. And the
Get cheap theatre tickets
Don't mind the view from the cheap seats? Use our guide to play-going for penny-pinchers to score theatre tickets for less in Melbourne.