Melbourne theatre, musical and dance reviews
Wondering which Melbourne shows to see? Check out the latest theatre, musical, opera and dance reviews from our critics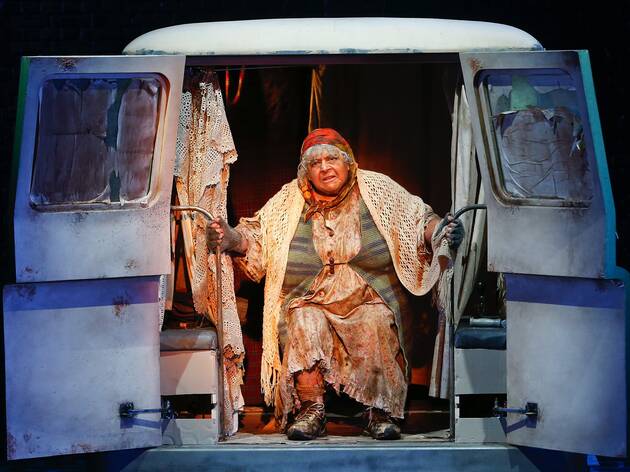 There's a lot happening across Melbourne's stages, so how do you know where to start? Thankfully our critics are always on hand to help with a recommendation.
Looking for something less dramatic? Check out the best art exhibitions in Melbourne this month.
4 stars: excellent and recommended
Theatre
Red Stitch Actors Theatre, St Kilda
You'd think, given that it seems we're actually living the apocalyptic hellscape so often depicted in the creative imagination of the 20th century, we'd be done seeing it reflected in our art. And yet, visions of the end times persist, and we go back for more. UK playwright Alistair McDowall doesn't so much lead us to his version of a futuristic dystopia in his play Pomona as grab us by the neck and rub our faces in it. So why is the result so entertaining – intermittently depressing, perhaps but strangely exhilarating? We are in Manchester, or a nightmare vision of every city, where the creepiest low-life is the moneyed and connected one; in this instance Zeppo (Dion Mills), who inherits a good chunk of the property, including the mysterious, cut-off concrete islet in the middle of the metropolis, Pomona. Nobody lives here but vans truck goods in, and Charlie (Nicholas Denton) and Moe (Arthur Angel) stand guard at the gates. Ollie (Mona Mina Leon) is searching for her lost twin sister, but the further towards her goal she gets, the more dangerous and perverse the consequences. On her path into the dark recesses of the city, she meets sex worker Fay (Jessica Clarke) and corrupt madame Gale (Julia Grace), who leads her into the troubling world of snuff films and organ harvesting. Pomona, and the world that created it, is particularly nasty for women. Cutting through this grubby, gruesome story is another one that puts the facts in some doubt: Charlie advertises for people
Theatre, Drama
Princess Theatre, Melbourne
A new batch of tickets to Harry Potter and the Cursed Child are going on sale on Tuesday May 7 at 11am. The tickets are for dates from February 5 to March 22. The first rule of Harry Potter and the Cursed Child, is that you don't talk about Harry Potter and the Cursed Child. Safeguarding spoilers is an expected responsibility for anyone who attends the Potter-verse's first on-stage outing. There's even a hashtag: #KeepTheSecrets. But in truth (as far as theatre critique is concerned, at least), JK Rowling needn't have worried. This marathon, five-hour spectacle has a plot so dense and sprawling, so wonderfully, unashamedly elaborate, it would take many thousands of words more than any theatre review to even scratch the surface. While we may have been sworn to secrecy about Cursed Child's plot, we can reveal that the hype – and rarely has a piece of theatre ever generated such fever-pitched buzz – is entirely deserved. And not just because of the quality of the production. The masterminds behind the show – led by Rowling, playwright Jack Thorne and director John Tiffany – have not merely set out to put on a play, but rather craft a rich and detailed immersive experience. To this end, Melbourne's Princess Theatre has undergone a top to bottom $6.5 million makeover, transforming its interiors to match a Hogwartsian, Potterfied aesthetic. If this sounds like an unnecessary extravagance, it's probably an indication this play isn't for you. The success of Cursed Child, which has
3 stars: recommended with reservations
Get cheap theatre tickets
Don't mind the view from the cheap seats? Use our guide to play-going for penny-pinchers to score theatre tickets for less in Melbourne.