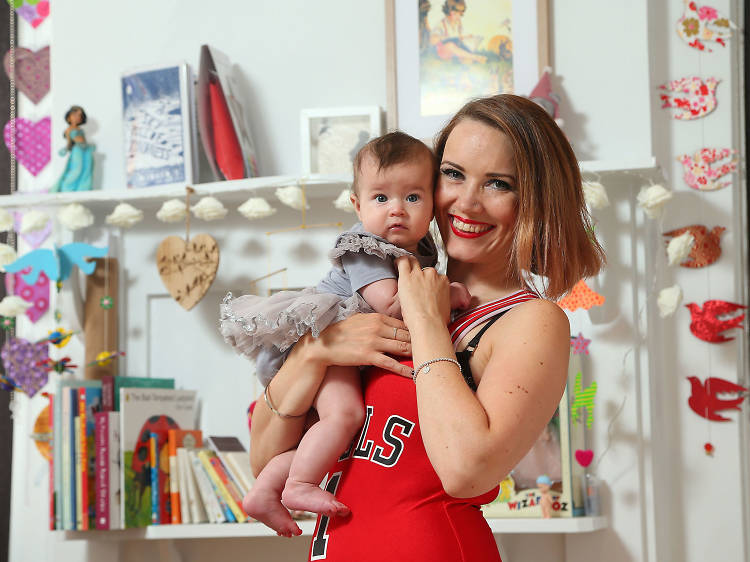 Photograph: Graham Denholm
Liz Cahalan and Rose, four months
At the start of every Bey Dance course she teaches – before the warm-up, and before she begins teaching the moves to tracks like 'Run the World (Girls)' or 'Flawless' – Liz Cahalan asks every member of her class to adopt what she calls the 'Beyonce power stance'. Instilling an inner confidence in her predominantly female cohort is the philosophy at the core of Cahalan's dance school, which has blossomed in popularity since she founded the business in 2013.
Then Rose came along – the Blue Ivy to Cahalan's Beyonce – and changed things forever. "I was so scared of having children because of the idea that I wouldn't be able to get my work happening in the way that I wanted it to. When I got pregnant, it was not planned. I thought, 'how am I going to do this?'"
Much to her surprise, motherhood came so naturally to Cahalan that she can't imagine why she ever feared it. "I had this moment a few days after she was born, when I was all achy and sore, where I was like, 'this is the best thing I've ever done, and this is the thing that I was always meant to do'."
"I found it really easy to have this thing fit into my existing life," she says. "There have been compromises… but the things that have gone from my life are things that obviously weren't that important to begin with."
As a passionate feminist, Cahalan is pleased that she'll get to pass on her own "strategies and tools to make the most of this world."
"I really believe in this 'ban bossy' movement that Beyonce and Michelle Obama have been working on," she says. "Bossy is a very gendered term. I'm a naturally quiet, empathetic person, but I know that if I'd just been encouraged to be more assertive and to say what I wanted, and to go after it, I wouldn't find the conversations I have to have now in business about money or about people management so confronting. I know that having a bossy child will do my head in, but I would feel really good to know that she was going to grow up to feel confident in what she wanted and that she could ask for it without fearing that she was going to be put down for it."
Bey Dance Five- to eight-week terms run in Brunswick, Prahran and Richmond most nights. Casual classes run in Fitzroy Thursday and Friday nights. See website for details: www.beydance.com.au.