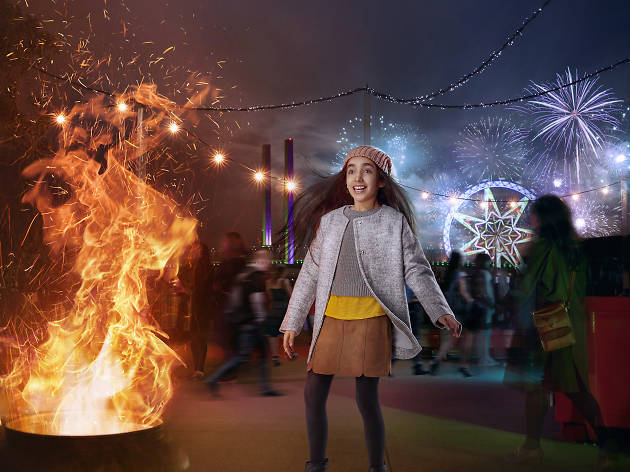 Docklands lights up with a fiery winter festival
Roaming dinners, hands-on workshops and blazing sculptures are coming to the waterfront
Winter has well and truly arrived in Melbourne and we're looking forward to the delectable array of events happening at Docklands over the next few months. The waterfront precinct is putting its best foot forward with the festive and blazing Firelight Festival which features nightly sculpture burnings, fireworks, food stalls and more, as well as the enticing Winter Glow series, featuring delicious dining events, interactive workshops and thought-provoking panel discussions.
First up, head along to the Docklands Firelight Festival for a free, all-ages celebration of winter. This three-day festival runs from Friday June 30 to Sunday July 2 and promises a celebration of arts, music, food, fire and fun. Guests can enjoy watching giant wooden sculptures by artist Christian Patton being set alight each night with a choreographed fireworks display as the backdrop. Then, warm up beside the fire drums and feast on smoked and barbecued foods at Hell's Kitchen while roving performers explore the Fire Walk – an area of giant flaming torches. You can expect anything from fire breathers to dancers, drummers and musicians all adding to the festive atmosphere.
Feeling peckish? You're invited on a roving restaurant tour this winter with the Winter Glow Progressive Dinners. This dining series takes place across Docklands, with diners able to enjoy special dishes from restaurants like Black Cod, Woolshed, Banoi and Saluministi. This immersive experience is like a gastronomical tour of Melbourne's harbour precinct, with dinner menus around $44-$64 per person. Dinners will run on Wednesday nights, from June 28 to July 19.
Upskill this winter with Docklands' range of Winter Glow Workshops. From ice skating lessons to culinary skills and 3D printing, you can uncover new experiences with hands-on workshops throughout Winter Glow.
Hot Chocolate Masterclass (Wawa Chocolatier) – Jun 29
F45 Personal Training (F45 Docklands) – Jul 12
Porchetta Workshop (Saluministi) – Jul 18
3D Printing Class (3D Printing Studio) – Jul 20
Ice Skating Skills Lesson (O'Brien Group Arena) – Aug 3
Comedy in the Dark (Dialogue in the Dark) – Aug 10
Terrarium Making (Bopha Devi) – Aug 15
Hitting Library at the Dock is a series of great Winter Glow Talks, guaranteed to get you thinking. Featuring some of Melbourne's most interesting personalities, guests will be able to immerse themselves in an inspiring talk from Father Bob Maguire, a panel discussion with Melbourne's social entrepreneurs, in depth conversations on the future of food and an enlightened look at the future of fashion.
Father Bob Maguire – Jul 4
A Focus on Fashion (featuring The Age fashion editor Melissa Singer, stylist Lana Wilkinson and Viktoria & Woods creative director Margie Woods) – Jul 25
The Future of Food (featuring Feast of Merit's Ravi Presser, Monash University's Nicolas Georges and sports dietician of Dineamic Karen Inge) – Aug 8
Melbourne's Role in Social Enterprise (featuring YGAP's Kylie Wallace, HoMie's Nick Perace and Kinfolk's Jarrod Briffa) – Aug 22
For more info on winter experiences happening in the Docklands, head here.
Best selling Time Out Offers