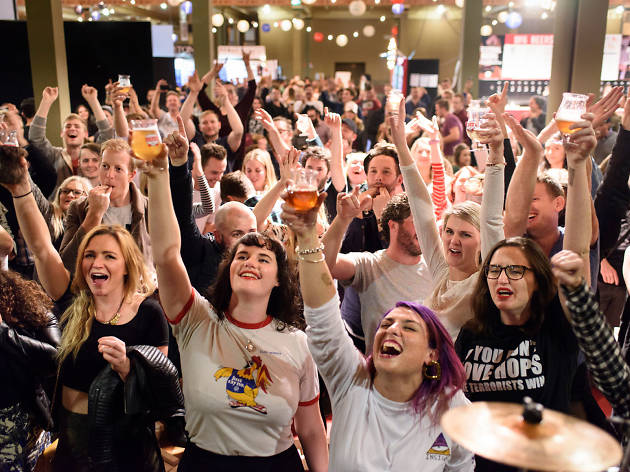 The mega beer fest is back for another foamy frolic
The GABS Beer, Cider and Food Fest, presented by Dan Murphy's, was dreamt up by the Local Taphouse owners Steve Jeffares and Guy Greenstone over a drink in 2011. Now, the beer and cider extravaganza is back for another year at Carlton's Royal Exhibition Building. In addition to the beer stalls from local and international brewers, the SpecTAPular beer festival will also feature 180 different festival beers on tap – beers brewed exclusively for the festival – which is the most the festival has ever had.
The venue will be packed with shipping containers serving up delicious brews and ales, as well as expert brewers to chat to. There will also be plenty of festival entertainment (think acrobats, a ferris wheel and roving performers) and beer-friendly street food to feast upon. Last but not least, we will be there hosting the Time Out Concierge and beer tours in conjunction with Dave's Brewery Tours. Come join us for a tasting tour of GABS 2017 and grab a copy of Time Out's annual Pub Issue.
Want to get to know even more about beer? Make sure you head to one of the Craft College sessions. Sydney's pub institution the Cricketers Arms will be popping up with a games pitch and Ariston will be hosting gastronomic food, beer and cider pairing talks.
Get a group together and purchase your Beer Buddies group tickets (which offer up to $20 savings per ticket). The GABS Beer, Cider and Food Fest is super popular so get in early to lock in your preferred session. Tickets are selling fast!